Trinh Xuan Thanh: Corrupt Tycoon or Liberal Reformist?
As Germany increases pressure over the alleged kidnapping of Thanh, his plight has raised little sympathy back home.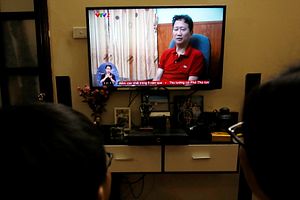 A fugitive ex-communist official snatched from the streets of Berlin in broad daylight by armed Vietnamese spies. A furtive dash to eastern Europe for a clandestine flight to Hanoi. A televised confession on Vietnamese state television, possibly coerced. An outraged German foreign ministry and diplomats declared persona non grata.
The alleged circumstances behind the July repatriation of Trinh Xuan Thanh are, in the words of German Foreign Minister Sigmar Gabriel, something "one sees in thriller films about the Cold War." Vietnam denies the allegations, maintaining that Thanh returned to Hanoi and turned himself in.
Germany, which has stated it has "no doubt" of Vietnam's responsibility, has thus far been retaliating by expelling diplomats, first on August 2 and again on September 22, along with the suspension of the "strategic relationship."
With Germany holding veto power over a pending free trade agreement that would slash most tariffs between the EU and Vietnam, the full extent of Berlin's retaliation could be substantial.
But owing to the opaque murkiness of Vietnam's secretive single party communist state, the motives of the alleged kidnapping are difficult to ascertain. Thanh is alternatively described as a corrupt executive due for punishment, particularly back home, or a liberal reformist purged by hardline communists.
Thanh, who served as chairman of PetroVietnam Construction (PVC) from 2009 to 2013, began a sudden plunge in May 2016 after pictures emerged online of his Lexus, said to be worth $250,000, with government license plates illegally attached.
Although he had been sacked from PVC, the construction arm of the state oil company, Thanh had been reshuffled within the state bureaucracy for three years and eventually appointed deputy chairman of the Mekong Delta's Hau Giang province.
Amid a public outcry that proliferated through both state-controlled newspaper and independent social media, the party promised an investigation. Old allegations that he had lost $147 million through dodgy deals at PVC resurfaced.
But when an arrest was ordered in September on charges of criminal economic mismanagement, he was nowhere to be found. Following the issuance of an international wanted notice that same month, Trinh become Vietnam's most sought fugitive.
No Dissident
For Thanh's German lawyer, Petra Isabel Schlagenhauf, Thanh was a victim of a political purge designed to "to crush the reformers within the Communist Party and to restore and strengthen the role of the party on the basis of communist ideology," reported the Süddeutsche Zeitung daily German newspaper.
Schlagenhauf did not respond to requests for comment in time for publication.
Yet Vietnamese communists and anti-government activists alike have reached a rare consensus that Thanh was no reformist ideologue.
"If the German lawyer is claiming he was politically persecuted, please bring evidence," said Le Dang Doanh, a former senior economic advisor to the government and member of the Communist Party, pointing out there's no public record of Thanh advocating reform.
"Unlike bloggers, who have been arrested and prosecuted because they expressed their views on blogs or Facebook, there is nothing now like that with Mr Trinh Xuan Thanh," he added.
Nguyen Quang A, a retired businessman and ex-party member turned pro-democracy dissident, said any falling out between Thanh and the government could not have been spurred by ideology.
"Thanh is not a dissident at all, we don't want such dirty dissidents in politics," he said, adding that the "reform" wing of the party that Thanh is supposedly a member of does not exist as described by Schlagenhauf.
"The foreigners think there are two camps, one camp is conservative, and another is reform… but it's the wrong concept to use for the current Vietnamese situation," he said.
A common understanding abroad is that the Vietnamese Communist Party is divided between pro-West reformists and pro-China hardliners.
The former is said to have previously been led by ex-Prime Minister Nguyen Tan Dung, who was quietly forced to retire at the January 2016 Party Congress, and the latter by party General Secretary Nguyen Phu Trong, who is also the de-facto head of government.
Thanh, who was appointed chairman of PVC by disgraced Dung ally Dinh Le Thang, who himself was forced to quit the Politburo in May over scandals at PetroVietnam, is widely believed to have fallen within Dung's sphere of influence.
Zachary Abuza, professor at the National War College in Washington D.C., agreed that while there is a schism between Trong and the political clients of the former prime minister, battles over political views do not adequately explain the internal party rifts.
"Many people, myself included, have tended to view Vietnamese politics as a battle between reformers and conservatives," said Abuza.
He added that there's now a broad consensus within the party over the need for reform, with debate focusing on the appropriate pace and scope.
"When the 'conservative' general secretary is sitting in the White House endorsing the Trans-Pacific Partnership and calling on more trade and investment, we need to rethink those labels," he said.
Quang A said any reformist sentiment within the party's top leadership was centered on economics, with no internal challengers presenting a threat to Vietnam's single party statehood.
"If you are considering economic reforms, you see a lot of reform, maybe all of them are reformers. When you consider human rights, democracy, all of them are conservative," he said.
That the party is divided, however, is not disputed by most outside analysts. Abuza said rival patronage networks are clashing, with loose strings like Thanh taking the hits.
"That's how you go after the powerful in Vietnam: you go after their underlings. If you can't protect them, your power is ebbing," he said, adding he did not believe that Thanh's pursuit had a sincere anti-corruption motivation.
"Any financial gains possibly recouped by the government from Thanh, would be more than offset by the diplomatic and potentially economic costs of abducting him, which makes me think that this is not about economics or anti-corruption and all about politics," he said.
Quang A added, however, that the Dung clique of the party, including Thanh, has a reputation for being particularly corrupt in Hanoi compared to the Trong wing of the party.
"All of them are corrupt, but in terms of money, they are the most corrupt," he said.
"[Dung] has no ideology, he has only maybe, if you want to call it ideology, one of power and money," he added.
Abuza said that regardless of motive, a move to kidnap a fugitive in plain sight in a European capital would have been extreme.
"Seriously, how much did the Vietnamese government want this guy?" he mused.
Credibility on the Line
Quang A and Doanh agreed that Thanh was publicly reviled by the time he fled.
"The case wasn't ignited by the government," said Doanh, adding that the story of the Lexus emerged organically online.
"Ordinary people in Vietnam don't like those who are corrupt and abuse their power," he added.
Quang A said that Thanh's flight, which occurred sometime in the weeks prior to the issuance of an arrest warrant, caused a major loss of face for Hanoi given the limelight the case had received.
He added that appearing resolute against corruption, one of the party's most publicly sensitive issues, is of paramount importance for the party's image.
"They always say our security forces are so powerful and so effective, and suddenly a small fish like that can go to Europe?" he said.
Le Trung Khoa, the German-Vietnamese editor of the Berlin-based bilingual news site thoibao.de, said he thought Thanh's asylum bid would have likely been successful.
"He hired a group of lawyers to help him with his files for asylum, and these lawyers are very famous in Germany, so the chances of getting asylum were high," he said.
Further complicating Vietnam's position was the possibility that Thanh would face the death penalty upon returning home. German policy is to refrain from extraditions where the death penalty is on the table.
But Quang A stressed that violating German law also went against Vietnam's interests.
"I think the kidnapping of Mr Thanh, in daylight, in the middle of Berlin, is the most stupid activity you can imagine," said Quang A.
"On the one hand, we have to fight all the corrupt people, that's okay, but not to confuse the end, to fight against corruption, the dirty means of kidnapping? Using the law of the jungle?"
Doanh said he is curious to see how German-Vietnamese relations can recover.
He still plans to attend the German Reunification Day party in October hosted by the German Embassy and will be watching for unusual dynamics in the crowd.
"I will certainly join as a friend of Germany, and I'm very curious to see who from the Vietnamese side will come and what the ambassador of Germany will say on this day," he said.
Bennett Murray is a journalist based in Hanoi. Follow him on Twitter @BDMurray.