What Will Australia's New Military Terror Aid to the Philippines Look Like?
Though details remain to be worked out, the general shape of Canberra's deepening security role is becoming increasingly clearer.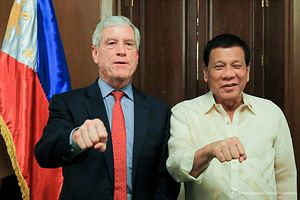 On Friday, Australian Defense Minister Marise Payne indicated that Australia and the Philippines were making progress in discussions that would see Canberra play a greater military role in assisting Philippine forces in their ongoing battle against Islamic State fighters in the southern city of Marawi. Though such discussions are by no means new and specifics are yet to be worked out, it is nonetheless the latest sign of the defense cooperation between the two countries in this realm.
As I have noted before, Australia and the Philippines have long had a strong relationship that extends into the defense realm, with security ties, including not just regular interactions like exchanges and exercises but capacity-building in areas ranging from maritime security to counterterrorism, as well as assistance with respect to the peace process in the southern Philippines.
Though the emergence of President Rodrigo Duterte has no doubt complicated things somewhat, the Marawi crisis in particular has reinforced the importance of the bilateral defense relationship (See: "Battle for Marawi Exposes Philippines' Military Intelligence Crisis"). Australia, along with a few other states, has already offered various forms of support to the Armed Forces of the Philippines (AFP), including AP-3C Orion military planes to help with surveillance in Marawi (See: "Singapore Gives Philippines Military Aid to Fight Islamic State Threat").
But the hype over the past few weeks had been around whether Australia might further boost direct military assistance to the Philippines, including through the approval of some sort of "advising, assisting, and training" role that Australian Foreign Minister Julie Bishop had publicly talked about.
As I noted then, such a role would certainly be a more robust one since, if conceptualized along the lines of Australia's assistance in Iraq which Bishop had referred to, it would involve not just Australian equipment or expertise – be it in terms of intelligence, aircraft, or urban warfare training – but Australian personnel being directly embedded with Philippine counterparts on the ground (See: "New Australia Military Terror Aid for the Philippines?").
On September 8, following a meeting between Philippine Defense Secretary Delfin Lorenzana and visiting Australian Defense Minister Marise Payne, the two officials disclosed a little bit more detail publicly about what they had in mind.
Payne said that what she discussed with Lorenzana was for a small Australian Defense Force team that could provide some specialized training to the AFP. Though few other specifics were provided, she said that those would be unveiled after further discussions with other actors in both countries.
Unsurprisingly, Lorenzana once again went out of his way to clarify that the nature of Australia's support would likely be in terms of training in areas like intelligence sharing, rather than a more combat role. He specifically clarified that Australian forces would likely be staying within Philippine military bases rather than directly joining counterterrorism operations, adding that "it will not look good" if Australian troops were involved in actual combat.
The sensitivities involved in such a growing security role for Australia in the Philippines are well known. As I have detailed before, this is not purely a strategic or technical issue but one that would have to consider public sentiment – both in the Philippines, where suspicions of sovereignty violations are not uncommon, and in Australia itself, where fears of "creeping militarization" still exist – and the context of the Duterte era, where an outburst from the president or greater scrutiny on rights.