An Uzbek President Touches Down in Turkey for the First Time in 18 Years
As Mirziyoyev heads to Ankara, conditions are ripe for a rapprochement in bilateral ties.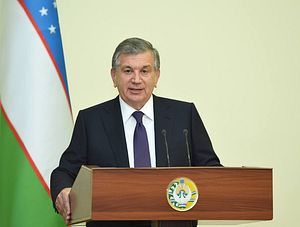 Uzbek President Shavkat Mirziyoyev arrived in Ankara, Turkey, on Wednesday for a two-day visit. The trip marks the first visit by an Uzbek president to Turkey since Islam Karimov in 1999 and underscores a bettering of relations between the two in the year since Karimov's death.
In November 2016, Turkish Prime Minister Recep Tayyip Erdogan arrived in Samarkand where he paid his respects at Karimov's grave and met with then-acting President Mirziyoyev. "In this new period, we must work to improve our relations in all areas," Erdogan said.
The once-close Turkey-Uzbekistan relationship deteriorated in the late 1990s. "It all started well," Eurasianet wrote last November, noting that Turkey had been the first country to recognize Uzbekistan's independence in December 1991 and within a week Karimov visited Turkey. Turkey, a Muslim-majority state with a secular political system, certainly stood as a model for the newly emerging states of Central Asia.
But within a decade, political relations had deteriorated even as economic relations chugged along.
The breakdown in political relations was sparked by the spread of Turkish schools belonging to Fethullah Gülen's network. At the time, "Turkish leaders were tolerant of the Gülen movement's educational endeavors," Eurasianet wrote. Indeed, the schools fit into a soft power push by Turkey into Central Asia in the late 1990s and early 2000s, an effort based on historic connections between the peoples of Central Asia and Turkey. Turkey's efforts to exert influence, however, and Ankara's tolerance of Karimov's rivals — such as Muhammad Solih — rankled the Uzbek president.
Economic relations remained decent, despite the political chill that fell over the bilateral, but many analysts believed the economic relationship fell short of its potential. In 2015, according to the Turkish Foreign Ministry, foreign trade turnover between the two totaled $1.2 billion. This despite repeated statements from Turkish leaders highlighting an intention to increase bilateral trade to $5 billion. Nevertheless, Turkey was ranked as Uzbekistan's third highest export destination in 2015 (after Switzerland and China, and tied with Kazakhstan); on the import side Turkey ranked in the top five (after China, Russia, South Korea and Kazakhstan).
Five billion seems to remain the target for trade turnover in the next five years. Uzbekistan's foreign trade turnover appears to be improving under Mirziyoyev, with data from the state statistics agency depicting an upswing: Foreign trade turnover in the first six months of 2017 reached $12.1 billion, an increase of more than 11 percent over the same period in 2016.
On the political front, conditions are ripe for rapprochement. Two irritants to the relationship have vanished: Karimov died last fall and the source of political breakdown — the question of the Gülen schools — has been set aside. Uzbekistan closed the Gülen schools in the country in 2000 and in summer 2016 Erdogan fully turned away from his former ally, Gülen, accusing the exiled cleric of orchestrating the attempted coup last summer. As Eurasianet succinctly put it last year: "Ankara's and Tashkent's vehemently hostile views toward Gülen have now converged."
Moreover, Mirziyoyev has embarked on reviving Uzbek diplomatic engagement far and wide and Turkey is likely very receptive to the warming of relations.
Ahead of his visit, the Uzbek president signed a decree simplifying visa procedures for Turkish citizens by removing the requirement of an invitation letter and mandating that visas be issued in three days. Karimov, according to RFE/RL, had halted visa-free travel for Turkish citizens.
Unexplored is how this bilateral political rapprochement may influence, or not, the nascent domestic reforms happening in Uzbekistan. In recent years, Turkey has taken an authoritarian turn — for example, detaining at least 81 journalists in 2016 and more as 2017 has progressed. Uzbekistan, in contrast, has released a handful of political prisoners this year (though it has also detained individuals). Back at the time of independence, Turkey served as an example to emulate but times have changed on both sides of the relationship. How Turkey and Uzbekistan go forward will have profound implications for the wider region in both economic and political terms.