Beijing Launches Strict Security Checks for the 19th CCP Congress
Railway passengers, metro riders, and even those mailing packages will undergo increased scrutiny.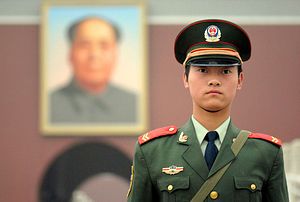 On the eve of the Chinese Communist Party's 19th National Congress, which is to open on October 18 in Beijing, China has launched strict new security checks in the whole country, particularly in the capital.
For railway stations, all passengers heading toward Beijing from any other city have to undergo a double security check before boarding. After a regular security check, those passengers traveling to Beijing will be gathered into a special area for a second check. Multiple cities, such as Shanghai, Hohhot, and Bengbu, are even using facial recognition security systems to ensure safety. Each person has to present their ID cards and train ticket and undergo a facial scan before entering the station.
For metro stations, the security checks are also tight. The Beijing Metro announced that, starting on October 17, all passengers will have to go through a full-body check and a package scanner simultaneously. Some busy metro stations will even limit the flow of people within the stations by implementing forced lines outside. The Beijing Metro suggested that passengers avoid traveling during peak hours and asked for their understanding and cooperation. Some large cities such as Nanjing and Guangzhou also have upgraded their security checks in metro stations. Guangzhou, for example, invested nearly 2.67 billion yuan (around $400 million) to purchase 855 pieces of security equipment and employ 12,000 security inspectors in September just to upgrade security checks.
The latest security measures have caused long lines and serious delays in various metro stations all over the country. A large number of netizens have posted photos on their social media accounts and complained about the man-made traffic congestion.  
At the same time, an increasing number of armed police and plainclothes police have been deployed to patrol traffic hubs in various cities. In Beijing, not only police officers but ordinary citizens have been mobilized to maintain the city's order. According to Global Times, volunteers, including many retired senior citizens, wearing bright red armbands, can be seen in each and every street. "In some important locations, they take shifts to ensure there is vigilance round the clock,"Global Times said.
Meanwhile, strict screening procedures for mails and packages are also being implemented across the country, particularly in Beijing. Some cities require that packages senders have their identities verified before mailing. Some e-commerce platforms completely suspended deliveries of liquid, powder, or glue substances until October 26, Global Times reported.  
According to Radio Free Asia, some places in Xinjiang Uyghur Autonomous Region even demanded all residents register their knives or other sharp metal tools, such as axes, shovels, and hoes, with the owners' names and ID numbers. Otherwise, these tools will be confiscated if found.
It has become a routine in recent years for the Chinese government to upgrade the security control level during important events. However, it is still unprecedented for such strict security controls to be implemented in the whole nation, especially with the help of the most advanced technology.
In mid-September, Cai Qi, the leader of the Beijing municipality, said that all departments should strengthen coordination during the 19th Congress to ensure security in Beijing "at the highest level, with the strongest organization and the most effective measures," the Beijing Daily reported.