China Conducts Joint Patrol With ASEAN Mekong States
The 63rd iteration of the Mekong joint patrols took place last week.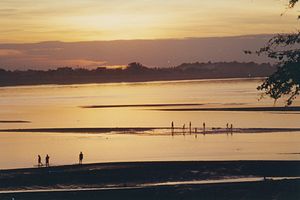 Last week, China conducted another iteration of its joint patrols with four riparian countries in the Mekong River. The development was a reminder of Beijing's continued effort to push security and economic cooperation along the Mekong River as well as in Southeast Asia more generally.
As I have noted before, the Mekong River, one of the world's longest and resource-rich rivers, helps power the economies of countries in the subregion but is also in peril due to a string of hydropower projects by riparian states, coupled with strong development and demographic pressures and gloomy climate change scenarios.
China, long aware of both the opportunities and challenges inherent in the Mekong subregion, has been viewing the area as a key part of its broader effort to increase its influence in Southeast Asia over the past few years. This has included the creation of mechanisms and initiatives, including the much-ballyhooed Lancang-Mekong Cooperation (LMC) bringing together Beijing along with Cambodia, Laos, Myanmar, Thailand and Vietnam.
One of the ongoing manifestations of this on the security side has been the so-called Mekong joint patrols. Following the deadly attacks on Chinese cargo ships in October 2011, Beijing has been improving law enforcement and security cooperation with Mekong countries. As part of this, China, Laos, Myanmar and Thailand began carrying out a series of joint patrols which were first launched by police personnel in Guanlei Port in Xishuangbanna in China's southwestern Yunnan province in December 2011.
The objective of the patrols, Chinese officials had said at the outset, was to ideally boost the security for shipping along the river, increase familiarity with the geography of the area and the risks therein, and to begin improving cooperation between the countries involved in areas like intelligence sharing and coordination. And though the actual progress of the patrols has been rather patchy, Beijing has continued to highlight this as part of its ongoing security cooperation with Southeast Asian states.
From Thursday to Sunday, the four countries carried out the 63rd iteration of their joint patrols along the Mekong River. The numbers of vessels and law enforcement personnel involved have tended to vary depending on the particular patrol in question. This time around, according to Chinese state media, seven vessels and 163 law enforcement personnel from the countries participated in the patrols.
Though few further specifics were provided, the patrols began in Guanlei Port and saw the vessels travel over 500 kilometers in four days. The focus areas of the joint patrols tend to differ from time to time, and this time, they included carrying out a survey of the security situation and reviewing the hydrological conditions of the Mekong River.