Chinese Warships Make First London Voyage
China aims to expand military cooperation with Britain in the "Golden Era"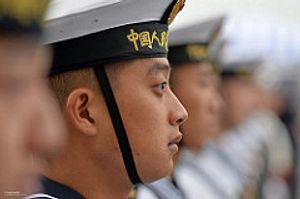 On October 3, the 26th Chinese Navy Escort called upon London after visits to Belgium, the Netherlands and Denmark. Prior to the global voyage,  the 26th Escort just completed a 4-month mission in Gulf of Aden and Somali waters by providing security escort to 65 Chinese and foreign vessels in 43 groups.
Although Chinese fleet has visited Britain three times previously, it is the first time Chinese warships are visiting Britain's capital. The escort, composed of two Type 54A missile frigates, Huanggang and Yangzhou, and one Type 903 replenishment ship, Gaoyouhu, will stay in London until October 7. In the following days, a series of events, including an open day, a deck reception and multiple meetings between both navies, will be held accordingly.
At the reception ceremony, Liu Xiaoming, China's Ambassador to Britain, said that the escort, as China's new generation of  ships, represents "the best of China's naval prowess." Liu also called for closer military ties between China and Britain.
In 2015, Chinese President Xi Jinping paid an official visit to Britain. Since then, the China-UK relations have entered the "Golden Era," the Chinese foreign ministry as well as Chinese state media continue to claim. In addition, this year marks the 45th anniversary of China-UK diplomatic relationship, so China has launched a series of events to celebrate the anniversary.
At both the press conference and the reception ceremony on October 3, Liu repeatedly emphasized China's desire to expand military cooperation with Britain in the "Golden Era." He said:
Military exchanges and cooperation have become an indispensable part of the China-UK "Golden Era". Recent years have seen frequent military exchanges at all levels and ever growing cooperation between our two militaries.Our two militaries worked together effectively in such fields as counter-terrorism, anti-piracy, disaster relief and so on. We had closer exchanges in professional skills and personnel training.
Liu indicated that during this visit, both navies will hold the first humanitarian rescue symposium and will exchange views on a broad range of issues from anti-piracy to humanitarian rescue. "I believe such extensive engagement will help deepen the mutual trust and cooperation between our two militaries," he said.
In response, Alex Burton, Rear Admiral of the Royal Navy. also expressed willingness to enhance mutual relations at the press conference. He said the visit of Chinese warships "reflects the long, strong and very common relationship that both our navies have with the sea".
"The need to work in partnership, as we have done for so many years, to find common solutions to these challenges, is rarely more important than it is today, and we both have much to learn over the next couple of days," he added.
According to The Telegraph,  a British Royal Navy warship will pay a return visit to China sometime next year while deployed to the Pacific.