Foreign Investors Jittery Amid Myanmar's Rohingya Crisis
Western companies have been slow to exploit opportunities in Myanmar, especially as the Rohingya crisis worsens.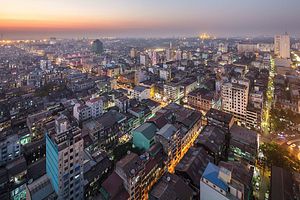 The Rohingya refugee crisis and the threat of sanctions could deal a blow to Myanmar's efforts to attract Western investment, possibly pushing the country further into China's economic orbit.
The recent flight of half a million Rohingya into Bangladesh has left American and European companies looking to invest in Myanmar facing significant reputational risks. Their concerns will have been further raised by reports that the United States and the European Union are considering targeted sanctions against members of the Burmese military implicated in the violence in Rakhine state, described by the UN as ethnic cleansing.
In the period up to and including the outbreak of the crisis in late August, Western investment was lagging well behind that of Myanmar's Asian partners. Foreign direct investment (FDI) approvals for the first half of the current fiscal year, from April to September, came to more than $4 billion – about three times more that the corresponding period last year. But FDI commitments from key European investors France, Germany, the Netherlands, and the U.K. combined accounted for just $741 million, less than investment from either China ($829 million) or Singapore ($1.7 billion) alone.
Since the National League for Democracy came to power in March 2016, Western investors have not rushed to exploit opportunities in Myanmar. The slow pace of reform and a lack of clarity over economic policy have apparently curbed FDI, although the telecoms sector seems to have bucked the trend. The reluctance of de facto leader Aung San Suu Kyi to devolve decision-making coupled with the inexperience of the new executive is believed to have caused delays in drawing up and implementing reforms. The suspension of some projects, reviews of others, and delays in approving foreign investment may also have caused uncertainty among investors.
Recently, more progress has been made on reforms. A new investment law – offering tax incentives for investing in underdeveloped areas – came into force in April and in July a draft companies law – enabling foreigners to own up to 35 percent of local firms – was submitted to parliament.  While these measures may help to spur investment from Asian neighbors, there are signs the Rohingya crisis is dampening Western investor interest.
In September, a Reuters report said European and U.S. companies that had been exploring opportunities in Myanmar "are now wary of the reputational risks of investing in the country." The agency has since reported that activist shareholders are set to urge U.S. energy giant Chevron – which operates in Myanmar through a subsidiary – to use its influence with the Naypyidaw government to lobby for a resolution of the refugee crisis.  Separately, the Nikkei Asian Review has said that negative international headlines have left many investors worried about what to tell their boards and shareholders, while the European Parliamentary Committee on International Trade has indefinitely postponed a visit to discuss a potential EU-Myanmar investment agreement.
Western investors might become even more jittery if the United States or the EU press ahead with sanctions against Myanmar's military leaders. Washington removed most of its restrictions on the country last autumn. The EU lifted its measures in 2012, a year after Myanmar began its transition to democracy. Targeted sanctions, currently under discussion in Brussels and Washington, would aim to lessen the risk of hurting the wider economy or destabilizing Suu Kyi's government.  The United States also seeks to avoid opening the way for China to extend its increasing economic and political influence over Myanmar.
The signs are that China, Myanmar's main trading partner and biggest foreign investor over the last few decades, is set to benefit if sanctions are imposed. Naypyidaw is already keen to seize opportunities arising from Beijing's "Belt and Road" policy, an ambitious project aimed at creating trade corridors between China and Europe through huge infrastructure investments and economic cooperation.  A Chinese-led consortium is planning to build the nearly $10 billion Kyaukpyu special economic zone in Rakhine state, which includes an industrial park and a deep-sea port, providing China with critical access to the Indian Ocean. Middle East and African oil shipped to the port will be carried by a Chinese-backed $2.45 billion pipeline across Myanmar to southwest China, eliminating the need to transport crude via the Malacca Straits, a maritime choke point.
During Myanmar's years of isolation, Beijing came to its neighbor's aid, investing heavily in mining and energy infrastructure. However, many Burmese raised concerns over China's growing stake in the economy.
Relations came under serious strain in 2011, when the leader of Myanmar's semi-civilian government Thien Sein suspended a major Chinese investment, the $43 billion Myitsone dam, which had become subject to intense opposition because of its perceived environmental and social impact. Ninety percent of the dam's hydro-electricity output was earmarked for Yunnan province in southwest China. Other China-backed projects, including a copper mine and a railway line running from Myanmar's coast to the Chinese border, were also canceled.
Subsequently, there was little in the way of major Chinese investment, but that changed in recent years as Suu Kyi acquired more political influence. Beijing had sought to cultivate the dissident-turned-politician, who was given the red-carpet treatment when she chose to come to Beijing in her first major overseas visit as de facto leader last August.
China has since supported Myanmar over the Rohingya crisis and, along with Russia, will likely veto any attempt by the UN Security Council to censure the country for its treatment of the Muslim minority. Beijing is reportedly planning to move its embassy to Naypyidaw. Though it replaced Yangon as the capital over ten years ago, many foreign embassies have yet to move there. In terms of economic plans, China is said to be keen on gaining a substantial controlling stake in the Kyaukpyu port. In return for this and concessions on other strategic investment opportunities, reports suggest it may be prepared to abandon the Myitsone dam project. A special economic zone on the border between Kachin state and Yunnan province to boost bilateral trade is also being mooted.
With Beijing viewing Myanmar as a key part of its Belt and Road plans, China's investments are expected to grow, increasing its foothold in the country – especially if Western investment interest wanes.
Yigal Chazan is an Associate at Alaco, a London-based business intelligence consultancy.