How Singapore Encourages Lifelong Learning and Workforce Resilience
The global economy now demands workers to be nimbler than ever.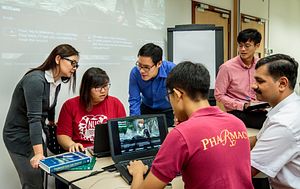 As lifelong learning becomes increasingly critical for ongoing success in the global workforce, many countries are trying to figure out how to remain competitive in a connected, globalized, and technologized world. Few are taking the issue as seriously as Singapore, a dynamic city-state with a particularly urgent need to stay ahead of the curve. Its efforts to promote lifelong learning and workforce resilience provide an example that other countries may want to follow.
Singapore's leaders understand that the job market is changing quickly. For most workers, the prospect of lifelong employment in a single role with a single company is long gone. The global economy now demands workers to be nimbler than ever. It requires the constant acquisition of new knowledge and skills, and the flexibility to thrive in an array of shifting environments. This means having both the mindset and the resources to learn continuously at every stage of life.
Singapore openly embraces globalization, automation, and the many other forces that are driving rapid changes in the global workforce. For example, if you've flown out of Singapore's Changi Airport recently, you may have noticed that you can now use a self-checkout kiosk at some immigration checkpoints. These kiosks may reduce costs, streamline operations, and free up critical human resources for more enriching jobs at Singapore's airports. But workers who struggle to adapt will face challenges.
As Singapore continues to adopt cutting-edge technologies, entirely new job categories are also emerging and providing exciting opportunities for those with the skills and aptitude to seize them. The Singapore government wants its citizens to have those opportunities, and also to support those at risk of displacement. It makes concerted efforts to help its citizens stay relevant by supporting programs for continuous learning, reskilling, and job placement.
Some of these efforts were inspired by the Committee for the Future Economy (CFE), a policymaking committee that convened in January 2016 to develop strategies for supporting long-term economic growth in Singapore. Co-chaired by the Minister of Finance and the Minister of Trade and Industry, the committee published an extensive report in February 2017 that highlighted workforce development as a critical priority area for the government.
The CFE report made specific policy recommendations for ensuring that Singaporeans have the resources to pursue lifelong learning opportunities. It encouraged educational institutions and training providers to work closely with industry to ensure that their programs are matched to market needs. It suggested that they build more "modular" programs based on short courses or targeted certifications. And it promoted the use of new technologies and pedagogical methods, such as flipped classrooms, that make education more flexible and personalized.
The CFE report also cited examples of government programs that are already putting these ideas into practice. SkillsFuture Singapore (SSG), for example, is a statutory board under the Ministry of Education that provides an array of lifelong learning and workforce development programs for people of all ages, including students, early-to-mid career professionals, and even seniors.
One of SSG's best-known programs is the SkillsFuture Credit, which offers direct subsidies of S$500 to all Singapore citizens over the age of 25 for a pre-approved list of courses (and even higher subsidies for mid-career professionals). In 2016, the program encompassed over 18,000 courses and was used by over 126,000 Singaporeans. SSG has also achieved significant traction with other programs that support career guidance, job searches, work-study placements, and other services.
Singapore's institutions of higher learning are also making efforts to support and inspire lifelong learning and workforce resilience, both for their current students and the broader Singapore community. The National University of Singapore (NUS), for example, launched the School of Continuing and Lifelong Education (SCALE) in 2015 to expand its offerings for working adults. This includes part-time degrees, modular certificate courses, executive development programs, and even free classes for NUS alumni wishing to keep their skills sharp.
Other NUS programs focus on cultivating the kind of mindsets that lead people to become lifelong learners. One of them is Roots and Wings, a popular course offered by the Centre for Future-Ready Graduates. The course focuses on honing the personal and interpersonal skills necessary to be being curious, open-minded, and confident in the face of new learning opportunities. Virtually all incoming NUS students now take the course.
Another important element of succeeding in lifelong learning is having a strong grasp of how we learn. Last year, I became the founding director of the Institute for the Application of Learning Science and Educational Technology at NUS, which conducts research and runs programs that help learners to learn better. One of our ongoing research interests relates to the question of whether Asian learners have unique attributes and needs. Our aim is to determine how the latest discoveries should be applied in Singapore and other Asian countries.
We are also running courses that teach practical strategies for being an effective learner. For example, we launched a new course called Learning to Learn Better, which covers the fundamentals of learning science and how these concepts can be incorporated in our learning practices. In 2018, we intend to roll out other courses, both for students and adult learners, to help everyone succeed in their lifelong learning efforts.
Programs like these will help ensure that Singaporeans are constantly learning, innovating, and reinventing themselves to meet the fast-changing needs of the global job market. But we still need more research to measure the impact of these programs and make sure that they are grounded in the best available evidence. Such efforts will be critical for helping Singapore to maintain its status as one of Asia's leading hubs for education, business, and technology.
Professor Robert Kamei is the founding director of the Institute for the Application of Learning Science and Educational Technology (ALSET) at the National University of Singapore. Prior to joining ALSET, he was the Vice Dean (Education) at Duke-NUS Medical School in Singapore.