Japan Election Victory Gives Abe Mandate For Reform
The ruling coalition scores a two-thirds majority in the Lower House elections.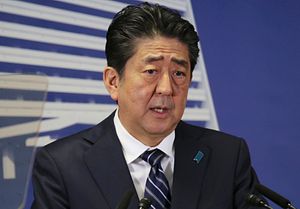 Japanese Prime Minister Shinzo Abe's sweeping election victory has given him a mandate for reform, both constitutional and economic. Putting priority on the latter is essential, though, if the world's third-largest economy is to realize the ambitions of "Abenomics" and become a bigger growth engine for Asia.
As of Monday evening Japan time, Abe's center-right Liberal Democratic Party (LDP) and coalition partner, Buddhist-backed Komeito, had secured 313 seats in the 465-seat lower house, passing the 310-barrier for a two-thirds majority necessary for constitutional change. The LDP alone won 284 seats in Sunday's poll, giving it the power to appoint all chairs as well as a majority of members of lower house standing committees.
Among the opposition parties, the center-left Constitutional Democratic Party (CDP) secured 55 seats, exceeding the 50 won by Yuriko Koike's Kibo no To (Hope) party, despite earlier expectations of a strong showing by Tokyo's first female governor.
Abe's gamble on calling an election more than a year earlier than scheduled paid off, despite pre-election polls showing a slide in his approval rating. His victory should boost his prospects of winning another three-year term next September as LDP president, which would potentially make the 63-year-old political veteran the nation's longest serving postwar leader.
"I am very grateful that the Japanese public has powerfully encouraged us to move forward with our politics based on the solid foundation of our leadership," Abe told a news conference Monday.
Koike, who had promised to "reset" Japan, conceded "utter defeat" by her new populist party, which split the opposition by taking lawmakers from the former Democratic Party. In contrast, CDP leader Yukio Edano said, "We have only just started."
Analysts attributed Abe's third straight victory in a lower house poll to his strong stance against North Korea, which has fired missiles over Japan, as well as disunity in opposition ranks, including Koike's decision not to step down as governor and stand in the election.
"The LDP was victorious simply because the opposition couldn't form a united front," Mikitaka Masuyama of the National Graduate Institute for Policy Studies told AFP.
The LDP campaigned on a platform of amending the Constitution to recognize the Self-Defense Forces, as well as guaranteeing free education and the future of "Abenomics," including reforms to spur productivity, human resources development, and regional revitalization.
Included in the platform was a pledge to use the proceeds of a planned hike in the consumption tax to spend an extra 2 trillion yen ($17.6 billion) on education and childcare. The tax is slated to rise from 8 percent to 10 percent in October 2019, raising an estimated additional 5.6 trillion yen ($46 billion) in government revenues.
Abe said Sunday this would occur "as stipulated by law, as long as there isn't an economic shock on the scale of the Lehman crisis." The prime minister postponed last year the planned hike, which was set for April 2017. Previous increases in the consumption tax have dragged the economy into recession.
Continuity Key
Financial markets celebrated the election result, with the benchmark Nikkei Stock Average posting gains for a 15th straight session, finishing up 1.1 percent to 21,695, its highest level in two decades. The Japanese yen fell to its weakest level against the dollar since July, amid expectations of a continuation of ultra-loose monetary policy by the Bank of Japan (BoJ).
Since Abe took office in December 2012, the yen has declined more than 20 percent while Tokyo stocks have nearly doubled, according to Goldman Sachs.
Nikko Asset Management's (Nikko AM's) chief strategist, Naoki Kamiyama, told The Diplomat that policy continuity was crucial.
"Victory for the opposition would have seen a very negative reaction from financial markets. This is because it would have likely been a coalition government with weak leadership, instead of the policy stability under Abe," Kamiyama said.
"The most important thing for the financial markets is Prime Minister Abe's continuity, and continued quantitative easing by the Bank of Japan. Abe will choose the next BoJ governor in March 2018, and so continuous easing is still expected."
However, Kamiyama said the planned consumption tax hike in 2019 would "stall consumption" even with the additional spending pledged by Abe.
"I'm not in favour of a consumption tax hike, even with extra spending. I'm hoping the PM will keep his options open on this issue," he said.
John Vail, Nikko AM's chief global strategist, said Abe "is pretty much locked into a [consumption tax] hike in late 2019 (unless there is a major global slowdown), as he has already promised to spend the proceeds."
"The stock market has been rising without any BoJ [exchange-traded fund] purchases for several weeks, showing that such are not truly necessary anymore, but would perhaps be helpful if there is a major market correction," he added.
Nikko AM sees the benchmark Topix index of Tokyo stocks reaching 1,830 by September 2018 on the back of further improvements in corporate governance that deliver stronger profitability and higher shareholder returns.
WisdomTree Japan's Jesper Koll suggested that Japan's political stability, continuity and consistency of a "strong pro-growth and pro-business agenda" could even be rewarded by a growing "Japan premium" in financial markets, with Japanese stocks earning a higher price/earnings multiple of around 20 to 21 times compared to the current 16.3 times for the Topix index.
The Tokyo-based economist said Koike's new party would put pressure on the Abe administration to accelerate its "special economic zone" programs.
"In our view, the new configuration of Japanese parliament has reduced the risks of economic policy complacency. This is particularly so since the LDP may have to depend on the Hope party to support the constitutional reform agenda," Koll said in a research note Monday.
"Abe's election promise to go ahead with the 2019 consumption tax hike suggests a growing responsibility for the BoJ to ensure against recession. Clear-speak – the Japan-U.S. de-coupling of monetary policy cycles has become more probable," he said.
Meanwhile, Koll argued that Abe's desire for constitutional reform would not be an obstacle for economic policy changes.
"Parliament is not a zero-sum game. If at all, 'Team Abe' knows full well that constitutional reform can only happened if the Japanese people support it – a national referendum has to be called within six months of parliament approval," Koll said.
"So it is imperative for 'Team Abe' to remain focused on the creation of pro-growth, pro-business policies. Without a broader feel-good factor amongst the people, any constitutional referendum is poised to be defeated."
Industry beneficiaries of Abe's election win are expected to include major exporters, which should see stronger profits from a weaker yen, along with defense, education, and nuclear power companies. Casino operators are also seen benefiting from landmark legislation authorizing casino resorts, which is expected next year, according to Bloomberg News.
However, not all analysts are bullish on the outlook. London-based Capital Economics said Monday that "the current expansion is looking long in the tooth and it is possible that the tax hike will push the economy into recession… inflation is set to remain below the Bank of Japan's target for the foreseeable future so monetary policy tightening remains a long way off."
One of Abe's key upcoming policy decisions will be over the reappointment of BoJ Governor Haruhiko Kuroda, whose term as central bank boss expires in April.
According to Nikko AM, "The markets are also hopeful that Haruhiko Kuroda will retain his post…or that a likeminded official will succeed him, ensuring the maintenance of current monetary policies."
Will Abe's re-election jump-start Abenomics? Analysts including the International Monetary Fund have given Tokyo a long list of reforms to implement, should the reformist leader seek to leave a lasting economic legacy, including labor market, childcare, and social welfare reforms.
Nikko AM's Kamiyama suggested the final push to Abenomics might be on its way, from a recovering global economy.
"It's interesting that I visited Malaysia and Singapore a few months ago and investors were asking if Abenomics is dead. My answer is a lot of the policies have been implemented already, and we're just waiting for the final trigger, an expansion of global aggregate demand, which is finally coming," he said.
Having won a mandate from voters, Abe has been given yet more time to deliver on his promises of economic reform, without getting tied up with constitutional change. His success in managing both will be crucial if the aging nation of 127 million is to retain its place in Asia, and the world.