'One Last Time': The United States and Afghanistan-Pakistan Cooperation
Is the U.S. going to try the same approach to Pakistan — one last time?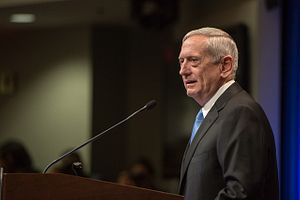 A few days ago, U.S. Defense Secretary Jim Mattis said that his country would try "one last time" to cooperate with Pakistan in Afghanistan.
"We need to try one more time to make this strategy work with them, by, with and through the Pakistanis, and if our best efforts fail, the president is prepared to take whatever steps are necessary," Mattis said at a House Armed Services Committee hearing. In a separate Senate hearing, General Joseph Dunford, chairman of the U.S. Joint Chiefs of Staff, told the Senate Armed Services Committee that "It is clear to me that [Pakistan's Inter-Services Intelligence] has connections with terrorist groups."
The new threatening tone adopted by Washington, which demands cooperation from Pakistan, is neither going to change the latter's policy in any way nor will it be the last time that the two countries communicate with each other in this fashion. The very simple reason for this is that the United States' policy is set to achieve zero results in terms of extracting any cooperation from Pakistan because the latter doesn't see any value in cooperating in areas where Washington's interests lie.
Mattis' words have not gone over particularly well in Pakistan, where the country's civilian as well as military leadership have not only rejected Washington's Afghanistan policy, but have also clarified Pakistan's position in terms of Islamabad's own expectations of Washington.
Current U.S Afghan policy sees Pakistan's role in the country as part of the problem rather than part of the solution. Washington has consistently claimed that Pakistan is one of the major reasons that peace in Afghanistan remains a distant reality. This assumption forms the basis of Washington's new policy, which seeks to extract cooperation from Pakistan by introducing an entirely new threat dimension. The new threats that Washington is looking to throw at Pakistan is tied with Pakistan's strategic security concerns and the country's economic lifeline.
First, by inviting India to continue its broad role in Afghanistan, Washington has clearly alarmed policymakers in Islamabad. Pakistan, for its part, has always seen India's presence in Afghanistan as a part of its national security concerns. Second, the United States has openly opposed the China-Pakistan Economic Corridor (CPEC), a multi-billion dollar collection of infrastructure projects financed and backed by Beijing, by stating that the project "passes through a disputed territory," which is under Pakistan's control. It's important to note that previously, the United States had never followed a policy line that directly undercut Pakistan's core economic interests and security concerns. Clearly, on Washington part, the intent appears to be on forcing Pakistan's regional policy to fall in line with U.S. interests in the region.
The new policy line followed by Washington is going to prove counterproductive, for not a fraction of this policy takes into account Islamabad's reservations regarding its own security concerns. Put simply, Islamabad views Washington's new policy line as part of a longstanding security threat, which perhaps forces Pakistan into making costly choices linked with keeping its ties with insurgent groups operating in Afghanistan. In response to General Dunford's statement that Pakistan's intelligence agencies have ties with militant groups, the spokesperson of Pakistan's military said that "There's a difference between support and having links. Name any intelligence agency which does not have links. Links can be positive." The spokesperson further added that "we have our own narrative" when it comes to the question of who U.S. considers as part of the problem in Afghanistan.
Last week, Pakistani Foreign MinisterKhawaja Asif, while speaking at the United States Institute of Peace (USIP), said that "We are not supporting any form of terror but there was a time when we leveraged our position because we were not sure of the Americans that what they will do after winning the war in Afghanistan."
While addressing concerns related to Pakistan's so-called selective counterterrorism policy, the minister said that "We didn't go all out against terrorists [before], but since 2014 we have wiped them out [from our territory]." Asif challenged Washington's claims of militant sanctuaries inside Pakistan by saying that there are no militant hideouts in Pakistan and if the U.S. believes otherwise, it should provide the coordinates of militant sanctuaries and "We will bomb them."
Now, these rare responses coming out of Pakistan clearly show that Islamabad is not ready to capitulate to Washington's demands. In fact, Islamabad seems ready to challenge Washington's narrative and policy by offering its own policy which actually addresses questions that were previously dubbed as "double standards" on Pakistan' part. Pakistan's preference when it comes to dispute resolution in Afghanistan is to incorporate the Afghan Taliban as major stakeholders in any peace process.
While Islamabad had been berated for asking for such solution, there appears no other practical solution to Afghanistan's militancy problem otherwise. The U.S. preference of finding a military solution in Afghanistan has clearly failed. What is also important here is that Washington as well the political elite of Afghanistan recognize that unless the Taliban become part of the country's peace process, Kabul's security woes will not go away. Afghanistan needs to engage the Taliban through domestic and regional channels without depending on Washington's help, which has only created complications.
Clearly, Pakistan remains undeterred by Washington's new threats. Pakistan and the United States continue to be locked in a more than a decade-old struggle that puts both countries' interests on opposing ends. Recent U.S. demands from Pakistan on Afghanistan and its opposition to CPEC only confirm Islamabad's deep-rooted conviction that Washington remains an unreliable ally. Moreover, Pakistan sees this new policy as one that clearly favors India, Islamabad's arch-rival in the region.
The two sides thus cannot seem to find common ground about how best to deal with the Afghanistan militancy problem while preserving their respective security and economic interests. And so, the Afghan conflict has become deadlocked with no resolution in sight. Unless Washington incorporates Islamabad's concerns in its new Afghanistan policy, the latter is not likely to cooperate regardless of the costs imposed.