Pakistan Navy to Purchase Frigates from China
Pakistan's former naval chief Muhammad Zakaullah said contracts have been signed to acquire frigates from China.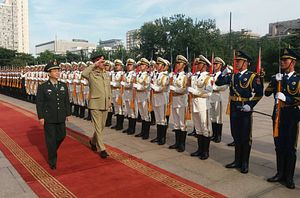 As one of the main recipients of Chinese arms, Pakistan has confirmed that it would buy eight stealth attack submarines valued at $4 to $5 billion from China, as The Diplomat reported in late 2016. Recently, Pakistan's top naval official revealed that new contracts have been signed to acquire frigates from China, in addition to the eight submarines.
On October 7, Pakistan's naval chief Muhammad Zakaullah officially handed over command to Admiral Zafar Mahmood Abbasi in a ceremony held in Islamabad. In his farewell address, Admiral Zakaullah said that new vessels are being inducted while contracts have been signed to acquire frigates from China, in order to strengthen the Pakistani navy. However, he didn't disclose the type of the frigates or any other details in his speech. In addition, he mentioned again that Pakistan's navy is buying eight submarines from China, according to Pakistan's English-language newspaper Dawn.
As the Chinese government remains reticent about the information, Chinese media said this is the first time that Pakistan confirmed the contracts and assumed that Pakistan is more likely to have purchased Chinese new type of frigates with a displacement of more than 4,000 tons and features of integrated mast and vertical launch system. China and Pakistan maintain close military-to-military cooperation.
On September 26, the Chinese defense ministry announced that China and Pakistan had finished the Shaheen-VI joint air training exercise in China's Xinjiang Uyghur Autonomous Region. During the 3-week joint training, according to Xinhua, aerial assets, including "Chinese J-11 fighter jets, JH-7 fighter-bombers, KJ-200 AWACS aircraft and Pakistani JF-17 Thunder fighter jets and early warning aircraft," did a variety of exercises including "air-to-air combat, close air support operation, air-to-ground attack and confrontational operation involving multiple arms of the air force."  Lieutenant General Zhan Houshun, Chinese air force commander said the Shaheen-VI joint air exercise, especially the anti-terrorism training, will serve as a powerful deterrent to terrorist groups.

According to data collected by the Stockholm International Peace Research Institute (SIPRI), Pakistan remained the top buyer of China's arms by the end of 2016. A total of 30 percent of China's arms exports went to Pakistan, which was followed by Algeria and Bangladesh.