Thailand 4.0: Back to the Future
The ancient kingdom still struggles with modernity and democracy.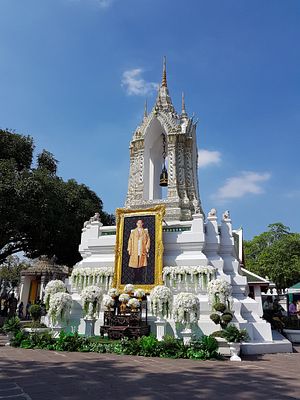 October 13 is a new public holiday in Thailand. Last year on this day, King Bhumibol of Thailand, the world's longest reigning monarch, passed away. In two weeks' time, Thailand will pass through a transition so critical and historic no one can truly predict its consequences. October 26 will be the day of the royal cremation for arguably the most revered monarch in the world, after more than a year of sorrow following Bhumibol's demise. Although the new King Vajiralongkorn has acceded to the throne, his coronation will not come until after the funeral of his late father, perhaps the most lavish and widely attended in modern history, which will usher in the real transition.
For almost a whole year, Thailand has been in mourning. Government officials have been ordered to wear black until the day of cremation; all printed media and websites have been adorned with black ribbons or faded to black and white. Everything looks subdued yet surprisingly normal. The military junta, which has run the country since the coup in May 2014, has worked systematically to change the country's legal and bureaucratic structure to ensure stability for the new reign. Draconian lese-majeste laws have been enforced in earnest, sending dissidents and activists either behind bars or into political asylum overseas. Last week, renowned historian Sulak Sivaraksa, 85, was criminally charged for for questioning if King Naresuan's duel on elephant back some 400 years ago actually took place. It is one of the many bizarre cases of lese-majeste enforcement that contrast sharply with Thailand's seemingly open and modern outlook. Under the pretext of solidarity and unity, Thailand's government routinely suppresses freedom of expression and civil and political rights.
On the surface, Thailand has the image of stability. There are no more demonstrations or protests on the streets. Radio and TV stations have opted for senseless entertainment. All national media and Bangkok-based journalists practice self-censorship when it comes to any delicate topics. The price of being kicked out of Thailand or put behind bars is simply too high for most academics and intellectuals to say what they really think. In the meantime, the Thai government tries to show that it is working hard on improving the economy, as if knowing that revolutions are bred from dire poverty. It came up with "Thailand 4.0" economic model, which it says will lift Thailand out of the middle income trap and improve equality. The buzz words range from innovation, value-based economy, s-curse industries, to human values and smart cities. Another ubiquitous mantra is 'sufficiency economic philosophy' or SEP, presented as deep and highly intellectual wisdom bestowed to the ignorant world by the late King Bhumibol, who alone was credited for this vague concept about moderation and balance. But just how Thailand 4.0 and sufficiency economic philosophy can be implemented to actually turn Thailand into a truly modern nation, with modern political governance and human rights protection, never receive clear answers from the country's bureaucrats and military leaders.
In Thailand, engaging in discussion about how the palace is changing laws and patronage systems to its favor is a serious taboo punishable by lengthy jail term and zombie-style social sanctions. It is woefully amusing, therefore, to think how the military government expects to transition Thailand to a modern, digital world without changing its medieval laws and rituals. The anachronistic practices surrounding the palace, the archaic protocols about kneeling and prostration when in audience with a royal family member, and the draconian laws forbidding political debates or criticism of any kind against the ruling class betray Thailand's socio-political path — an ancient feudal state with a semblance of economic and social liberty that albeit resists modernization.
For the past couple of years, Thailand watchers have been appalled by stories of deaths, disappearances, and punishments of those who dare to speak on the tabooed subjects. Shocking reports emerged in the news about outlandish suicide and untimely deaths, only to vanish the next day with no further details or investigations. But due to the convenience and comfort that Thailand offers to its residents, most people keep their mouths shut. The paradox, therefore, lies in the fact that Orwellian Thailand is utterly unique and insists on being exceptional — a lovely and livable country with freedom, except for political and ideological one.
After October 26 this year, the reality will start to sink in. Thai people, who for their entire lives have been wrapped in a cocoon of warped reality and systematic propaganda, might slowly wake up. Hopefully, they will ponder on the notions of justice, equality, fairness, and dignity. It will be hard, if not imaginable, for a country that has long been indoctrinated to believe that servitude and slavery is a path of honor to understand what democracy actually means, or how not to embrace absolutism and dictatorship out of intolerance for democracy's shortcomings. The country may never find true modernity, unless and until the Thai people start to realize that the Thai uniqueness cannot be an excuse to undermine political development. Until then, Thailand may remain in the shadow, and will probably be willingly left alone to deal with its own power structure and backward political culture.
Samuel Macrae is an independent writer.