Tillerson Goes to India: A New Phase in India-US Ties?
Rex Tillerson's inaugural visit to India will set the tone for the next phase in U.S.-India ties.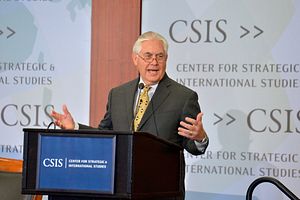 U.S. Secretary of State Rex Tillerson will be in India this week as part of his three-nation tour to South Asia to reinforce the point made repeatedly by the Trump Administration that it wants robust ties with New Delhi.
Tillerson already laid out the broad contours of this administration's India policy in a speech last week where he underscored the reasons why India-U.S. relations have seen unprecedented growth over the last few years.
Contrasting Indian and Chinese behavior, Tillerson argued that "China, while rising alongside India, has done so less responsibly, at times undermining the international, rules-based order – even as countries like India operate within a framework that protects other nations' sovereignty."
Though Tillerson maintained that Washington sought constructive relations with China, he was categorical that the United States "won't shrink from China's challenges to the rules-based order, or where China subverts the sovereignty of neighboring countries, and disadvantages the U.S. and our friends."
Calling India and the United States "two bookends of stability" on either side of the globe, Tillerson argued that "India needs a reliable partner on the world stage. I want to make clear: with our shared values and vision for global stability, peace and prosperity, the U.S. is that partner."
Explaining the underpinnings of India-U.S. relations, Tillerson suggested: "The emerging Delhi-Washington strategic partnership stands upon a shared commitment upholding the rule of law, freedom of navigation, universal values, and free trade."
At a time when there are some concerns in India about the transactional nature of the Trump administration's foreign policy approach and a sense of impending isolationism in the garb of 'America First', Tillerson's speech made it clear that the power shift in the larger Indo-Pacific remains at the center of American external outreach and India's importance in that matrix remains as pivotal as ever.
During Tillerson's visit this week, regional issues will dominate the agenda and Washington would be keen to assess how New Delhi views its own role in both in the 'Af-Pak' and Indo-Pacific theaters.
The Trump Administration's South Asia policy has already called for a substantive role for India in Afghanistan and Tillerson's speech has underlined an expansive role for India in the wider Indo-Pacific.
As India looks set to play a wider role in the Asian region, Washington is suggesting that the starting point should be greater engagement and cooperation with Indo-Pacific democracies. As the U.S. Secretary of State suggested, "We are already capturing the benefits of our important trilateral engagement between the U.S., India, and Japan. As we look ahead, there is room to invite others, including Australia, to build on the shared objectives and initiatives."
While New Delhi "appreciated" Tillerson's "positive evaluation" of the India-U.S. relationship and said it "shared his optimism" on the future direction of bilateral ties, Chinese state-run Global Times was predictably harsh, arguing that India would be "naive" to wait for the United States to fulfill its "economic, technical, military and political promises."
"In Washington's new South Asia policy as sketched out by Tillerson, the U.S. intention of turning New Delhi into a stronghold to counterbalance Beijing could not be more obvious," it suggested and underlined that while China is not against India and U.S. extending their bilateral ties, it will not tolerate any move that is intended to work against the country.
Tillerson's visit to the region will allow Washington and New Delhi to get a first hand assessment of each other's priorities at a time of unprecedented shift in regional and global politics.
While India will be assessing how far the Trump Administration will go in operationalizing its rhetoric against Pakistan and China, the United States will be looking at the Modi government's response to its overtures.
It remains to be seen if India can take advantage of this moment to carve out a larger regional and global role for itself. The Modi government is keen to move India away from being a balancing to a leading power and the Trump administration is signaling that it is ready to help India achieve its ambitions.
In the past too successive U.S. administrations from George W Bush onwards had been positive about India's global rise. But it was New Delhi which was coy of emerging out of its South Asia cocoon. The Modi government is unabashed about its commitment to see India emerge as a powerful global actor. It now needs to seize the moment.