US Commission Doubts the Viability of the 'One Country, Two Systems' Model in Hong Kong
The Hong Kong government says foreign legislatures should not interfere in Hong Kong's affairs.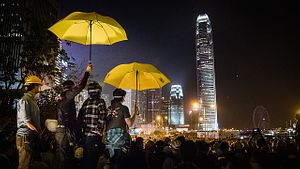 On October 5, the U.S. Congressional-Executive Commission on China (CECC), an independent agency with a mandate from Congress to monitor human rights in China, released its 2017 annual report and announced intention to nominate Hong Kong's Umbrella Movement for the Nobel Peace Prize. In particular, CECC doubted the viability of the "one country, two systems" model in Hong Kong. On October 6 the Hong Kong government demanded that the CECC not to interfere in Hong Kong's affairs.
In the annual report, CECC said: "Twenty years after the handover, the long-term viability of the 'one country, two systems' model in Hong Kong is increasingly uncertain given central government interference."

In November 2016,  two Hong Kong pro-democracy legislators were disqualified from entering parliament, ostensibly for failing to "sincerely" take the oath of allegiance to China during a swearing-in ceremony. In report, CECC mentioned this case in particular and noted that the Chinese National People's Congress Standing Committee (NPCSC) chose to intervene and interpret the Basic Law (Hong Kong's mini constitution) to effectively prohibit the two legislators from taking office. CECC also said it "was the first time the NPCSC had preemptively ruled on a case under consideration by a local court, raising further concerns about Hong Kong's autonomy."
Current CECC Chair Senator Marco Rubio said, "This year the central authorities further intervened in the affairs of Hong Kong, disqualifying democratically elected legislators and jailing pro-democracy leaders. In the face of this repression, the universal desire for basic human rights persists."
Rubio, along with co-chair U.S. Representative Christopher Smith, announced their intention to nominate the three Hong Kong activists — Joshua Wong, Nathan Law, Alex Chow — and the entire Umbrella Movement for the Nobel Peace Prize for "their peaceful efforts to bring political reform and protect the autonomy and freedoms guaranteed Hong Kong in the Sino-British Joint Declaration."
The three activists are currently in jail for "violent unlawful assemblies," on sentences handed down by the Hong Kong Court of Appeal.
In response to CECC's report, a spokesman for the Hong Kong Special Administrative Region (HKSAR) Government said on October 6:
Since the return to the motherland, the HKSAR has been exercising a high degree of autonomy and "Hong Kong people administering Hong Kong" in strict accordance with the Basic Law.  This demonstrates the full and successful implementation of the "'one country, two systems" principle, which has been widely recognised by the international community. Foreign legislatures should not interfere in any form in the internal affairs of the HKSAR