What's Next for the US Navy After Its Ship Collisions?
There are steps Washington can take with its partners to reinforce its regional commitment.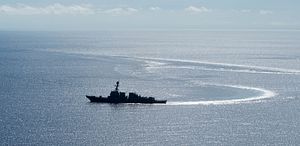 The recent spate of ship collisions involving the forward-deployed forces of the U.S. Navy 7th Fleet has cast a question mark on the durability of its long-term commitment toward maintaining peace and stability in the Indo-Asia-Pacific region.
This challenge comes at a rather inopportune time, when the region remains fraught with uncertainties over a variety of geopolitical flashpoints, such as the Korean Peninsula. Not to mention that even though the South China Sea (SCS) situation appears to have eased following the August 2017 ASEAN Summit in Manila, the disputed waters remain a powder keg that threatens to explode with the slightest ignition by any of the concerned parties. At the same time, the situation in the East China Sea has settled into a new norm of routinized Chinese Coast Guard forays into waters off the Japan-administered Senkaku/Diaoyu Islands.
But U.S. officials have said that there are certainly ways that the United States can keep up with its commitments to regional security despite those attendant challenges, notwithstanding the recent ship mishaps. During a recent media availability hosted by COMLOG WESTPAC at the Sembawang Wharves, Singapore, Vice Admiral Phil Sawyer, commander of the US Navy's 7th Fleet, highlighted that a key priority would be to focus on undertaking corrective actions to restore the right balance between satisfying operational demands and ensuring fleet readiness through proper training, certification, and preparation of crews and ships.
Sawyer also dismissed any idea about a scaling back of 7th Fleet operations, which holistically include a whole gamut of activities such as navy-to-navy staff talks, port visits, training and exercise engagements. The foreseeable challenge will persist where it comes to having to satisfy a lengthy list of operational demands while making do with limited resources, Sawyer stressed. "But there is a need to prioritize those operations," he said.
What About FONOPs?
Will freedom of navigation operations (FONOPs) be subject to this prioritization process? There had been earlier concerns about whether U.S. President Donald Trump, in his bid to solicit Beijing's assistance with North Korea, would roll back on moves to challenge China's SCS claims, including the intent to curtail FONOPs as reported in May. However, such concerns may have been unfounded.
The U.S. Pacific Command has developed a schedule envisaging the conduct of FONOPs two to three times over the next few months, in an attempt to create a more consistent posture to address Beijing's claims in the SCS. This followed an earlier report about Defense Secretary Jim Mattis' submission of a plan to the White House back in April outlining a schedule on FONOPs. Sawyer did not weigh in on this front, merely reiterating what has been often emphasized by the U.S. political and military leadership: "The 7th Fleet will continue to fly, sail, and operate wherever international law allows."
Nonetheless, it was interesting to note that just a couple of days before the media availability, the destroyer USS Chafee conducted a FONOP off Chinese-occupied Paracel Islands, keeping outside the 12-nautical mile territorial sea limits of any of the constituent islands but entering the straight baseline that Beijing claims around the island group.
Even more telling has been the tempo of such operations. The Chafee FONOP is the fourth since Trump took office in January this year. This frequency – four FONOPs in about five months – would have satisfied the original intent revealed in November 2015, following the first FONOP by USS Lassen, to conduct patrols within 12 nautical miles of the artificial islands about twice a quarter to remind China and other countries about U.S. rights under international law.
Beijing has consistently raised protests following each of the FONOPs being undertaken. But interestingly, responses from several key countries around the region have been at least ambivalent if not coming out in public support. For instance, following the McCain FONOPs, a Philippine defense official remarked: "Well, freedom of navigation is guaranteed and anyone can do it. So, we just need to monitor. And as long as it is within the bounds set forth by international law, then it is all right." This is notwithstanding the upswing in ties between Manila and Beijing under the watch of Philippine President Rodrigo Duterte.
It would seem that FONOPs continue to be perceived by many, if not all, governments in the region, as a stabilizing instrument in the SCS even though they may be unwilling to join or undertake them themselves. This is especially considering that the Beijing's fortification of its artificial islands in the South China Sea continues unabated despite the current positive environment after ASEAN and China agreed to a framework on the proposed Code of Conduct.
Addressing Capacity Through Partnerships
As the 7th Fleet continues with its daily routine in the region while undertaking remedies to address the balance between fulfilling a growing list of operational demands and ensuring fleet readiness, a more sustainable, long-term approach is desirable. Part of the answer can be found in not just building fleet capacity for forward deployments, but also emphasizing regional alliances and partnerships.
Even if they do not directly participate in FONOPs, the ramped-up presence of these allies and partners across a broad range of activities – all aimed at preserving peace and stability in the region – would help a great deal. For instance, Australia and Japan have stepped up the game in recent times. The Australian Defense Force's Joint Task Group Indo Pacific Endeavor, comprising six ships and over 1,300 personnel, deployed to the region in September, making port calls and conducting training engagements with regional counterparts. It is the largest such coordinated task group to be dispatched for over 40 years.
Likewise, the Japan Maritime Self-Defense Force has intensified its presence, especially in Southeast Asia, including frequent cruises in the South China Sea while engaging regional partners. As one of those initiatives under the Vientiane Vision conceived of by Tokyo as a systematic roadmap for defense and security engagements with ASEAN governments, the JMSDF conducted the first Japan-ASEAN Ship Rider Cooperation Program in June on board the helicopter destroyer JS Izumo. Most recently, Canada revealed that the submarine HMCS Chicoutimi departed for the region in mid-September – the first-ever for the Royal Canadian Navy, adding to frequent tours by surface ships.
Sawyer appears upbeat about the prospect of developing naval partnerships with countries in the region. "With more friends, it'll be easier [for the US Navy] to do more," he said, adding that the inaugural Exercise Pacific Griffin conducted with the Republic of Singapore Navy off Guam from August 19 to September 2 highlights how deepening such cooperation could expand horizons for both the U.S. and partner navies.
Discussion is already underway between the two navies to bring this training initiative forward. "The Republic of Singapore Navy has some ideas for the next Pacific Griffin, that's way ahead of our thinking," Sawyer quipped. So far, no specifics are confirmed about the second Pacific Griffin.
Turning to the Philippines, in adjusting to the political climate under Duterte, the Philippine and U.S. navies launched Maritime Training Activity Sama-Sama in June this year, which differs from the Cooperation Afloat and Readiness Training (CARAT) series that usually includes the U.S. Marine Corps. The USMC commenced its own new exercise initiative early this month with its Philippine counterpart, codenamed KAMANDAG, and there were also Japan Ground Self-Defense Force observers present.
Furthermore, there are potential opportunities to advance ties after the Philippine military authorities revealed plans to scale up joint training exercises, focusing on territorial defense, albeit not related to the South China Sea disputes. Likewise, for Vietnam, an increasingly important security partner to the United States, there are possible new avenues of naval partnership. It will be interesting to watch how the existing Vietnam-U.S. naval partnership, which has revolved around U.S. Navy port calls and the annual Naval Engagement Activity, evolves after a planned visit to the Southeast Asian country by U.S. President Donald Trump in November.
Speaking about the prospects of ramping up these regional engagements, Sawyer stressed that the U.S. Navy is keen to enhance training and exercises with regional partners in ways they see fit for their objectives. However, navy-to-navy staff talks would be required to iron out those specific directions to take such engagements forward into the future, he remarked.
The Long Haul 
The recent tragic mishaps notwithstanding, the 7th Fleet still has a list of work cut out to fulfill all the demands to help provide regional peace and stability. "Our sailors recognize there's real work out there to be done," Sawyer commented about the overall state of morale throughout the fleet based on his most recent interactions with personnel of the forward-deployed surface forces based in Japan.
Besides the SCS, there is still the teething North Korean challenge – one that would likely continue to occupy an inordinately huge chunk of the 7th Fleet's attention. The USS Ronald Reagan carrier strike group recently completed a port call to Hong Kong, before embarking on patrol and conducted operations and air wing training in the Philippine Sea. Just not long ago, the strike group drilled with the JMSDF in waters off Okinawa as the U.S. Air Force B-1 Lancer bombers staged a show of force over the Korean Peninsula amidst simmering tensions.
The desire to keep up with commitments to the peninsula is also indicated by the U.S. Navy's decision to surge the destroyer USS O'Kane to the 7th Fleet area of operations as part of efforts to cover ballistic missile defense gaps left by the two destroyers damaged in recent collisions. All this is taking place while the 7th Fleet actively takes part in the Navy's post-accident corrective actions, such as standing up the Naval Surface Group Western Pacific to train and certify forward-deployed surface units. "There's no doubt that we'll emerge better and stronger after those incidents," Sawyer reassured.
That being said, while the 7th Fleet undertakes these efforts, a clear, viable long-term direction apart from boosting fleet readiness and availability will be needed to further enhance regional alliances and partnerships. This means having a greater role carved out for allies such as Australia and Japan, welcoming major partners such as India to project a bigger maritime presence, and building the maritime security capacities of other South and Southeast Asian allies and partners. But it takes two hands to clap. It is also time for regional governments to step up contributions toward maintaining peace and stability in the maritime domain.
Swee Lean Collin Koh is research fellow at the S. Rajaratnam School of International Studies, based at Nanyang Technological University in Singapore. His research interests focus on naval affairs in the Asia-Pacific, especially in Southeast Asia.