In Turkmenistan, the Buck Stops Where Berdy Says It Does
Regional leaders dismissed in Lebap Province were accused of corruption. Meanwhile, the Turkmen shuffle continues.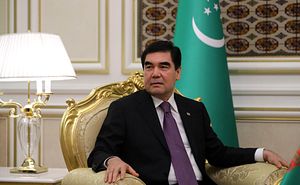 News from Turkmenistan is always thin but the frequent shuffling of officials points to political insecurity at the top as well as systemic issues throughout the government system. This week, a handful of leaders in Turkmenistan's Lebap Province were dismissed after a visit by President Gurbanguly Berdimuhamedov.
During the president's visit to the east, according to state media, he held a cabinet meeting during which Mammetkhan Chakyev, director of the State Service for Combating Economic Crimes, delivered a damning report that inspections in Lebap revealed cases of abuse of authority, bribery, and corruption by the leaders of Serhetabad, Dovletly, and Galkynysh districts as well as the director of Galkynysh's cotton ginning facility.
The leaders of the three districts, plus an unstated number of other personnel, were dismissed. Additionally, the governor of Lebap Province, Charigeldi Charliyev, was also released from his post and replaced with Tanryguly Atakhallyev, formerly the leader of Ahal Province.
Berdimuhamedov reportedly expressed his "discontent" with the situation in Lebap. Back in October, Charliyev was subject to a similar expression of "discontent" with the status quo in Lebap and, according to state media, given "strict instructions for correction of the situation."
Berdimuhamedov reportedly said, "Such negative phenomena as bribery and corruption in our country must be completely eradicated."
Of course, this is all filtered through the lens of state media. The corruption is not explained in detail and the way in which the problems in Lebap are discussed removes all responsibility from higher authorities.
For example, after extolling the "great attention" paid by the state to the development of Lebap, the article states,
Despite comprehensive support of the State, the region did not fulfill contractual obligations for production of wheat and three of its etraps [districts] did not fulfill the plans for production of raw cotton. The harvest of rice is delayed… The state programmes, which are to provide prosperous life of the people, are not implemented properly in the region.
Earlier this year, Berdimuhamedov approved a new program to combat corruption. Mammetkhan Chakyev, formerly chairman of the public customs service, was put in charge of the new anti-corruption body and a slew of dismissals and arrests have followed.
In 2016, regional watchers remarked on the near constant shuffling of officials amid emerging economic problems and troubling developments on the country's long border with Afghanistan.
Bruce Pannier wrote, "Someone needs to take the blame for these mounting problems, but in Turkmenistan the president is not only all-powerful, he is infallible. It is never the fault of the top man. So it's been open season on officials this year, more so than ever before."
Among those dismissed in early 2016 was Lebap's previous governor. Last summer, when Berdimuhamedov paid a visit to Lebap, three district leaders and eight deputies were dismissed and 16 more were reprimanded "and received strong warnings."
Open season, to use Pannier's words, seems to have continued into 2017. Whether the issues in Lebap and elsewhere in Turkmenistan are the result of corruption or administrative weakness (my money is on both), the never-ending shuffle of officials is hardly helpful in developing regional governance, let alone implementing nationwide development programs. But it is helpful in preventing leaders below Berdimuhamedov from developing any kind of base of power or, frankly, serious management experience.
In Turkmenistan, the buck stops where Berdy says it does.