Indonesia-Tunisia Relations: From Trade to Democracy
Jakarta's long-standing relationship with Tunis is expanding beyond trade and investment.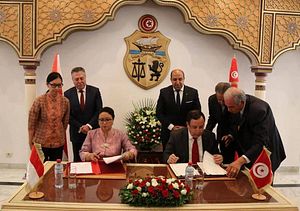 While North Africa used to have little significance in Indonesia's foreign policy, this seems not to be the case anymore. As I wrote earlier this year, there is a growing propensity among policymakers in Jakarta to pursue stronger relationships with North African countries.
Indonesian Foreign Minister Retno Marsudi's recent visit to Tunisia exemplifies this growing phenomenon. The primary purpose of Marsudi's visit was not only to stimulate trade and investment between the two countries, but also to expand ties to different fields, including education and counterterrorism.
As with other North African countries, contact between Indonesia and Tunisia is not new. In fact, it began before Tunisia even gained independence from France in 1956. Tunisia's freedom fighter, Habib Bourguiba, visited Jakarta in 1951. The trip resulted in the establishment of a representative office for Tunisia's independence in 1952, which was dedicated to lobbying Asian countries for support in Tunisia's struggle for independence.
Indonesia's support for Tunisian independence led the two countries to have a strong relationship even to this day. In 1960, Indonesia opened its embassy in Tunisia, while in 1987 the latter launched its diplomatic mission in Jakarta. On the political front, relations have strengthened with frequent high-level visits among politicians and diplomats, facilitated by Tunisia's decision to grant visa-free entry for Indonesians with diplomatic passports.
These ties have been supported by the participation of the two governments in multilateral platforms such as the Organization of Islamic Countries (OIC) and Non-Aligned Movement.
As an exemplification of the robust political ties, Indonesia and Tunisia have expressed their support of one another in global fora. For instance, Tunisia supported the nomination of Indonesia to the UN Industrial Development Council (UNIDO) and the International Maritime Organization Council Category C. On the other hand, the government in Jakarta offered its support for Tunisia's nomination in the Council of the United Nations Food and Agriculture Organization (FAO) and the Inter-governmental Committee for Physical Education and Sport (IGCPES).
On the economic front, the ties have also been strong, especially after the signing of an agreement to eliminate double taxation and prevent fiscal evasion in 1992. In October, Xinhua reported that the trade volume between Indonesia and Tunisia had reached $60 million. This trade is primarily dominated by Indonesian exports, including rubber, plastic, furniture, shoes, coffee, and spices. Meanwhile, Tunisia exports dates, oranges, and phosphate. While investments remain low, it is reported that Indonesia has over $100 million invested in Tunisia, particularly in the field of oil and gas.
Antara reported in 2010 that the two countries have signed 47 cooperation agreements in the economic, social, political, and cultural sectors. This has increased and expanded in the recent years as the ties between the two have grown noticeably. In fact, Indonesia media reports that the two countries are cooperating in capacity building, agriculture, small and medium enterprises, maritime, fishing, and family planning.
To complement the implementation of these agreements, the Indonesian Embassy in Tunis and Tunisia's Ministry of Foreign Affairs have agreed to establish a regular consultation forum for every three months at the ambassadorial level and every two months at the staff level. The forum serves as a platform for the coordination and evaluation of activities aimed at improving bilateral relations as well as the implementation of various cooperation agreements signed by the two nations.
Other forms of institutionalization have also manifested in recent years. Earlier in 2006, the Joint Study Group was created to support economic activities between Jakarta and Tunis. The Group has held two meetings in 2009 and 2010. The most recent effort took place in 2014, when the Tunisia-Indonesia Business Association (TIBA) and the Indonesian-Tunisian Business Council were founded. The two organizations also aimed to promote the two countries' ties, especially in the economic sector.
One important highlight of Indonesia-Tunisia relations is the issue of democracy. For the government in Tunisia, Indonesia is an example of a successful democracy, given that the world's largest Muslim-majority nation can implement an open and peaceful democratic system. During the transition process in Tunisia, Indonesia and Tunisia's Ministries of Foreign Affairs and embassies, along with Indonesia's Institute for Peace and Democracy, organized a workshop entitled "Indonesia-Tunisia Capacity Building for Democracy: Dialogue on Empowering the Electoral Management Bodies." The dialogue was intended as a platform for the transfer of knowledge between the two countries, especially regarding elections and political consensus.
In addition, during the 2014 Indonesian presidential election, a group of representatives from Tunisia made a visit to Indonesia to observe the electoral process in the country.
After Tunisia implemented a democratic transition by organizing open elections in 2014, the government in Jakarta congratulated and applauded its counterpart in Tunis. In its editorial in February 2014, Indonesia's English-language newspaper The Jakarta Post called Tunisia a "shining example" for democracy, as it has successfully implemented a democratic transition after the Arab Spring.
This trend culminated recently when Bali Democracy Forum organized its first meeting outside Indonesia in Tunisia under the name of the BDF-Chapter Tunis. The forum aims to offer a platform for exchanging knowledge and experiences on democracy.
On the cultural level, Indonesia and Tunisia have signed several agreements on education, research and technology, sports, language, and religion. Cultural events on Indonesia are also held annually in Tunisia. Even though there remains a widespread lack of familiarity about the other country among the two business communities as well as cultural limitations, mainly caused by the lack of shared language, these cultural and educational efforts could help minimize potential obstacles that may hinder the relationship from reaching its full potential.
The ties between Indonesia and Tunisia are expected to grow further in the coming years, not only because the two nations have long historical ties, but also due to the fact that Jakarta and Tunisia recognize the mutual benefits from their links. As the biggest nation in Southeast Asia, Indonesia is a crucial target for Tunisia's investments and exports, as well as a hub to expand economically into other Southeast Asian countries. The Middle East continues to face turmoil and political instability, and it would make sense if countries such as Tunisia prefer to "look east."
Situated at the crossroads between Africa, the Middle East, and Europe, Tunisia also holds a special position in the eyes of the government in Jakarta. As stated by the deputy speaker of Indonesian People's Representative Council, Fadli Zon, Indonesia sees Tunisia as a gateway to the wider Middle East, Africa, and Europe.
This could be fostered by their shared views and interests on democracy. Tunis and Jakarta are likely to continue to learn from each other in working toward a stronger democratic and peaceful environment for their people.
Muhammad Zulfikar Rakhmat is a Ph.D researcher at the University of Manchester, focusing on China/ASEAN-Middle East relations.