Japan's Rush to Conclude TPP-11
Shinzo Abe's government can't afford to see the Trans-Pacific Partnership fail.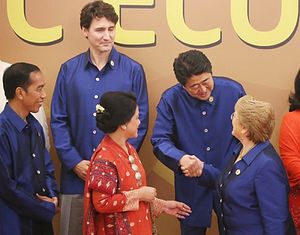 The delay in reaching a broad agreement among the TPP-11 in Da Nang will be a keen disappointment to the Japanese government for a number of reasons. First, in the short term, it has had to settle for the "core elements of a deal" called the "Comprehensive and Progressive Agreement for Trans-Pacific Partnership" (CPTPP) that all parties acknowledge requires further work before TPP-11 can be considered a done deal. As one Canadian official put it, what the negotiating parties have achieved is "a framework towards the deal."
Second, Japan's Prime Minister Shinzo Abe is under domestic pressure to secure an agreement among the TPP-11 countries because, from the start of Japan's participation in the TPP-12 negotiations in May 2013, he has touted the agreement as "an engine of growth" for the Japanese economy. Abe is also being pushed by the leaders of economic organizations including the head of the Japan Business Federation, Sadayuki Sakakibara, to achieve the prompt realization of the agreement.
Third, beyond the rhetoric about the economic and trade advantages to be gained from signing a multilateral trade agreement with 10 other Asia-Pacific nations, there are several other less tangible but no less significant benefits.
After the Trump administration pulled out of TPP-12 in January this year, it became the primary vehicle for Japan to step into a trade leadership role in the region. Japan has subsequently acted as the principal driving force keeping the deal alive. Economic Revitalization Minister Toshimitsu Motegi's assumption of the co-chairmanship of the negotiations in Da Nang speaks to this role. Motegi distinguished himself by prematurely announcing that a "high-level and balanced agreement" amongst the TPP-11 countries had been reached on November 9.
Japan wants to lead rule-making on trade in the Asia Pacific in America's absence and as part of a broader strategic agenda that seeks to establish a rules-based order in the region as a counterweight to a China-led power-based order. It also hopes to position the TPP as the "model" for other mega-regional trade agreements in the region such as the Regional Comprehensive Economic Partnership (RCEP)
Equally important for Japan is the desire to strike a blow for the principle of multilateralism and against bilateralism. This is a stance that Japan has adopted with increasing alacrity as the likelihood of pressure (gaiatsu) to negotiate a free trade agreement (FTA) with the United States has loomed larger. The Trump administration has adopted the reverse posture to Japan's, rejecting multilateralism in favor of bilateralism, which bestows distinct negotiating advantages on the United States, enabling it use its greater economic and trade heft to extract concessions from trading partners.
In short, keeping the TPP-11 alive has become absolutely central to Japan's strategy for dealing with U.S. pressure to negotiate a bilateral FTA. TPP-11 is a weapon in a gaiatsu avoidance game plan, allowing Japan to side-step American demands to begin talks on a bilateral FTA. In this way, TPP-11 functions as a "bulwark" against U.S. demands for enhanced access to Japanese markets, particularly in areas such as cars, beef, and pharmaceuticals. These demands, Japan fears, would compel it to go beyond the concessions it made as part of the original TPP-12 agreement signed in February 2016.
Even in practical terms, as Japan's Deputy Prime Minister Taro Aso has pointed out, multilateralism is inherently easier to sell domestically because "losses" in terms of allowing greater market access in sensitive areas can be made up for by "gains" in a range of other markets, rather than in a single market such as the United States. Aso has freely admitted that Japan has "less room to compromise with the United States under a bilateral trade deal than under a multilateral agreement like the TPP." He has spearheaded Japan's resistance to U.S. attempts to apply gaiatsu on Japan to open its markets and to initiate bilateral FTA negotiations.
Japan feels particularly vulnerable to U.S. pressure to grant country-specific market-access concessions under Trump not only because this might revisit the bad history of earlier decades but also because of the potential leverage the U.S. side could exert, given the current trade imbalance between the two countries. This would put Japan at a severe disadvantage in any bilateral trade negotiations. Trump, for example, has made it clear that he wants to use greater access to Japanese markets for American exports to eliminate the U.S. trade deficit with Japan. Japan is, therefore, in a hurry to conclude TPP-11 so the Abe government can argue that it "will not make any compromises beyond those it made in the TPP" should it reluctantly accede to U.S. demands to negotiate a bilateral FTA.
Such a strategy may prove a double-edged sword, however. Should TPP-11 succeed, the United States will be pressing for even greater concessions from Japan in the agricultural sector because it is now at a competitive disadvantage against both European farmers in the Japan-EU Economic Partnership Agreement (JEEPA) and potentially those in countries like Australia, New Zealand, Mexico, and Chile in TPP-11.
Aurelia George Mulgan is professor of Japanese Politics, University of New South Wales, Australian Defence Force Academy, Canberra, Australia.