Strange Bedfellows Down Under
New Zealand's new coalition government is likely to have a short shelf life.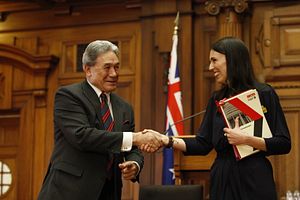 It was all smiles on October 19, 2017. New Zealand's new Prime Minister-to-be, Jacinda Ardern, flashed her pearly whites and announced that the New Zealand First Party would join her coalition, giving her Labour-Green-New Zealand First Government a majority in the new Parliament. She was, she said, "honored and privileged" to be prime minister.
Honored, privileged, and darn lucky. The new government is a dream coalition that is too good to be true. By next year at this time, it will probably be much like the prime minister's cat, Paddles, who had had her own viral Facebook page: run over by a car two weeks after the coalition agreement was signed.
Announcement (of the coalition) day was a metaphor for the underlying weakness in this coalition. Ardern made her announcement in one place and New Zealand First leader Winston Peters made his — before Ardern — in another place, without having told her of his decision. Neither leader wanted to share the limelight. This is a coalition among three Party leaders (Peters has already said he is only in coalition with Labor, although Labor is in coalition with Green), two of whom, like Lindsay Lohan, always "wanna come first." (The new prime minister-designate did appear, separately, with New Zealand First's Peters and Green's James Shaw, respectively, four days later, for the coalition agreement signing).
The first thing to remember about this coalition government is that it has no votes to spare. In a Parliament of 120 members, Labor has 46 seats, New Zealand First has nine seats, and Green has eight. That means that, if all three coalition Parties vote Yes and all opposition Parties vote No, the government has 63 votes and the opposition 57. That is enough because New Zealand MPs rarely vote against their Party's position on government bills. However, if one Party in the coalition pulls out, Labor and the remaining coalition partner, left with 54 or 55 votes out of 120, cannot govern.
Furthermore, Green's agreement is a "confidence and supply" agreement: they can vote against any government bill except a vote of no confidence (to throw the government out) or a budget bill. In such a case, the government could continue but legislation which Green objects to might not pass. Finally, if any Party cancels the coalition agreement, it can still vote to throw the government out and, unless they make a deal with the opposition (unlikely), they will be thrown out.
Labor's Achilles heel is that they raised their popular vote percentage from 25 percent in 2014 to 37 percent in 2017 by getting almost all the votes on the Left. They won few votes from the opposition National Party. Therefore, other center-left Parties that propped up the Labor government of Jacinda Ardern's mentor, Prime Minister Helen Clark, from 1999 to 2008 (Progressive, United Future, Maori) are all gone now, at least from Parliament. Aside from Green and New Zealand First (who also propped up the 1999-2008 governments), Labor has nowhere to go for support.
By contrast, opposition leader Bill English's National Party has 57 seats out of 120 in Parliament. He could easily have a coalition with the Association of Concerned Taxpayers, with their one seat: ACT's leader, David Seymour, endorsed English for prime minister during the 2017 election. That would give English 58 seats out of 120: three votes short of a majority. If New Zealand First stormed out of the coalition with Labor and joined a coalition with National and ACT, that could be a very stable government, with 67 votes out of 120. English could even govern with a minority (National has done it before), if he is careful only to submit bills that New Zealand First can vote for and listens to their demands. National was in a coalition government with New Zealand First in 1996-1998.
It is not difficult to imagine how the collapse of the current coalition would happen. All three of these Party leaders in the coalition government are among the most principled politicians in New Zealand. Yet successful coalitions are not led by principles but by compromise, and most of the principles of these three are different.
Jacinda Ardern may appear to be a Clark clone (both from rural Waikato, both female and young on taking office, both Members of Parliament for Auckland Mount Albert, both career politicos who never really did anything else) but there are differences. Prime Minister Helen Clark was a successful coalition leader because she was willing to follow her coalition partners: Kiwibank from the Progressives, making spanking a crime from the Greens, Super Gold Card from New Zealand First. She was not really a socialist (although she represented the Labor Party in the Socialist International conferences in the 1980s): in the Labor Government of 1984-90, Prime Minister David Lange said that Clark, then his minister of health, was "so dry [economic right-wing] she's combustible."
So Clark could easily make compromises with other Parties. In fact, political scientist Bryce Edwards has said that Clark was "never really a conviction politician" and Denis Welch, who wrote a political biography of the former prime minister, argued that it was hard to tell Labor and National apart under her leadership. Also, Clark entered the leadership with three years experience as a Cabinet minister from 1987-1990, so she had some experience of the give-and-take of real politics and how to get things done.
By contrast, Ardern has never been in government, only in politics and Parliament. She has only been leader of the Labor Party for a few months. Before Parliament, Ardern was a researcher for the New Zealand and British Labor Parties and president of the International Union of Socialist Youth. Her leanings are much further left than Clark's; on October 21, Ardern accepted that capitalism had been a "blatant failure."
Meanwhile, Ardern's new coalition partner, Winston Peters, has spent most of his life opposing socialism, as a member of the National Party and then in his own New Zealand First Party. To be sure, he also opposes the free market "irresponsible capitalism" of today's National Party: that is why he left them in 1993. He supports the regulated capitalism, with state intervention for economic growth and justice, of the 1949-1984 National Party, which he calls "capitalism with a human face" or, as he put it on October 19, "today's capitalism." He also believes that the last Labor government's Kiwisaver scheme is a "billion dollar rort" [fraud]. He is in the "radical middle" but certainly not on the Left.
That makes for an obviously uneasy coalition. If Ardern and her Labor Party want to do anything really socialist, they may see New Zealand First's back. Similarly, Labor is an urban Party; that is why they are so concerned about housing. Ardern's Party gets few votes in the places where she grew up, like Morrinsville and Murupara, which elected a National MP. New Zealand First is a rural Party; that is why they are so concerned about regional development, even wanting to move State services out of the capital.
Currently the coalition has no problem promising both guns and butter: billions for housing and billions more for regional development. However, soon the day of reckoning will come: someone has to pay for all this. When Labor, who quickly threw their huge tax plans under the carpet as the election approached, find they have to actually introduce some of those proposals to prevent a crisis, it is very conceivable that the New Zealand First MPs will refuse to vote for them. When the budget is defeated, the government cannot continue.
Add in the third party and things look even more rocky for the coalition. The Green Party called the New Zealand First Party racist during the election over their anti-immigration policies. Peters said he would never forget it and that is why he will not sit with them in Cabinet or in media conferences.
Further complicating things, Pacific Island immigrants, one of New Zealand First's long-standing bugaboos, are one of the Labor Party's bedrocks of support in places like Manukau and south Auckland. Six Labor MPs out of the 46 are Pacific Islanders. Labor Party leaders have played the anti-immigration card in the past few years when they thought they could pick up stray votes over it and, in the recent elections, promised to cut immigrant numbers. Ardern can tell the Greens that there is a crisis in housing so they have to prohibit foreign purchases of residential housing, which looks like speculation if the buyer does not want to live in the house. Yet if the coalition government tries to take a truly anti-immigrant line, especially affecting Pacific Islanders, it could split the Labor Party and cause the Greens to want the coalition government gone. If the coalition don't take an anti-immigrant line, New Zealand First Members may start to wonder why they are there.
Finally, New Zealand First is ideologically opposed to free trade: e.g. the Trans-Pacific Partnership (TPP), which it has called "a dead duck." Labor is willing to join TPP if it can get the ban on foreign ownership of housing included. Peters is minister of foreign affairs. What will happen when it is time to sign?
The leaders' strong, ideological personalities (including Peters' making "being shocking and erratic" a kind of ideology over his political life) and political differences over taxes, immigration, and trade are hiding now. These are the "ticking bombs" in the Labor-New Zealand First-Green coalition government. Now they tick softly but the ticking will get louder over time. The coalition government is a castle of sand: anyone who has built one on 90 Mile Beach knows what eventually happens.
Jack Edward Effron has formerly served as a Lecturer at Victoria University of Wellington, Senior Investigator at the New Zealand Commerce Commission, and adviser to the National Party of New Zealand.  He holds a BA from the University of Cincinnati, an LLB from the University of Cincinnati, and a PhD from the University of London.