Take Note: Asia's 'Quad' Is Back
Cooperation between the United States, Japan, Australia, and India is here to stay.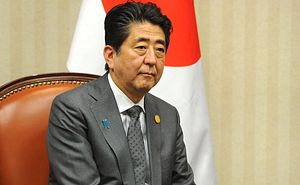 As U.S. President Donald Trump visits Asia to reassure American allies and partners, what is clear is that Trump's shambolic approach to international affairs (and pretty much everything else) contrasts sharply with the seemingly visionary approach of the Chinese President Xi Jinping.
Xi used his marathon speech to the Communist Party of China to underline how China plans to emerge as the nodal force on the global power matrix over the next two decades. And most Asian states are increasingly willing to buy that narrative. This not so much because the Chinese leadership is making a compelling case, but because the alternatives are not clear.
In this context, an interesting development in the Indo-Pacific in recent weeks has been the re-emergence of the idea of a democratic "quad" focused on the United States, Japan, India, and Australia. A decade after it first appeared and was ignored by most states under Chinese pressure, it has now bounced back with a vigor few would have expected just a year ago. The reason is simple: there is growing nervousness in the regional power centers in the Indo-Pacific about China's emergence as a major global power (no one buys the peaceful rise of China argument anymore) and about the ability and willingness of the United States to manage this power transition effectively.
The current transition of power in the Indo-Pacific, underlined by America's relative decline and China's growing power, has significant implications for most of the Asian states. Though the uncertainty around the future of international politics, norms, and institutions does impinge upon all members of international society, Asian states find themselves at the forefront of this transition. For them the current transition of power is not only an ideological contest over the form and nature of the international political system but is inextricably linked to their own national security imperatives in a number of ways.
The rise of China and its increasingly assertive behavior is unnerving key Asian states. These states lack internal capacity to balance China's growing economic and military strength on their own. Even when all these states have benefited enormously from China's economic rise and continue to do so, cumulatively they have also contributed to China's relative growth and its military capabilities. If until recently China's peaceful rise was a collective good for the Asian states, it has now turned into a collective military and security hazard. Regional economic growth is dependent on freedom of navigation in the Indo-Pacific – from the South China Sea to Straits of Malacca to the Indian Ocean. 25 percent of all traded goods pass through the Straits of Malacca. Asia has benefited from the post-Cold War security order underlined by U.S. primacy and now America's relative decline is leading to growing concerns over the future of this liberal order and Washington's capability and intention to defend the same.
And so soon after Shinzo Abe's landslide victory in the Japanese elections, his foreign minister, Taro Kono, said that Japan will propose a "top-level dialogue with the U.S., India, and Australia" to promote free trade and defense cooperation across the Indian Ocean – from South China Sea to Africa. The proposal is to countervail China's Belt and Road Initiative, which "would cement a sphere of influence for Beijing well beyond Asia." Abe had also articulated a need for such a new security architecture in 2012 when he had suggested "a strategy whereby Australia, India, Japan, and the U.S. state of Hawaii form a diamond to safeguard the maritime commons stretching from the Indian Ocean region to the western Pacific."
In 2007, Abe, in his earlier stint as prime minister, lobbied for Asia's democracies to come together. This was also actively supported by the United States. The initiative resulted in a five-nation naval exercise in the Bay of Bengal in September 2007 – code-named Malabar 07-02. However, perceiving a possible ganging-up of Asia's democracies, China issued demarches to New Delhi and Canberra, causing this initiative to lose steam, since both Australia and New Delhi felt it unwise to provoke China.
But this time, unlike in the past, both India and Australia have welcomed the move. India's Ministry of External Affairs suggested that India was open to working with countries "on issues that advance our interests and promote our viewpoint" and that New Delhi has "an open mind to cooperate with countries with convergence." Australia's Foreign Minister Julie Bishop has indicated her country is open to reviving the quadrilateral forum and since Australia has been having such engagements, it was "natural" to continue to have such discussions.
China's assertive foreign policies over the last decade have managed to pave the way for such a response whereby once diffident New Delhi and Canberra are now willing to openly accept the need for a security architecture, which privileges engagement with like minded democratic countries.
So the Quad is back. It may still not work the way many would like it to. But the signals from the Indo-Pacific are that regional states are willing to work together to manage the externalities of China's rise and America's incompetence.