Why Do Hong Kong Football Fans Boo the Chinese National Anthem?
Once again, the national anthem is greeted by boos during a football match in Hong Kong.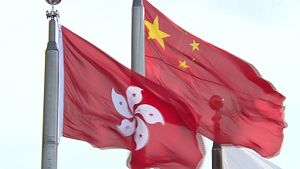 Last week, at a football match played between the Chinese and Qatari national teams hosted in Hong Kong, some local attendees loudly booed the Chinese national anthem, and yelled "We are Hong Kong" instead.
This is not a new trend. Some hardcore football fans in Hong Kong have been booing the Chinese national anthem before matches for several years. Earlier this month, authorities began discussing law enforcement measures to address the show of disrespect, making such an act illegal. There are of course disagreeing views from Hong Kong and overseas arguing that, for example, cracking down on such protests would stress "freedom of expression" or that the pending legal measures would "backfire." Other argue that booing the national anthem is obviously very disrespectful behavior and, as a selective, purposeful, and malicious act, should not be tolerated.
So, is booing the Chinese national anthem trivial misbehavior, merely practicing the right of freedom of expression? It goes deeper than that. Booing and even giving the middle finger to Chinese national symbols is more like a kind of demagogism practiced by a small number of people who want to deliberately paint Hong Kong as "non-Chinese." Why should the central government and Hong Kong administration keep silent in the face of these efforts? In fact, there seems to be an odd viewpoint when it comes to the central government's role on the Hong Kong issue: based on some sympathetic media accounts, it seems the central government has no role in the Special Administrative Region, and every single policy enacted by Beijing is a suppression of either Hong Kong's autonomy or its freedom of expression. This is obviously a distorted abuse of claims made in the name of freedom and democracy.
Putting aside the question of disrespect versus freedom of speech, however, the booing raises another issue. Many of those taking part are young – so what is the role of the younger generation in fostering communication and mutual understanding between Hong Kong and mainland China?
A few days ago, I happened to come across TV program aired by Phoenix Television titled "Wu Zhi Qiao" (Bridge to China, or 无止桥). In that episode, a group of college students from Hong Kong and mainland China helped to improve village facilities, particularly by building footbridges in China's Yunnan province. In fact, through this program, young people from a modern and developed city like Hong Kong — and maybe other big cities in China — could volunteer to experience, understand, and really comprehend China as a great country with great diversity. The program also allowed the students to use their professional knowledge and especially green development concepts to help the local people in a remote and poor area to improve their livelihoods. As Joseph J.Y. Sung, president of the Chinese University of Hong Kong, put it in an interview in the episode, many Hong Kong students started their volunteering experiences with doubts or even slight resistance, but after going there, getting to know the people, and helping them to build footbridges, the whole program turned out to be a "life transforming experience" for many of them.
The TV program also enlightened me. Compared with the football fans' self-indulgence in booing the Chinese national anthem, these college students in volunteering programs like "Wu Zhi Qiao" are extending much more positive energy, since I see courage, responsibility, and humanistic concern in them. I believe that they are among those who actually hold the hope and future of Hong Kong.