Beijing Leader Sends Condolences to Migrant Workers After Evicting Them
Thousands of migrant workers have been evicted from their rental homes under Beijing's demolition campaign.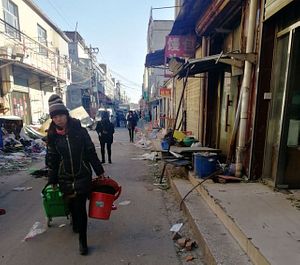 Weeks after fiercely kicking thousands of migrant workers out of their rental homes, Beijing's top leader, Cai Qi — the current Communist Party secretary of the city — paid a visit to some representatives of these migrant workers in Beijing and sent them his "condolences," according to Qianlong.com, a news website managed by the city government.  
On December 12 — "the coldest day since the beginning of winter" said Qianlong — Cai, together with other officials of the municipal government, first visited some delivery workers at the dispatch center of an express company.
"Does everybody have a place to stay?" Cai asked these workers. "What about your salaries?"
"What the city leaders care most are these delivery workers' lives in Beijing, " said Qianlong.
After talking with these delivery workers, Cai then met with some city cleaners and property management workers. Cai told them, "Our city cannot do without you ordinary workers." He also vowed to let all these ordinary workers to "feel the warmth of Beijing," according to Qianlong.
However, just weeks ago, Beijing launched a mass eviction of migrant workers under a grand campaign of demolishing illegal construction and maintaining urban safety.
As The Diplomat reported, Cai personally kicked off the campaign on November 20, demanding that the "special operation" should involve a large-scale inspection, clean-up, and tear-down across the city.
Under the "special operation," thousands of poor residents living in Beijing's suburb areas have been driven out of their makeshift homes without compensation; numerous small shops, bars, factories, hotels, and tiny suburban restaurants have been closed down.
The city's campaign has already attracted attention from the global media. More than 100 Chinese intellectuals also signed a petition sharply condemning the eviction — which they called "vicious conduct that breaks the law and the Constitution and seriously tramples on human rights."
According to video footage circulated online, Cai, speaking at an internal conference, told multiple local officials: "[When you are governing] at the grassroot level, be bold enough to use a real knife and gun, to see red on the tip of your bayonets, and to give a tit-for-tat response, so as to resolve the issue."
It's unclear who leaked this video footage, but Cai's tone in the clip was in sharp contrast with what he just said directly to migrant workers.
Unsurprisingly, that video footage has been deleted from Chinese social media by censors. Nor were Chinese netizens allowed to leave comments under the report of Cai's latest meeting with migrant workers.
Caixin, a prominent Chinese news magazine, published a report on Cai in English, defining Cai's latest behavior as "a stark about-turn," while noting that the Beijing government has gone "into damage-control mode" after the public relations crisis.
However, there is no evidence showing that Beijing has stopped the forced evictions so far. Countless buildings have already been torn down by bulldozers and numerous migrant workers have lost their homes.