Can China Look to Carbon Capture for its Climate Pledges?
A look at one way Beijing can bridge the gap.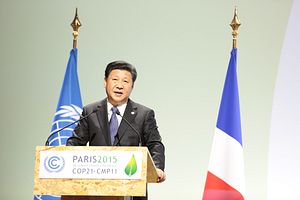 In the latest chapter of Beijing's efforts to fill the power vacuum left by a retreating United States, China played a proactive role at the COP23 climate change summit in Bonn. Eighty-two Chinese delegates traveled to Germany with dozens of NGO attendees to demonstrate Beijing's intent to lead the world against climate change. This, of course, is a primary objective President Xi Jinping laid out in his speech at the Chinese Communist Party's 19th National Congress last month.
The Chinese COP23 delegation set up a large pavilion to showcase best practices and latest technologies in environmental protection. Special envoy Xie Zhenhua, China's chief climate negotiator at the 2015 Paris agreement, has been identified as the top powerbroker at Bonn. Chinese representatives did not officially launch Beijing's forthcoming national carbon trading scheme (as some expected), but they did make clear the emissions trading market would be coming soon while "stepping up cooperation" with the European Union to that end.
At COP23, China also tried to mediate the divide between developing and developed countries over pre-Paris contributions to greenhouse emissions, left unresolved by the 1997 Kyoto Protocol. Similarly, Chinese delegates have led the Like Minded Developing Countries (LMDC) in protesting Western reluctance to formalize a pre-2020 climate agenda and submit themselves to climate assessments.
China's delegation had the luxury of speaking to a receptive audience. Fiji, whose prime minister is presiding over the climate summit, is keen to have Chinese backing for these global initiatives.
On the surface, China's active role and stewardship at COP23 stands in sharp contrast to the United States, the self-designated ambassador for fossil fuels and recipient of most of the ensuing coverage. However, while delegates deliberate in Germany, Chinese companies are pressing ahead with multi-billion coal deals signed with South Africa and Kenya (among others) and financed by government-owned policy banks.
That is not to mention the makeup of China's own grid. Beijing may lead the world on technological input into renewables, with water, wind, and solar energy output surpassing the total power output of France and Germany combined in 2015. However, the makeup of the Chinese power sector means fossil fuels remain indispensable. Renewable energy only accounts for about 12 percent of China's total energy consumption, while fossil fuels supply the majority of the nation's energy needs. Over 90 percent of China's carbon emissions come from fossil fuel combustion, and over 65 percent of that comes from coal.
At the same time, China's emissions obligations make it essential to cut emissions while keeping coal plants online. Although the Kyoto Protocol puts the financial onus for environmental clean up on developed nations, China pledges to contribute on a voluntary basis. Besides demonstrating assertiveness in the international arena, the world's largest carbon emitter must deliver on its national goal of curbing carbon intensity (the amount of greenhouse gases emitted per unit of GDP) by 40-45 percent by 2020. Prior to COP23, Xie Zhenhua expressed confidence that China will surpass this goal, but a statistical analysis reveals stagnating progress.
Bridging that gap between words and action means aligning China's environmental efforts and commercial development initiatives. While both China and its counterparts in the developing world plan for balanced energy mixes and expanded renewable capacity in the long term, economic development still requires the use of fossil fuels.
China may be able to resolve that dilemma by pioneering transitional technologies for a cleaner growth path. Chief among them is carbon capture and geological storage (CCS), which is already being developed and applied to commercial activities. China has already dedicated significant political energy to cleaning up its own coal industry. Greater investment in technologies such as CCS could cut down China's own emissions while "greening" the energy projects it pursues abroad in the decades to come.
Beijing has already been proactively pursuing advanced research and industrial applications for CCS for the past several years. CCS in theory can trap and store up to 90 percent of carbon dioxide emissions from not just electricity generation but also industrial processes. This is a critical point for both Chinese and global climate discussions: coal energy may have a reputation for generating emissions, but many other industries generate considerable quantities of CO2, which must be addressed as part of any comprehensive climate strategy.
In 2013, the National Development and Reform Commission (NDRC) enacted new policy guidelines for central and local governments to develop integrated capturing, utilization, and storage projects. With the central government looking to CCS as a key measure to reduce carbon emissions, both state-owned and private enterprises (Sinopec and Huaneng Group, among others) have developed more than 12 large-scale capture and storage projects.
Some are already operational. The Huaneng Shanghai Shidongkou 2nd Power Plant has a capture capacity of 100,000-120,000 tons of CO2 per year, reusing captured carbon dioxide in the beverage industry. CCS is also utilized in China's oil and gas sector: the Shengli Oil Field Company, with an annual capture rate of 3,500 tons, uses the captured CO2 in nearby oilfields for "enhanced recovery."
China's progress in CCS has drawn considerable attention from climate organizations and experts. At Bonn, the Global CCS Institute expressed optimism that China will facilitate international collaboration in tackling climate change through CCS, providing CCS financing and experience to developing countries while working with developed nations to better understand potential storage sites and large-scale applications.
Dr. Akshat Rathi, a journalist who draws on his doctorate in chemical engineering, has explored applications for CCS around the world (including in China) and put his view of the challenge bluntly: "Carbon capture is just one part, but a key part of the solution. I'm hopeful that the system exists to take this and make this something that could save humanity from climate change." If Beijing dedicates additional investment to the technology, that system could very likely be Chinese.
Wenyuan Wu holds a Ph.D. in International Studies from the University of Miami. Her research covers governance and energy reform issues in China, the United States and Latin America.