China: 2017 Was 'Crossroads of History'
Chinese Foreign Minister says the world is at a crucial stage of shifting balance of power.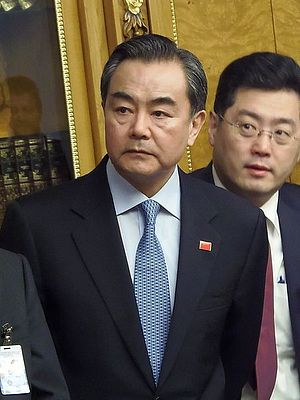 As 2017 is coming to an end, the Chinese foreign ministry just issued its verdict on the year, hailing Chinese diplomacy throughout 2017 as a great success.
On November 9, the China Institute of International Studies (CIIS) —  the think tank of the Chinese foreign ministry — held the Symposium on International Developments and China's Diplomacy in 2017. Chinese Foreign Minister Wang Yi attended the conference and gave a 10,000-plus-word opening speech, reviewing in detail China's "great achievements" in diplomacy over the year.

Believing that 2017 is of "high significance" to China and the world, Wang claimed that  the world is "at a crucial stage of evolving international landscape and shifting balance of power."
"The human society has once again come to a crossroads of history," said Wang. "It is fair to say that we have taken stock of our achievements and broken new ground in China's diplomacy in the year of 2017."
Although Wang didn't single out the United States, he implied that the balance of power is shifting from Washington to Beijing.
Specifically, Wang gave high credit to Chinese President Xi Jinping's signature Belt and Road Initiative (BRI). Wang revealed that China has signed cooperation agreements with 80 countries and organizations, conducted institutionalized cooperation on industrial capacity with over 30 countries, and built 75 overseas economic and trade cooperation zones in 24 countries under the Belt and Road framework.
"Chinese businesses have invested over US$50 billion and created near-200,000 local jobs in the countries along the Belt and Road, " Wang declared.
Wang also boasted about Xi's active advocacy of economic globalization in multiple international events.
As The Diplomat has been following, in January, Xi strongly defended globalization, free trade, and multilateral organizations in his speech to the World Economic Forum at Davos. Xi's speech then won him high credits at home and abroad, against the backdrop of the United States' increasing protectionism and anti-globalization under Donald Trump's administration. Since then, Beijing has held this stance firmly in the international sphere and repeatedly mentioned this Davos speech as one of Xi's many achievements.
During Wang's latest speech, he once again alluded to this: "In a time of sluggish economic growth and recovery as well as global turbulence and unending conflicts, the judgment and leadership of global statesmen and the ability to take swift action are more sought after than gold."
Notably, Wang made clear that China aims to "play a bigger and more constructive role in upholding world stability" by actively exploring "a way of resolving hotspot issues with Chinese characteristics." Wang specifically mentioned that China will make more efforts to help resolve the Israel-Palestine issue, the Syria issue, and the Afghanistan issue.
Regarding the top two diplomatic hot potatoes on China's plate — the North Korean crisis and the South China Sea dispute — Wang also claimed that China has done a good job in 2017.
Wang said that China has "restored and reinforced the consensus between China and ASEAN countries to peacefully resolve disputes through dialogue and consultation by the countries concerned, and facilitated the joint efforts of regional countries to develop the rules of the South China Sea. "
As for the North Korean crisis, Wang claimed that "China has put in more efforts and borne greater cost than any other party in addressing the Korean Peninsula nuclear issue."  
In summary, Wang has sent a clear message to his domestic as well as foreign audience that China is becoming increasingly confident over its foreign policy and is well prepared to have a louder voice in the next year.