China Brings Afghanistan and Pakistan Together to Discuss Regional Issues, But Divergences Remain
Despite Chinese attempts at mediation, differences between Kabul and Islamabad persist.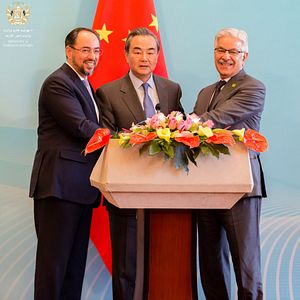 China made another ambitious move in South Asia this week when it hosted the first trilateral meeting with the foreign ministers of Pakistan and Afghanistan. Afghan Foreign Minister Salahuddin Rabbani and Pakistan Foreign Minister Khawaja Asif joined their Chinese counterpart Wang Yi in Beijing, where they reportedly agreed to work together to tackle the threat of terrorism, which from China's perspective is intricately linked to the security of its restive Xinjiang province. They also decided to work together on political and mutual trust, reconciliation, development cooperation, connectivity, security cooperation, and counter-terrorism.
Beijing also gave a push to the Afghanistan peace process, which has been in limbo since 2015. Calling on the Taliban to join the peace process, the joint statement from the trilateral meet suggested that "a broad-based and inclusive peace and reconciliation process, which is 'Afghan-led, Afghan-owned', and fully supported regionally and internationally, is the most viable solution to end the violence in Afghanistan." But what is garnering a lot of attention is the suggestion that China and Pakistan will look at extending their $57 billion China-Pakistan Economic Corridor (CPEC) to Afghanistan, with the Chinese foreign minister underlining that China hoped the economic corridor could benefit the whole region and act as an impetus for development.
This trilateral platform makes for an impressive display of China's growing global clout as Washington's seemingly reorients itself with an inward-looking perspective. But as with everything Chinese, there are strong geopolitical and practical undercurrents to this venture. China relies on Afghanistan and Pakistan to help control its restive border areas where its repression is at an all time high. Beijing blames exiled Uighur separatist groups, such as the East Turkestan Islamic Movement (ETIM), of orchestrating attacks in resource-rich Xinjiang and other parts of China. In response to attacks by mostly members of the Muslim Uyghur ethnic minority, China has drastically curbed their religious activities. Some of the draconian measures it has resorted to include banning the use of the Islamic veil by women, strongly clamping down on fasting by civil servants and others, and the tightening of state control over the entire province. Beijing's concern remains that Uyghur militants would find sanctuaries in Afghanistan and Pakistan and so closer cooperation with and between these two nations is viewed as essential. It is ironic that Pakistan, which claims to be the flag-bearer of Islamic identity in the region, continues to ignore China's repressive anti-Islamic policies in Xinjiang.
The trilateral platform is also being used by China to push Pakistan and Afghanistan toward forging closer economic cooperation at a time when China's economic interest in Pakistan is at an all-time high. "China, Afghanistan, and Pakistan, as three neighbors, will naturally try to strengthen cooperation among each other," Wang Yi made it clear. "This is fully in accordance with our common interests, and is a good thing for us." The decision to try and extend the CPEC to Afghanistan is therefore significant. "China and Pakistan are willing to look at with Afghanistan, on the basis of win-win, mutually beneficial principles, using an appropriate means to extend the China-Pakistan Economic Corridor to Afghanistan," China's foreign minister underscored. Pakistan's response was more circumspect. "The successful implementation of CPEC (China-Pakistan Economic Corridor) projects will serve as a model for enhancing connectivity and cooperation through similar projects with neighboring countries, including Afghanistan, Iran and with central and west Asia," Khwaja Asif said.
Despite the photo-op at the trilateral, the ground reality of Afghan-Pakistan ties remains rather complicated. Afghanistan continues to blame Pakistan for providing a safe haven for the Taliban militants seeking to destabilize the government in Kabul. And there have been no meaningful peace talks so far. Afghan officials have repeatedly argued that the leadership councils of the Taliban and the Haqqani terrorist network are based in the key cities of Pakistan, where they plan and coordinate attacks in Afghanistan. Just last week, U.S. Vice-President Mike Pence, while visiting Bagram Airfield, the largest U.S. military base in Afghanistan, bluntly warned Pakistan that it could no longer escape the writing on the wall that and that it must either act on terror havens on its land or face the wrath of the Trump Administration. "For too long Pakistan has provided safe haven to the Taliban and many terrorist organisations, but those days are over as President Trump has put Pakistan on notice," Pence underlined.
Similarly, the Chief Executive of the Government of National Unity of Afghanistan Abdullah Abdullah too had blamed Pakistan last month for its two-faced game which made it possible for the Taliban insurgency to return with vengeance. During his visit to India for India-Afghanistan strategic dialogue recently, Afghan Foreign Minister Salahuddin Rabbani had also attacked Pakistan for allowing terror groups to operate from its soil. "Both countries suffer from terrorism and violent extremism that threaten is and the region's stability. The terrorist groups like Lashkar-e-Taiba and Jaish-e-Mohammad which have been launching attacks against India and indiscriminately killing civilians of this country are engaged in similar activities alongwith Taliban, Al Qaeda and Daesh in Afghanistan. Together they are killing our people on Afghanistan and destroying infrastructure," Rabbani had suggested.
Given this reality, it is unlikely that the trust deficit between Afghanistan and Pakistan will reduce in the near future despite Chinese mediation. Moreover, the CPEC story has become more complicated. As the initial euphoria has waned, new realities confront the project, with Pakistani domestic debate questioning the lack of transparency, Chinese financing methods, and labor policies, even as China has continued to tighten its grip over the project to the detriment of Pakistani interests.
India should not be too worried about the rhetoric coming out the recent trilateral but it should think more creatively about building a robust partnership with Afghanistan and providing an alternative narrative to China's very attractive connectivity initiatives.