China Promotes Human Rights 'With Chinese Characteristics'
Ahead of Human Rights Day, China hosted a human rights forum for developing countries.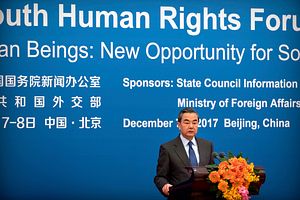 China is determined to expand its presence in the international sphere and have its own voice in a diversity of fields, including on human rights — an area regarded by the international community as China's weakest point.
From December 7 to 8, China hosted the first "South-South Human Rights Forum" in Beijing. According to China's state news agency Xinhua, more than 300 representatives from over 70 developing countries attended the forum, but Xinhua didn't disclose the full list of attendees to the public.
Chinese President Xi Jinping sent a congratulatory letter to the forum, in which he said:
The development of human rights worldwide cannot be achieved without the joint efforts of developing countries, which account for more than 80% of the world's population. In the meantime, human rights must and can only be promoted in light of specific national conditions and people's needs. Developing countries should uphold both the universality and particularity of human rights and steadily raise the level of human rights protection.
Chinese Foreign Minister Wang Yi made China's point clearer in his opening speech. He claimed:
China's experience shows that human rights can be protected in more than one way. Countries can find their own models of human rights protection in light of their national conditions and people's needs. The key factor contributing to China's remarkable achievements in its human rights endeavors is its firm commitment to a human rights development path with Chinese characteristics.
Furthermore, Wang not only vowed that China will "unswervingly follow the path of human rights development with Chinese characteristics," but called for all developing countries to protect human rights in their own way, as "there is no one-size-fits-all approach in human rights protection."
Offering China's experience, Wang also urged developing countries to increase their voice in the global human rights governance system.
At the end of the forum, all participants adopted a Beijing Declaration, which emphasizes that each country should develop human rights based on national conditions.
South-South cooperation, stemming from the Bandung Conference in 1955, was an important platform for developing countries in Asia and Africa to exchange resources, technology, and knowledge. Beijing has traditionally regarded the Bandung Conference as a landmark in the People's Republic of China's (PRC) diplomatic history, because Zhou Enlai — the first premier of the PRC — made his first significant appearance on the international stage after the Korean War at that conference, where he called for developing countries to unite. Thus, Beijing always portrays itself as an active advocate for and participant in South-South cooperation.
The latest "South-South Human Rights Forum" can be seen as Beijing's new approach to achieve a leading role among the developing countries. In addition, the forum was held only three days ahead of December 10 — Human Rights Day. The timing as well as the theme of the forum further revealed Beijing's ambition to challenge Western norms and advocate for the China model.