China's Top Procuratorate Opens Criminal Case Against Sun Zhengcai
Former Chongqing Party leader Sun Zhengcai has been under CCP investigation for five months.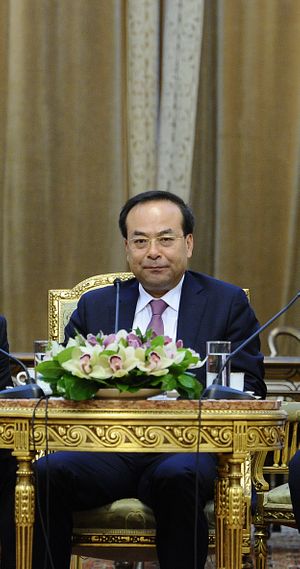 Sun Zhengcai, former top leader of Chongqing city as well as a member of the Politburo of the 18th Central Committee of the Chinese Communist Party (CCP), was once widely believed a contender to be one of China's top leaders. But now he is one step closer to a criminal trial.  
On December 11, China's top procuratorate — the Supreme People's Procuratorate (SPP) — published an extremely brief statement with only 67 Chinese characters, announcing that it has recently opened an investigation against Sun "on suspicion of accepting bribes."
The statement said that the SPP has taken "coercive measures" against Sun. China's news agency Xinhua explained that "coercive measures" may include summons by force, bail, and detention.
"Further investigation is still under way," the SPP added, without giving more details. But based on previous cases involving Chinese senior officials, Sun will likely face criminal trial in the near future.
For example, Sun's predecessor Bo Xilai —  another former top leader of Chongqing city — went through the same legal proceedings before he ended up being handed a life sentence. In October 2012, the SPP also issued an extremely brief statement on Bo's investigation. The wording of that statement looked almost the same as the statement on Sun now. Then in August 2013, Bo was put on an open trial, which had attracted huge attention at home and abroad.
As The Diplomat has been following, Sun, 54, was abruptly removed from his position as the Party secretary of Chongqing on July 15. Then in late July, the Central Commission for Discipline Inspection (CCDI)  — the highest internal-control institution of the CCP — confirmed that Sun was under Party investigation for "serious discipline violations."
Two months later, in September, the Politburo of the CCP announced it had expelled Sun from the Party and dismissed him from public office. This announcement for the first time elaborated on Sun's misconduct, including losing faith in communism, betraying the CCP's principles, ignoring the CCP code of conduct and rules, seeking ostentation and privileges for himself, engaging in nepotism, abusing power and influence, and being "bureaucratic, lazy, and inactive at work." Most seriously, Sun was accused of leaking confidential Party information, seeking benefits for others and accepting a "huge amount" of money and expensive gifts in return, and trading power for sex. These accusations could lead to at least a life sentence for Sun.
In comparison, the latest SPP statement only said Sun was being investigated "on suspicion of accepting bribes." This could be a signal showing that the Chinese top authorities are still mulling over Sun's final verdict, as it's widely believed by China analysts that most trials involving senior Party leaders would always be decided by the Party authorities, rather than by a judge's verdict.