Controversial Indian Salafist a Litmus Test for Malaysia on Counterterrorism
India wants Zakir Naik extradited on terror charges.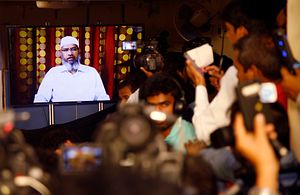 Controversial Indian preacher Zakir Naik is vowing to fight an extradition request sent to Malaysia regarding terrorism-related charges.
India's National Investigation Agency (NIA) has filed terrorism charges against Naik accusing him of influencing Indian Muslims to join the Islamic State (ISIS). It also declared his Mumbai-based NGO, the Islamic Research Foundation (IRF), an unlawful organization.
"Naik is accused of a number of offenses including spreading communal hatred," said Animesh Roul, executive director of the New Delhi-based Society for the Study of Peace and Conflict.
The government of Malaysia is considering extraditing the preacher back to India and is monitoring his movements. The case comes at an interesting time for Malaysia, which is attempting to re-assert itself as a force in regional counterterrorism efforts and improve ties with India.
"We monitor him because this person has a very 'interesting personality' and he attracts a lot of attention," said Mohammed Fuzi Harun, the inspector-general of Royal Malaysia Police. Harun, who has been at his post since September, has taken a special interest in cracking down on extremism and terrorism. He also told the Malaysian press that Naik has not applied for Malaysian citizenship, a move which would likely prevent his extradition to India.
Naik is regarded as one the most influential Salafi evangelists in the world today. He rose to prominence in the 1990s by preaching in English, not in Urdu, which allowed him to reach a wider audience. As a televangelist on his very own Peace TV or through social media, his austere version of Islamic thinking has reached millions of people – mostly in Asia.
Naik has given contradictory claims regarding the relationship between his organization and the key suspects in the 2006 Mumbai train bombings, which killed 209 people and injured more than 700. In 2016, reports revealed one of the perpetrators, Rahil Shiekh, had volunteered at Naik's Islamic Research Foundation (IRF).  Naik claims he never met Shiekh.
Naik's preaching has long drawn criticism for his radical views. He voiced support for Osama bin Laden and in a 2006 lecture asked "every Muslim to be a terrorist."
Naik has claimed that some of his comments were taken out of context and says he condemns terrorism.
Some Indian Muslims and the Qatari state-funded media network Al Jazeera have argued that Naik's case is part of ongoing discrimination against Muslims in India. Naik's lawyer has stated that the case is politically motivated.
Malaysia's response to India's request for extradition should provide insight into its changing attitudes toward terror. Five years ago it granted permanent residency to Naik, whose radical views have led Bangladesh, Canada, and the United Kingdom to deny him visas in the past.
"Zakir Naik's permanent residency status in that country [Malaysia] will help him further [his case] as he has no criminal record in that country," said Roul.
However, during the past year, Malaysia has been cracking down on extremists both within the country and in Malaysia's near abroad. Malaysia's position regarding Naik represents an about-face – just a few years ago, in addition to being granted residency, he apparently even met with Prime Minister Najib Razak. Malaysia's apparent willingness to extradite Naik now reflects the country's increased involvement in fighting terrorism not only at home but within Asia at large.
This year Malaysia's prime minister made two important international visits to the United States and India, which demonstrated a new approach to counterterrorism policy.
During an April trip to New Delhi, Najib signed agreements, including a pledge to work closely on counterterrorism and security efforts. Following that meeting, a senior Malaysian naval commander met with his counterparts and visited Indian naval bases in early November.
Naik's "extradition, if it happens, would be a major boost for already robust bilateral ties. In the past Malaysia helped India in detaining an influential Italian businessman in connection to the Bofors payoffs scandal in the early 2000s," Roul said.
In September, Najib traveled to the United States for a meeting with President Donald Trump at the White House. After the conversation between the leaders of the two countries Malaysia agreed to new data sharing and enhanced passenger screening with the United States
Najib and Trump have personal ties that extend beyond Trump's tenure as a politician. The two played a round of golf together at Trump's New Jersey golf course years before Trump ran for president. They also met on the sidelines of a summit between the United States and Islamic nations held in Riyadh earlier this year, during Trump's first international visit as president.
Regional terrorism is especially concerning to Malaysia. The Battle of Marawi in the neighboring Philippines was another factor that has contributed to Malaysia's stepped up counterterrorism efforts. Earlier this year, hundreds of extremists from Indonesia and Malaysia traveled to the southern Philippine city to establish a foothold for ISIS in that country.
Between May and late October, the city, located on the island of Mindinao, was the site of fighting between Philippine security forces and insurgents. The battle left over 1,000 dead on both sides and displaced 1.1 million people from their homes.
The debate over Naik has revealed fault lines in Malaysia's domestic politics. Zaid Ibrahim, a former government minister and member of the opposition Democratic Action Party, recently criticized Naik's presence in Malaysia. In the past, Malaysia's Hindu Rights Action Force has also called for Naik's expulsion. Roughly 40 percent of Malaysia's population is non-Muslim. Conversely, Malaysia's opposition Islamic Party (PAS) has encouraged the government to ignore any Indian extradition request.
Naik has not commented publicly about his predicament. In October, Naik was spied leaving a prominent mosque in Putrajaya, Malaysia located just a stone's throw from the prime minister's office.
"Sorry, it is not right for me to speak with ladies in public," Naik reportedly told a Reuters reporter who asked him for a comment on his situation.
Joseph Hammond is a fellow with the American Media Institute and former Cairo Correspondent for Radio Free Europe. He has been contributing as a freelancer to The Diplomat since 2010.