The Challenging Geopolitics of the Port at Chabahar
What is the future of the India-backed port at Chabahar in Iran?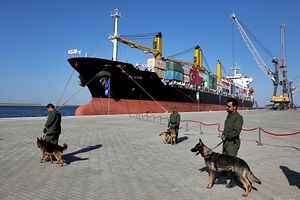 Last week saw the inauguration of the first phase of the strategic Chabahar port by Iranian President Hassan Rouhani in the presence of officials from 17 countries. India is central to this port project as it remains keen on opening a trade route to Afghanistan and Central Asia, bypassing Pakistan, as part of an agreement signed between India and Iran in May 2016. India is to equip and operate two berths in Chabahar Port Phase-I with a capital investment of $85 million and an annual revenue expenditure of $23 million on a 10-year lease. This will establish a Transit and Transport Corridor among the three countries using Chabahar Port as one of the regional hubs for sea transportation in Iran. This is in addition to the multi-modal transport of goods and passengers across the three nations. The port is expected to be operational by the end of 2018, with New Delhi committed to developing a free trade area around the port, and finally completing the loop with a $1.6 billion railway line to Zahedan.
In October, India sent its first shipment of 15,000 tonnes of wheat to Afghanistan through Chabahar, the shipment arrived in Zaranj on November 11. India's External Affairs Minister made a stopover at Tehran just a day before the port's inauguration while returning from Russian city of Sochi after attending the annual summit of the Shanghai Cooperation Organisation (SCO) to assess the project. To underscore the importance of this project for India, Indian Minister of State for Shipping Pon Radhakrishnan was present at the inauguration ceremony of the Phase 1 of the Shahid Beheshti Port at Chabahar.
Given the easy accessibility of the Chabahar port in the Sistan-Balochistan province on Iran's southern coast from India's western coast, many observers view it as a counter to Pakistan's Gwadar Port, which is being developed with Chinese investment at distance of around 80 kms from Chabahar. There may be something to this, but there is also a larger dynamic at play here in terms of regional connectivity. India, Iran, and Afghanistan are working towards integrated development of connectivity infrastructure including ports, road, and rail networks to open up greater opportunities for regional market access and the integration of their economies. India has already completed the Zaranj-Delaram highway in Afghanistan, which would facilitate land-based trade to Kabul and eventually beyond, to Central Asia. At a time when China's Belt and Road Initiative is attempting to redraw regional boundaries, India and other regional players are looking at enhancing their own regional connectivity profiles.
Clearly, alleviating the Pakistani bottleneck in terms of India-Afghan connectivity is central to the project. As Afghan Chief Executive Abdullah Abdullah made it clear, "Afghanistan used to rely only on one transit road, which was through Karachi. That is not the case anymore. [Now] it's [also] through Chabahar." For Kabul, overcoming its dependence on Islamabad is a key foreign policy priority and for New Delhi, enhancing connectivity with Kabul is key to sustaining its multi-dimensional engagement in long-term capacity building in the war torn nation. Iran's ties with Pakistan have been historically mired in suspicion though Tehran has assured Islamabad that it would not allow India or any other country to use Chabahar against Pakistan. Iran doesn't want Pakistan to overtly shift to the Saudi Arabia led regional bloc evolving in the Middle East and it has even dangled the possibility of Pakistan joining the project at some future date.
For Iran, the development of the Chabahar port with international assistance is a highly symbolic move to let the United States know that Tehran is no longer isolated. After Tehran signed the Joint Comprehensive Plan of Action with Washington and five other major powers in 2015 to curtail its nuclear program in exchange for relief from economically debilitating sanctions, the Chabahar project gathered pace as it allowed Iran to enter into negotiations with India, China, and Europe on investment and supply of equipment. Indian Prime Minister Narendra Modi's visit to Iran in May 2016 saw the two sides firming up their stakes in the project based on a strict timeline
The challenge today will be to sustain this momentum in the aftermath of Trump Administration's opposition to the nuclear deal. Geopolitical tensions between Saudi Arabia and Iran are rising with Tehran being accused of expanding its influence in Yemen, Iraq, Syria, and Lebanon through its proxies. U.S. Secretary of State Rex Tillerson has suggested that Washington does not want to "interfere with legitimate business" done with Iran, "whether they be from Europe, India, or agreements that are in place or promote economic development and activity to the benefit of our friends and allies." But the shadow of shifting American foreign policy priorities will continue to hang on the future of the Chabahar project even as it ambitiously seeks to reshape regional geopolitics.