Was Moon Jae-in's China Trip Successful?
Although Beijing didn't give him a "state visit plus" reception, the South Korean president made a meaningful trip.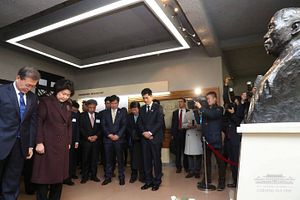 South Korean President Moon Jae-in wrapped up his four-day state visit to China on December 16. Although Beijing didn't give him a "state visit plus" reception like it did for U.S. President Donald Trump, Moon made a meaningful trip.
As The Diplomat noted earlier, China was not 100 percent satisfied with Moon's attitude toward the deployment of the Terminal High Altitude Area Defense (THAAD) missile defense system in South Korea — the issue that had strained relations between Beijing and Seoul for the past year. China repeatedly claimed that Beijing and Seoul had reached a "consensus" that Seoul will not deploy any more THAAD batteries, join the U.S. missile defense system in Asia, or engage in trilateral military cooperation with the United States and Japan. However, South Korea remained deliberately ambiguous on the issue by referring to the talk between both sides as a "consultation" rather than a "consensus." During Moon's latest meeting with China's top leaders, he still held fast to this stance.
That's why the Chinese foreign ministry kept urging South Korea to properly solve the THAAD issue even after Moon's visit. At the regular press conference on December 18, China's foreign ministry spokesperson Hua Chunying said:
We stand ready to work with the ROK side to earnestly implement the important consensus reached by the two heads of state, remain true to the original aspirations when the two countries established diplomatic ties and follow the fundamental principle of respecting each other's core interests and major concerns with the welfare of the two peoples in mind.
That being said, Hua still believed that Moon "paid a successful state visit to China last week," since Moon and Chinese President Xi Jinping "reached many important consensus on moving forward" bilateral relations.
In fact, Moon accomplished much more than simply having a summit meeting with Xi.
During his four-day visit, he met not only Xi, but other Chinese top leaders, including Chinese Premier Li Keqiang and Zhang Dejiang, chairman of the Standing Committee of the National People's Congress.
According to the Blue House, Moon proposed some very specific plans for both countries to pursue, including "jointly reducing particulate matter and air-borne pollution; cooperating on healthcare and the protection of fishery resources in the Yellow Sea; jointly preparing for the fourth industrial revolution; and increasing exchanges of human resources in terms of the arts and heritage." The proposal for jointly curbing air pollution is particularly meaningful for both Chinese and South Korean citizens, since north China has been tortured by smog for years, and neighboring South Korea is reportedly influenced by the smog stemming from China. Yet these proposals have been largely overlooked by Chinese media.
Moon has also tried hard to rejuvenate economic cooperation between the both countries, as bilateral trade has been hurt by the political dispute over THAAD. On the first and second days of his visit, Moon arranged a series of business meetings, including attending the Korea-China Business Round Table along with business leaders, giving a speech at the Korea-China Business Forum, and attending the opening ceremony of the Korea-China trade partnership conference. In all these occasions, he called for both nations to "thrive and grow together."
Besides boosting trade, Moon didn't forget to appeal to Chinese intellectuals by making a speech at Peking University, one of Chinese most prestigious universities.
Most surprisingly and also very smartly, Moon even visited Chongqing City in southwest China, in an attempt to stress historical ties with China.
In Chongqing, Moon, together with his wife, paid a visit to the Museum of the Provisional Government of the Republic of Korea — the building of the former Korean Provisional Government, formed while the peninsula was a Japanese colony. Notably, Moon is the first Korean president to visit this museum.
In fact, before Moon's visit, few people in China or South Korea knew that the then-exiled Provisional Government of the Republic of Korea was launched in Shanghai, China in 1919, then moved through a number of cities before finally settling in Chongqing in 1939.
Obviously, Moon made full preparations for his first visit to China. Hopefully, his sincerity in resuming good relations with Beijing will be recognized by the Chinese authorities.