What Would Secretary of State Mike Pompeo Mean for Southeast Asia?
As rumors swirl about Rex Tillerson's potential departure, a look at what one of his replacements might mean for the subregion.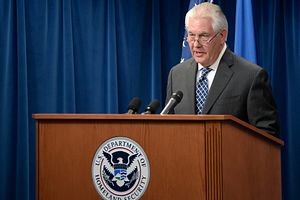 Rumors are circulating that Rex Tillerson could soon be ousted from the State Department. There's not yet been a "you're fired" uttered by Trump, who has denied claims of Tillerson's departure, but some have predicted he could be gone by the end of the month, replaced by Mike Pompeo, the current CIA director.
If this is true, what does Pompeo mean for Southeast Asia?
Tillerson came into office with some familiarity of the region from his days as CEO of ExxonMobil, a multinational oil firm. Pompeo, by comparison, has little to no historical background in Southeast Asia, and nor does he appear to have spoken at all about the region publicly over the last year. So far, as CIA chief, his comments on foreign policy have been reserved for events in the Middle East and Korean peninsula.
Pompeo's views on the latter would no doubt alarm Southeast Asian leaders, who have called for a measured American response on what to do about Pyongyang. If Tillerson was viewed as a moderate voice within the Trump camp, Pompeo is considered one of its most hawkish. In October, he said that "if Kim Jong-un should vanish, given the history of the CIA, I'm just not going to talk about it."
The New York Times commented last month: "Pompeo has come as close as any Trump administration official to calling for the removal of that country's leader, Kim Jong-un."
He has also been outspoken on Iran, lobbying the White House to abandon a nuclear agreement Barack Obama's administration agreed with Tehran, which he has called a "despotic theocracy."
He had also said Venezuela, a Latin American nation currently under an oppressive regime, could face possible military intervention by America in order to "create a situation where democracy can be restored."
One question, then, is whether his hawkishness would result in the State Department taking a more vigorous stance on promoting democracy and human rights in Southeast Asia, which most people agree are worsening across the region.
Talk of interventionism will naturally not enamor him with Southeast Asian leaders, who typically adhere to strict non-interventionist principles. But there are some within Southeast Asian societies who believe Washington has been too timid in preferring to negotiate with the region's autocrats than tackle them directly on violations.
After the dissolution of Cambodia's largest opposition party last month, the White House said in a statement that "concrete steps" will be taken against Phnom Penh's autocratic push. The Senate passed a resolution that calls on the State Department to consider travel bans and asset freezing on certain Cambodian officials, though no action has yet been taken. With Foggy Bottom now in turmoil, such a decision will likely fall on Tillerson's potential successor, should he depart.
Still, there is some doubt over Pompeo's human rights credentials. For instance, he has, in the past, defended America's use of torture techniques, including those banned by a 2015 law, such as "waterboarding." As a result of this, Human Rights Watch, a lobbying group, appealed to U.S. senators in January to vote against Pompeo's confirmation as CIA director.
No doubt, if given a choice, many human rights activists in the region would prefer if Nikki Haley, America's current UN ambassador, would have taken the State Department role, which she was tipped for before Pompeo's name caught Trump's ear.
Another major problem for Pompeo is that he would become America's top diplomat straight after serving as chief of the CIA. This would reinforce suspicion already entrenched among some Southeast Asian governments given the agency's historic role in the region, possibly weakening his negotiating hand.
To take just one example, as recently as October, the U.S. ambassador to the Philippines had to publicly refute claims the CIA is trying to destabilize Rodrigo Duterte's presidency. Duterte had said the CIA wants him "out of government" and was funding critical news sites. "As far as I know, there is absolutely no effort by the CIA to undermine the Philippines' leadership," Ambassador Sung Kim told reporters.
In Cambodia, the government's crackdown on political opponents has been justified by trumped-up claims that the now dissolved Cambodia National Rescue Party (CNRP) was in cohorts with the America to overthrow the Cambodian government. This included claims of a CIA-backed conspiracy in some "fake news" reports, no doubt an attempt to refresh memories about the CIA's role in Lon Nol's disastrous 1970 coup.
At a time when anti-American sentiment is arguably on the rise across Southeast Asia, for America's top diplomat to come direct from its foreign intelligence service would no doubt only add ammunition to the conspiracy theories about American interventionism.
But one positive from Pompeo's likely ascendency is that it might rejuvenate the State Department, which was seen as being run ineffectively under Tillerson.
"In only ten months, Tillerson… has presided over the near-dismantling of America's diplomatic corps, chasing out hundreds of State Department employees and scaling back the country's engagement with the world," reads a New Yorker article published last month in commentary that has become commonplace in recent months.
Another positive might be that Pompeo considered counterterrorism one of his main goals as CIA director. This is a major concern for some Southeast Asian nations, fearful that jihadists might look to the region as a hotspot now ISIS has been chased out of the Middle East.
"We must continue to be vigilant and pursue deeper cooperation in counter terrorism," Singaporean Prime Minister Lee Hsien Loong said at an ASEAN summit last month, which Trump attended, before calling on America to boost security ties with Southeast Asian states in this area.
That said, Pompeo's comments in the past might not immediately enamor him to Muslim-majority Malaysia, Brunei and Indonesia. In a 2013 speech, he suggested that Muslims who don't vocally condemn terror attacks are "potentially complicit" in the acts.