Why German Companies Are Threatening to Retreat From China
The firms are concerned by the CCP's attempts to increase its influence within foreign companies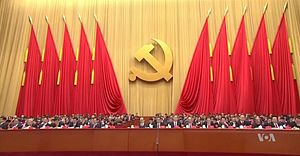 On November 24, the Delegations of German Industry and Commerce in China  (AHK China) – which represents the Association of German Chambers of Industry and Commerce in China – issued a strong statement threatening to pull out of Chinese market if the Chinese Communist Party (CCP) continues its attempt to interfere with foreign companies' internal business.
The statement said that the Delegations have received reports about attempts by the CCP to strengthen its influence in wholly foreign-owned German companies in China.
The CCP has always remained active in all kinds of companies in China.
The Article 19 of the Company Law of the People's Republic of China reads:
In a company, an organization of the Communist Party of China shall be established to carry out the activities of the party in accordance with the charter of the Communist Party of China. The company shall provide the necessary conditions for the activities of the party organization.
This law applies to not only Chinese state-owned enterprises and Chinese private companies, but also Chinese-foreign invested joint ventures and wholly-owned foreign enterprises.
AHK China said that this law "prompted companies to offer meeting facilities to carry out party activities outside of working hours or to authorize extraordinary leave for employees to participate in party activities."
AHK China thus protested:
We do not believe that foreign invested companies generally should be required to promote the development of any political party within company structures. This is an individual decision by corporate management and should not be guided at the behest of third parties. We have observed that business decisions without outside interference are a strong basis for innovation and growth. Should these attempts to influence foreign invested companies continue, it cannot be ruled out that German companies might retreat from the Chinese market or reconsider investment strategies.

However, this specific stipulation — which has been practiced for years — is not the fundamental reason that has pressed the German companies to resist now.
What the above statement didn't elaborate on is the CCP's increasing pressure to expand its influence inside foreign companies recently.
According to Reuters' exclusive report, multiple European companies revealed that their joint venture partners have been "pushing to amend their agreement to include language mandating party personnel be 'brought into the business management organization', that 'party organization overhead expenses shall be included in the company budget,' and that posts of board chairman and party secretary be held by the same person."
In July,  executives from "more than a dozen top European companies in China" even specially met in Beijing to discuss their concerns about this development.
In response to these problems, the State Council Information Office (SCIO) told Reuters that "there is no interference by party organizations in the normal operating activity of joint venture or foreign-invested companies." But SCIO admitted that "company party organizations generally carry out activities that revolve around operations management, can help companies promptly understand relevant national guiding principles and policies, coordinate all parties' interests, resolve internal disputes, introduce and develop talent, guide the corporate culture, and build harmonious labor relations."
AHK China's latest strong statement is not the first time these foreign companies have complained about the situation either.
In mid-November, AHK China held a press conference to release its annual business confidence survey. The survey showed that many German companies were concerned about the latest requirement to bring CCP members into company management.
Lothar Herrmann, President and CEO of Siemens Ltd., China, and Chairman of AHK in North China, made it clear that "while it was acceptable to set up party cells in foreign firms, they should not be required to include party members in executive role," according to South China Morning Post.
However, the Chinese authorities have never verified whether the specific requirement above — to bring CCP members to executive teams — was issued by the central government or was the product of some joint ventures' independent decisions. There is also no public official document explaining the latest development.
Global Times, one of the most aggressive state newspapers,  published an editorial claiming that "The establishment of Party branches is not targeting foreign companies, but the implementation of the Party's organizational principle in society. Foreign enterprises need to learn about and adapt to China's national conditions, which will be beneficial for their long-term healthy development."
Yet, the Chinese authorities did release the detailed data on the presence of party units in various companies. By 2016, party organizations had been established in 70 percent of 106, 000 foreign-invested enterprises across the country.