Cambodia and the West's Common Enemy: Tuberculosis
Cambodia's fight against TB has largely relied on Western aid. Will those funds continue?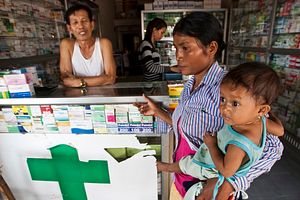 Tuberculosis (TB), an infectious disease affecting the lungs and causing fever, hemoptysis, night sweats, and weight loss, has ravaged Southeast Asia for decades. According to the World Health Organization, the region contains one third of the world's TB cases. TB has threatened Vietnam, where HIV and malaria attract more attention from humanitarians and the news media, as well as Myanmar, which has a TB prevalence three times higher than the world's average. Cambodia, a country rarely considered in Western analyses since the Vietnam War, is suffering from TB in silence.
Estimates suggest that 0.38 percent of Cambodians have contracted TB, an alarming statistic for a country still recovering from decades of conflict. This rate shows an improvement from the early 2000s, when up to 1.5 percent of Cambodians had the disease. Even so, villagers who live far from Phnom Penh often lack access to the standards of healthcare available to their city-dwelling counterparts.
Western humanitarian aid has allowed Cambodia to stem TB's expansion. Cambodia has also received assistance from WHO, part of the United Nations, and the Japan International Cooperation Agency (JICA), a government agency. The United States Agency for International Development (USAID), JICA's American counterpart, maintains a list of what its counter-TB assistance to Cambodia has achieved, including improvement of chest X-rays' accuracy from 63 to 91 percent and treatment of 9,300 TB cases. French NGO Doctors Without Borders (MSF) has deployed teams to support Cambodian hospitals, and Operation ASHA, an NGO dedicated to fighting TB, has established clinics in two of the country's provinces.
Though appearing to depend on international support in the fight against TB (not to mention other health issues), Cambodia is drifting away from the Western world and toward authoritarianism. In November 2017, the country's supreme court dissolved the Cambodia National Rescue Party (CNRP), the opposition, at the request of the Cambodian People's Party (CPP), helping Prime Minister Hun Sen cement his autocratic tenure. Soon after the CNRP's dissolution, the United States decided to withdraw electoral support for Cambodia, and the European Union threatened economic consequences. China, however, expressed support for its ally.
While growing into the world's second-most powerful country, China has alienated many other potential allies in Southeast Asia. The country's forays into the South China Sea have increased tensions with the Philippines, and Vietnam remains wary of the billion-strong nation-state with which it fought a war in 1979. Even countries that maintain better relationships with China, such as Laos and Thailand, have struggled with the expansion of the world power's influence over geopolitics. Cambodia, though, enjoys a special place in China's heart.
In 2013, China offered Cambodia, sometimes considered a Chinese satellite state, $548 million in aid. In 2016, Cambodia pressured the Association of Southeast Asian Nations (ASEAN) to avoid criticizing China's role in the South China Sea. That same year, Cambodian and Chinese businesses signed a $1.5-billion deal to build a satellite town outside Phnom Penh. Cambodian politicians have often emphasized the importance of the Chinese aid, on which the country has come to depend, bringing into question whether Cambodia will have to choose between Chinese and Western medical support.
Intergovernmental organizations such as the WHO, government agencies such as JICA and USAID, and NGOs such as MSF and Operation ASHA have had to deal with geopolitical complications before. In 2017, WHO faced criticism for appointing Zimbabwe's then-dictator Robert Mugabe as a WHO Goodwill Ambassador, prompting WHO to cancel the appointment. In 2013, Bolivia expelled USAID for what Bolivia described as a plot against the state. Myanmar and Sudan have ousted MSF in the past decade amid civil wars. As they well know, humanitarian aid can become political in no time.
Several aspects of Cambodia's connections to China could jeopardize the small power's relationship not only with the West but also with ASEAN. Japan and the United States have pressed China to back them in their confrontation with North Korea only to meet Chinese intransigence, and Chinese expansion into the South China Sea remains a sticking-point for several ASEAN countries and their American ally. As Laos, Myanmar, and Vietnam try to improve their relationships with the West, Cambodia may find itself with few friends in a region threatened by isolation and Chinese expansionism.
While Cambodia's descent into China's sphere of influence may heighten tensions, whether Cambodia would risk Western humanitarian aid, on which its fight against TB relies, seems questionable. The WHO has praised Cambodia's successes in countering the spread of the infectious disease, citing the turnaround from when, in the early 1990s, fewer than 50 doctors were working in the country. If Cambodia spurned JICA, MSF, USAID, and the WHO, however, it could face the resurgence of TB and a return to the years of the Khmer Rouge, when the country lacked medical resources.
The West has its own reasons to stand by Cambodia, which could further its relationship with China if isolated by the rest of the international community. "I don't see much chance that foreign governments will pull funding from the Cambodian healthcare sector, which would hurt ordinary people while doing little to shift the attitude of the CPP," Sebastian Strangio, author of Hun Sen's Cambodia and an affiliate of the Carolina Asia Center, told The Diplomat in an email. "Such a move might even hand Beijing a propaganda coup, giving it a chance graciously to step in with healthcare support of its own."
China always stands ready to supply humanitarian aid to its client states. In 2016, China prepared $100 million for refugees across the world. In 2017, it shipped food to South Sudan, where the world power has long-standing interests. The same year, China and WHO agreed to cooperate to treat cholera in Yemen, showing that China has continent-spanning experience combating illnesses in countries recovering or suffering from pervasive conflicts. Even MSF admitted that, since 1963, China had been offering far more healthcare and other humanitarian aid in Africa than it ever could.
Even if Cambodia needs the West to fight TB for now, the West may have more to lose by cutting humanitarian aid to the country. "Foreign donor governments now face a dilemma of whether to respond to the recent crackdowns, and if so, how," said Strangio. "Eventually, they will be forced to re-calibrate their expectations about Cambodia, taking into account the fact that no matter what they threaten, Hun Sen is unlikely to embrace democratic values. And so I expect this support to continue in the more repressive climate, much as it does to the health sector in one-party dictatorships like Laos."
Even if the West's handful of options in Cambodia portend bad news for democratization and Westernization in the country, the fight against TB looks hopeful as long as the international community continues support it. Neither Cambodia nor the West seem eager to politicize medicine even as the EU and the United States challenge the small power's totalitarian tendencies. China appears the ultimate victor: whatever the West does, Cambodia will stick with the most powerful country in the region, and China has more than enough resources to help Cambodia fight TB on its own if necessary.