China: Ties With Cambodia Have Become 'Model of Country-to-Country Relations'
Premier Li Keqiang will visit Cambodia from January 10 to 11 to mark the 60th anniversary of China-Cambodia relations.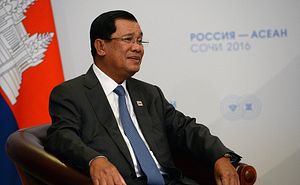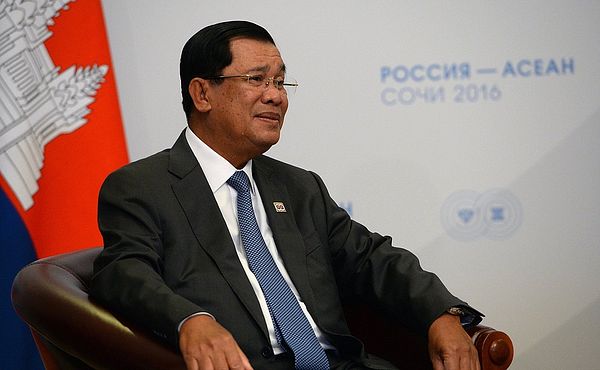 This year marks the 60th anniversary of China-Cambodia relations. On January 4, the Chinese foreign ministry announced that Chinese Premier Li Keqiang will pay an official visit to Cambodia from January 10 to 11.
During a special press conference on Li's upcoming visit, China's Vice Foreign Minister Kong Xuanyou introduced that Li will meet with Cambodian King Norodom Sihamoni and Prime Minister Hun Sen. Li and Hun will "exchange ideas on bilateral ties and international and regional issue of common concern, so as to plan for future development of China-Cambodia relations," according to China's state news agency Xinhua.
"China-Cambodia ties have become a model of country-to-country relations," Kong said.
At the regular press conference on the same day, China's foreign ministry spokesperson Geng Shuang used more complimentary rhetoric to describe the bilateral relationship. He said:
China and Cambodia are good neighbors, good friends, good partners and good brothers… China-Cambodia relations have brought tangible benefits to the two countries and two peoples, made positive contributions to peace and development of this region and the world at large and become a model for state-to-state exchanges. China is satisfied with the substantial progress in our bilateral relations.
From Beijing's perspective, Cambodia has indeed demonstrated a wonderful example, by being China's firm supporter in the region. In 2012, aligning with China, Cambodia prevented ASEAN from issuing a strongly worded statement on the South China Sea dispute. In 2016, it did so again.  
In return, Chinese President Xi Jinping, on his first visit to Cambodia in October 2016, offered Phnom Penh $237 million in direct aid and nearly $15 million military support, cancelled $90 million worth of state debt, and signed multiple new agreements, according to Cambodia Daily. China has become Cambodia's largest aid donor, source of foreign investment, trade partner, and source of foreign tourists.
Besides financial support, China has constantly offerred Hun Sen political support, too.
In November 2017, the opposition Cambodia National Rescue Party (CNRP) was dissolved by the Cambodian court. This development resulted in the withdrawal of support from the United States and the European Union. But China's Kong said in the latest press conference that "China respects and supports the development path chosen by the Cambodian people, and believes Cambodia's future election can, under all sides' supervision, reflect its fairness and select a party and leader that satisfies the Cambodian people," according to Reuters.
Furthermore, during Li's upcoming visit, China is ready to write more checks to support Hun Sen.
Kong introduced that Li will "announce China's initiatives and measures to deepen pragmatic cooperation and inject new impetus to the mechanism."
"A series of files will be issued after the meeting, including a five-year action plan of the mechanism and a list of the second batch of cooperation projects," Kong added.