Christmas in Pakistan
Lahore's Christian communities celebrate.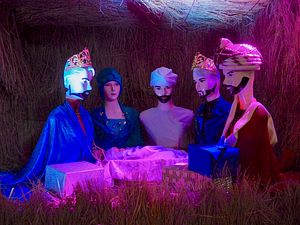 A week before Christmas, two terrorists attacked a church in Quetta, Pakistan, killing nine and wounding over 50. The church's security was able to kill one of the attackers and the other detonated his explosives-filled vest outside the main hall, where nearly 400 worshippers were gathered for Sunday services.
It was an ominous sign for the Christian community in Pakistan, which in recent years has been the target of devastating attacks by both terrorists and mobs. On Easter Sunday in 2016, over 75 people were killed and over 300 injured in a popular park in Lahore, where the Christian community was gathered. Almost exactly a year before that, two blasts killed 15 and injured over 70 during Sunday service in a well-known Christian-majority neighborhood in Lahore. In September 2013, 127 people were killed at All Saints Church in Peshawar – to date, the deadliest attack on the Christian community in Pakistan's history.
Despite this, both churches in Lahore I went to around Christmas time welcomed me with open arms, after a quick pat-down. Lights adorned the walls and doorways, the kids gleefully passed around Santa hats for pictures, and a small church band played "Feliz Navidad."
"I sometimes think about what can happen," one churchgoer comments to me while trying to get a better view of the Nativity play. "But on this day, we must celebrate."
While security is certainly raised during times like Easter and Christmas, when the Christian community is highly visible, attacks around holidays are only one part of the reality for Pakistan's Christians.
At the time of the Partition of British India, there were two major categories of Christians in what is now Pakistan. The first consisted of laborers and peasants with little or no money, education, and land. These Christians were generally low-caste Hindus who converted during the British Raj, trying to escape the caste system. They lived primarily in villages in Punjab. The second group consisted mostly of upper-caste Hindu and some Muslim converts who had an education and worked in cities such as Lahore and Karachi.
After Partition in 1947, both groups faced discrimination in jobs and society. For the latter group, this was a drastic change from their rather pleasant life under the British Raj and many have since left for places like the United Kingdom, the United States, and Canada.
For the first group, this was not a viable option and most have stayed put or moved to urban areas, where they often live in lower-class Christian-majority enclaves. One of the communities I visited is a densely populated neighborhood of mostly menial laborers just a short drive from some of Lahore's poshest residential and commercial areas.
Their careers are a direct result of institutionalized job discrimination. Job postings for sanitation work and other menial jobs – street sweepers, garbage collectors, sewer cleaners – sometimes come with a note that only non-Muslims will be considered. Despite being only 1.6 percent of the population of Pakistan, Christians often make up the majority in sanitation jobs. Data collected by World Watch Monitor, an organization that reports on discrimination of persecution of Christians around the world, states that 824 out of 935 sanitation workers in the Peshawar Municipal Corporation are Christian. About 6,000 out of 7,894 sanitation workers in the Lahore Waste Management Company are Christian. Islamabad's Capital Development Authority has about 1,500 sanitation workers and all of them are Christian.
As a result, Christmas in Pakistan is often visibly a lower-class affair. Their lives contrast greatly with the lives of those for whom they sweep and clean. They are either completely invisible or highly visible. Most would not know the location of these Christian enclaves in major metropolitan areas, unless it is well-known, nearby, or relevant. Below are glimpses of this often-overlooked community during its most visible celebration.
Micah Fields is an independent writer and photographer based in South Asia.