Japan, Australia Step Up Defense Cooperation
The two countries share similar regional visions on security and trade issues.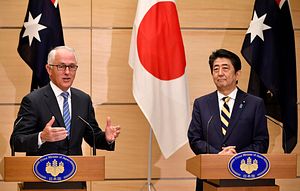 On January 18, Japan's Prime Minister Shinzo Abe and his Australian counterpart, Malcolm Turnbull, held a meeting in Tokyo to exchange views on North Korea and to discuss enhancing bilateral defense cooperation and regional security.
At the summit, the threat of North Korea was raised as a core obstacle to regional security. Abe stressed the worsening situation posed by North Korea's continued nuclear development and both leaders acknowledged that stability within the Asia-Pacific region cannot be secured without denuclearization. They agreed to settle for nothing short of the denuclearization of the Korean Peninsula and reaffirmed the only way to ensure a peaceful solution is by "maximizing pressure" through tough economic sanctions. Turnbull said that he hopes to send a clear message of solidarity between Australia, Japan, the United States, and China.
Against the backdrop of Asia's shifting balance of power, Abe and Turnbull set to work solidifying ties between Japan's Self Defense Forces (SDF) and the Australian Defense Forces. During his one-day visit, Turnbull toured the SDF training ground in Chiba Prefecture, east of Tokyo. He observed counterterrorism defense drills and inspected American-supplied PAC-3 missile interceptor systems as well as the Bushmaster armored vehicle originally developed in Australia and purchased by Japan. Turnbull also reference joint military training between the two countries, and said he looked forward to "that cooperation deepening and continuing in the future."
Japan and Australia's defense cooperation will also receive a facelift with agreement, in principle, on a new security pact that will simplify legal procedures for military personnel undertaking temporary mutual visits for joint exercises. If negotiations advance, it will the first agreement of its kind in Japan and it will enable the two countries to transport military equipment and ammunition, making it easier to conduct joint drills. However, the envisioned agreement has no conclusion date set, with Abe aiming for the "earliest possible timing."
In a joint press statement, both leaders outlined their responsibility in the Indo-Pacific to "ensure peace and prosperity in the region." Abe and Turnbull referred to a strategy to step up maritime security in a bid to monitor China's maritime assertiveness and condemned "coercive unilateral action" that could "alter the status quo and increase tensions in the area." China's growing naval operations in the East China Sea are a sore spot for Abe.
Turnbull's visit came at a time when both Japan and Australia have seen a turn in diplomatic relations with China. In recent months, China and Australia's relationship has been tested following an Australian minister's criticism of Chinese aid to the Pacific Island nations. Meanwhile, to add to simmering tensions, Japan has clashed with China by protesting against Chinese naval ships' presence in the disputed waters surrounding the Senkaku Islands. According to local Chinese media, China is said to have closely monitored Australia and Japan's meeting as the two ugprade a military partnership that seeks to curb Chinese influence in the region.
The summit also touched on expanding bilateral trade, with Turnbull expressing disappointment with the United States' withdrawal from the Trans-Pacific Partnership (TPP). But Turnbull says he is determined to proceed full steam ahead with negotiations between the remaining 11 members, aiming for a conclusion by March. Both leaders raised the importance of "free trade" and "open markets" and encouraged strengthening trade ties between Australia and Japan in mutually beneficial areas such as technology, energy, natural resources, and primary products. Australia is Japan's largest energy supplier and this makes up a large chunk of Australian exports to Japan.
Last week, Abe and Turnbull picked up where the two countries left off in their first meeting as heads of government two years ago in 2015. While harnessing the momentum of the Australia and Japan "special strategic partnership" forged two years ago, both leaders have elevated regional peace and economic integration to the forefront of foreign policy. Abe in particularly is building a legion of allies to support his regional diplomacy while making use of the backing of the international community to pressure North Korea.