Japan-Malaysia Defense Relations in the Spotlight with Coast Guard Drills
Exercises highlight one aspect of ongoing security cooperation between the two countries.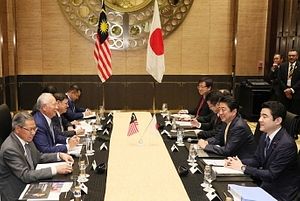 Over the past week, Japan and Malaysia have been holding the most recent iteration of exercises between their two coast guards. The drills, which revolved around combating maritime threats such as piracy and armed robbery, highlighted one aspects of the ongoing security cooperation between the two countries at work over the past few years.
As I have observed before in these pages, Malaysia has a longstanding security relationship with Japan, with both countries sharing a number of concerns including China's rising maritime assertiveness in the East China Sea and South China Sea. The strategic partnership that the two countries inked back in 2015 contained a heavy maritime security focus, which included not only an increased focus on engagements like exercises but also Japan helping boost Malaysia's capabilities through more advanced transfers of defense equipment and technology (See: "Why Japan's Malaysia Coast Guard Boost Matters").
Over the past few years, both sides have continued to develop their cooperation in the maritime domain, despite some challenges in doing so. Part of that has included engagements between the Japanese Coast Guard (JCG) as well as the Maritime Enforcement Agency (MMEA), which is the equivalent of Malaysia's coast guard, whether it be exercises or the delivery of decommissioned offshore patrol vessels (OPVs) to boost its capabilities (See: "Assessing Malaysia's Coast Guard in ASEAN Perspective"). This has taken place amid broader trends, including Japan seeking to boost its security role in this realm with Southeast Asian states (See: "Philippines Exercise Highlights ASEAN-Japan Coast Guard Cooperation").
From January 24 to January 30, Malaysia and Japan held another iteration of a joint exercise between their two coast guards. MMEA enforcement director Zainin Abdul Majid said that the exercise, which took place amid a range of other interactions between the two sides, was the third of its kind held after the first held in September 2013 and the second in July 2016.
This iteration of the exercise, which was held around Kuantan, the capital of the state of Pahang, involved about 200 personnel from the MMEA as well around 60 Japanese personnel. As with the two previous iterations, the focus was on combating piracy and maritime robbery as well as search and rescue at sea which continue to remain key challenges for Malaysia.
According to the MMEA, two Malaysian vessels were involved in the exercise, along with the Japanese Coast Guard's OPV the JCG Tsugaru. This included the KM Pekan, which was the first of two OPVs that arrived in Malaysia from Japan last year and had begun operations since then. The exercise scenario was around foiling a piracy attack and included a helicopter operation to rescue hostages.