Japan's Births and Marriages Spiral to Record Low
Prime Minister Shinzo Abe has pledged to address the issue of an aging society, but the data is not encouraging.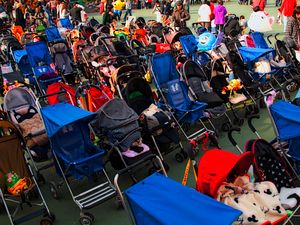 In another blow to tackling Japan's dwindling population, the Ministry of Health, Labor, and Welfare's latest annual survey saw 2017 recording the lowest number of births and marriages since statistics began. The alarming figures showed only 607,000 marriages taking place, down by 13,000 compared to the year before. For five consecutive years the number of couples getting married has been on a downward trend, with 2017 the lowest since the postwar era. Not to mention for the second year running, the number of babies born in Japan slipped below 1 million to 941,000.
In Tokyo, it's hard to miss the sheer abundance of babies visible outside in strollers. It's a visual contradiction to a nation facing an impending crisis. But the proof is in the statistics. Given that the number of deaths outnumbered births by 403,000, policy makers are left scrambling to fine tune a right set of policies to put the brakes on declining birth rates.
Since Abenomics was introduced five years ago, it's been widely praised for improving Japan's economy and expanding GDP by 11 percent overall. But declining births and marriages is a thorny economic issue. By 2065 Japan's population is expected to shrink to roughly 88 million from 127 million — taking with it a large chunk of the labor force. With immigration off the cards, it's not an easy task ahead.
In Japan, a younger generation of men and women are either putting off tying the knot or heading on a path to lifelong bachelorhood. The 2015 national census showed one in four men and one in seven women will have never married in their lifetime. Financial reasons and few chances to meet and mingle with the opposite sex are cited as common reasons for Japan's populations drain. The latest data suggests millenials need a push, in the form of better employment opportunities, to marry and start a family. The Ministry of Health, Labor, and Welfare says high on their agenda is bolstering support for younger generations in employment, which will lead to an environment more conducive to marriage.
To add to the complexity, the cost of raising a child, coupled with the lack of child-rearing support within business and corporate circles, has come under fire as a higher number of women are choosing to return to work after giving birth. Maintaining a work-life balance for women in Japan is an uphill climb, with rigid work conditions, a stigma on taking maternity leave, and waiting lists for certified daycare centers all hurdles to increasing the birth rate. If business as usual continues, the number of children under 15 will shrink more than half, to as little as 6.85 million by 2065.
It's no wonder days before calling a snap election last September, Prime Minister Shinzo Abe pulled a reelection game changer — promising a 2 trillion yen ($17.8 billion) yearly injection into five social security and education programs. Abe has proposed investing in child rearing by providing free childcare and free preschool education for children aged three to five years old. This is expected to be financed by a consumption tax hike of 10 percent coming into effect in 2019.
On New Year's Day, Abe reinforced a pledge to implement reforms in 2018 that will tackle the declining birth rate and an aging population. The government is shifting its focus toward how to cope with the reality of a growing army of elderly citizens and how to improve a heavily strained welfare system and healthcare facilities accessed by 33 million citizens aged 65 or over. During an election speech in October 2017, Abe declared it was "time to take action" on social security reform that benefits all citizens and to embrace change as a incentive for productivity, tying in with an election promise for 2018 as "a year of implementation."
Abe has so far conjured the right rhetoric, building the right momentum on population policies. Plus, he is still riding high from the success of a snap election gamble. But Japan isn't known for its nimble response to change. This year all eyes will be on Abe to see how well his grand plan is received and whether it will deliver.