Malaysia-Singapore Relations in the Spotlight With 2017 Leaders' Retreat
Both sides finally held a postponed meeting between their two leaders amid a busy year for their domestic politics.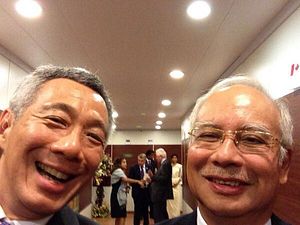 On January 16, the prime ministers of Malaysia and Singapore concluded the latest iteration of their annual consultations, which had been delayed. The holding of the Malaysia Singapore Leaders' Retreat highlighted the inroads both sides continue to make in bilateral ties despite lingering challenges in the context of a busy year for both countries' domestic and foreign policies.
As I have noted previously in these pages, though Malaysia and Singapore have had a rather prickly relationship in the past and problems do arise in ties from time to time, the two countries interact regularly and various bilateral mechanisms have been put in place to stabilize ties in a wide range of areas in recent years.
Those mechanisms are even more important during periods where domestic politics can be perceived as playing a part in destabilizing ties despite significant advances that have been made, with a case in point recently being Malaysia's revival of a decades-long row with Singapore over Pedra Branca (See: "The Danger of Najibizing Malaysia's Foreign Policy"). 2018 is an important year domestically for both sides, with Malaysia holding a general election that Prime Minister Najib Razak is preparing for and Singapore going through a longer transition that will eventually see Prime Minister Lee Hsien Loong replaced by a new leader, likely sometime after the city-state's next general election, which must be held by January 15, 2021.
One example of these stabilizing mechanisms in place for Malaysia-Singapore relations is the Leaders Retreat, which Najib and Lee have held annually since Najib's first visit to Singapore in 2009. The eighth iteration of the retreat was supposed to be held in Singapore in December, but Najib called for it to be postponed because he had to attend a special meeting of the Organization of Islamic Conference (OIC) in Turkey, which was called after the recognition of Jerusalem as the capital of Israel by the Trump administration – yet another reminder of how developments in U.S. Middle East policy can significantly affect Southeast Asian states (See: "Trump's Real ASEAN Test").
This week, the two leaders finally met for their annual leaders' retreat in Singapore. Unsurprisingly, the main focus of the engagement was on economic issues, where inroads have been made through various projects over the past few years including Iskandar Malaysia as well as the High Speed Railway (HSR) project. While the development that dominated the headlines this time around was the inking of the Johor Bahru-Singapore Rapid Transit System (RTS) Link Bilateral Agreement, there were other projects that saw progress too, including Marina One project at Marina South and the DUO project at Ophir-Rochor, which were undertaken by Khazanah Malaysia and Temasek Singapore.
Beyond economics, the two sides also touched on other issues in their joint statement, including a new memorandum of understanding (MOU) on education following the expiry of the previous one last December. Both countries also discussed other areas of cooperation such as the environment, energy, cultural ties and tourism, and even more previously contentious ones like water supply and defense (See: "Malaysia, Singapore Agree New Army Talks After Military Exercise").
Following the meeting, both leaders separately lauded the progress made in Malaysia-Singapore relations thus far. But in a post on his website, Najib also took the opportunity to note how far bilateral ties had come compared to the "roller coaster ride" of the past during the tenure of former Malaysian Prime Minister Mahathir Mohamad, who is now part of the Malaysian opposition and was recently chosen to run as its candidate in the upcoming elections. Though Najib has repeatedly touted the gains in Malaysia-Singapore relations as a success in his wider foreign policy despite lingering challenges, the timing and nature of his statement, which was followed by a list of other gains seen under his leadership, was yet another reminder of how bilateral ties are likely to be consumed by domestic politics this year.