The Rapid Rise of Censorship in Southeast Asia
From Myanmar to Indonesia, governments are clamping down on the internet and social media.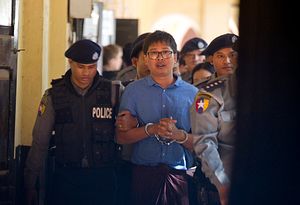 The number of blocked sites, as documented by independent internet monitors, is on the rise in nearly every Southeast Asian nation, part of a wider downturn in freedom of information across the region. What started out as a move to limit access to certain "illicit" sites, such as those hosting pornography or copyrighted content, has morphed into broad, unchecked power by each country's internet governing agencies to block access to sites with little, if any, oversight, and increasingly, arrest citizens for what they post on social media.
"Censorship is on the rise and internet freedom is declining in Southeast Asia," said Madeline Earp, Asia research analyst with Freedom House. "We [are] seeing that with some specific tactics – website blocking, arrests, cyber attacks, other rights violations."
According to Freedom House's  most recent Freedom on the Net report, released at the end of 2017, the scores of seven of the eight Southeast Asian nations included in the survey fell. Now, only the Philippines remains ranked as "mostly free" due to limited censorship, but its score still declined due to a rise in the use of "opinion shapers" to push pro-government rhetoric, along with targeted attacks on journalists and activists, such as the murder of lawyer Mia Manuelita Mascarinas-Green in February. The biggest disappointment, in many ways, was Myanmar, which saw its rating fall even after the country's first open election brought the National League for Democracy (NLD) and Aung San Suu Kyi to power. The culprit – fake news and, more recently, arrests of journalists.
"There are more journalists facing charges now as compared with the record of the Thein Sein government [which ruled from] 2011-2015," said Ed Legaspi, the executive director of the Southeast Asian Press Alliance.  
Low scores are the norm in Southeast Asia's more autocratic states – Laos, Thailand, Cambodia, Vietnam, and Singapore – but even there the situation is getting worse due to ever-growing government control and increases in arrests of people for posting content on social media. Even the one country to improve its score, Malaysia, left a lot to be desired, as the rise was solely due to the growth in internet access.
"This was a year in Malaysia where we saw news websites censored, at least one prison sentence for Facebook comment, and several more ongoing prosecutions," said Earp. "It was not a good year for Malaysia,"
The Malaysian example exemplifies the real tragedy – that this rise in censorship and online threats is happening right as internet access grows across the region, with millions of new web users coming online in 2017. The web they are accessing is one that is more filtered and less open than ever before, which could have dire consequences for information access and democracy – and the future equitable development of the region.
Worse in Context
It was only a few years ago that Southeast Asia seemed to be an emerging model region for the world, with several growing economies, stability, and a functioning regional entity, the Association of Southeast Asian Nations (ASEAN). Democracy was slowly expanding, and there were several strong social movements, for example, against corruption in Indonesia, for clean elections in Malaysia, in support of garment workers rights in Cambodia, or against coal-fired power plants in the Philippines. The internet was playing a key role in helping these movements grow and build power.
"A few years ago, we were seeing the human rights community, civil society, and the media really embracing the internet," said Earp. "There were a lot of really interesting and encouraging grassroots movements that took advantage of the internet in [places like] Malaysia, Singapore, Cambodia."
Now, democratic progress has stalled across the region. Those social movements are faltering, and now have to face powerful, conservative, pro-government forces online, something Legaspi sees across the region.
"Conservative or pro-establishment groups in many countries are not only potent channels of propaganda, they are also actively threatening and harassing netizens who are critical of the government," said Legaspi.
One thing that bears watching is the role of the region's massive neighbor and largest trading partner – China, ranked the world's worst abuser of internet freedom by Freedom Watch for a third consecutive year. China has made massive strides in censorship, and is coming close to perfecting its internet surveillance system. Over the past year, shocking stories published in Buzzfeed and The Wall Street Journal documented an ever-pervasive system of monitoring, whether it is via the ubiquitous app WeChat, or through a growing network of artificial intelligence-enabled cameras that are being rolled out, especially in restive regions such as Tibet or Xinjiang.
The country in the region, according to Earp, that is most closely emulating China is Vietnam. While the country has never performed highly on any press or internet freedom ranking, the rise in arrests of bloggers and social media activists, alongside the growing use of more sophisticated censorship technology, is worrying.
"Vietnam is replicating the tactics used by China, and this sets a troubling tone for the region," said Earp. "We are seeing prison sentences of a decade or more for bloggers who criticize the government."
What's Next
The rise in fake news, and the growing use of the internet to, for example, spread hoaxes has dangerous real world consequences. In Indonesia this past September, a rumor that a meeting being held at a local non-profit related to the still-banned Indonesian Communist Party led to the office being attacked by a mob that, without police intervention, could have turned violent. Violence has been far too common in Myanmar, where blatantly racist, anti-Islamic rumors and fake news played a key role in last year's massive anti-Rohingya purges.
The response, though, may be worse than the problem. Much misinformation spreads through social media, and the region's governments are increasingly using existing laws to control online content.
"Worryingly, many governments and their supporters have taken advantage of existing mechanisms in social media to help block 'illegal' content by simply citing existing laws against unacceptable sites," said Legaspi. Thailand's lese majeste law, the Sedition Act in Malaysia, and the Blasphemy Law in Indonesia have all been used to curtail online speech.
This is being done with the quiet acquiescence of social media companies, whose role cannot be understated. Products from global companies including Facebook, Twitter, and Instagram, along with chat apps such as Line, WhatsApp, and WeChat are the main source of information for many Southeast Asian netizens. Unfortunately, their role in promoting free expression seems to be diminishing.
"Only four or even three short years ago, social media provided a refuge for critics and activists, enabling them to continue to send their message out to circumvent URL blocking," said Legaspi. "Today, social media companies have only been too compliant to follow take-down or blocking requests from governments based on violations of local laws."
Even with more and more users being arrested for posting content on these platforms – or, in one instance, merely being tagged to someone else's post – the fact that none of the companies are making moves to protect users from the state shows where their priorities lie.
This year's elections in the region will be the key to truly understanding the effects of censorship and fake news. While two of the polls – Cambodia's now opposition-free race, and Malaysia's heavily gerrymandered one – are unlikely to result in much change, Indonesia's regional races, set to take place across about half of the archipelago this June, bear watching. They will be the first test since a fake news and rumor-filled campaign doomed Jakara's once popular ethnic Chinese-Christian governor, Basuki "Ahok" Tjahaja Purnama, in January. Indonesia, like Myanmar, is a country that is defying expectations and trending in the wrong direction.
"Indonesia had the biggest decline in Asia in the 2017 report," said Earp. "The decline was across a number of indicators… censorship, attacks, arrests, violence."
Many fear that attempts by the Indonesian government to counter the rise in Islamism and fake news – such as the July 2017 move to expand the ability of the state to disband groups that "that work to undermine the Indonesian state" – could be used by any right-wing politicians that win future elections to clamp down on even legitimate NGOs or minority leaders.
The worse-case scenario is that growing ability of the state to capture and control the internet will limit the ability of the opposition, the media, and activists across the region, entrenching existing ruling parties and entities like the military. This could have the side effects of increasing corruption, further delegitimizing minority groups, and exacerbating inequality.
For now, it looks like 2018 will resemble 2017 in many ways – more censorship, more pro-government commentators, and more fake news spreading through social networks – a sad turn of events for a region many hoped could be a leader in the 21st century.
Nithin Coca is a freelance writer and journalist who focuses on cultural, economic, and environmental issues in developing countries. Follow him on Twitter @excinit.