Will Theresa May Discuss Hong Kong in Her China Visit?
The last British Governor of Hong Kong urged Theresa May to speak up for Hong Kong.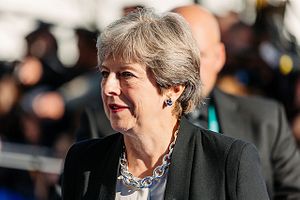 British Prime Minister Theresa May will soon start her first official visit to China from January 31 to February 2.
Ahead of her tour, Chris Patten, Hong Kong's last British governor, together with Paddy Ashdown, former Liberal Democrat leader, sent a letter to May's Downing Street office, urging May to speak up for Hong Kong in front of the Chinese authorities.
"In the past five years, Hong Kong has seen increasing threats to the basic freedoms, human rights and autonomy which the people were promised at the handover just over 20 years ago. These developments have been rightly criticized within Hong Kong and outside," the two authors wrote.  
In recent years, a series of controversial cases — including the most recent issue of the disqualification of a pro-democracy candidate for the legislature — have put the Hong Kong government as well as the Beijing authorities in the spotlight.
Agnes Chow, 21, a Hong Kong social activist supporting self-determination for Hong Kong people, submitted forms in January to run in the Hong Kong Island constituency. But the Hong Kong government decided to ban her from running for the Legislative Council.
In a a press release issued last Saturday, the Hong Kong government explained the decision without naming Chow directly:
"Self-determination" or changing the HKSAR [Hong Kong Special Administrative Region] system by referendum which includes the choice of independence is inconsistent with the constitutional and legal status of the HKSAR as stipulated in the Basic Law, as well as the established basic policies of the PRC regarding Hong Kong. Upholding the Basic Law is a basic legal duty of a legislator. If a person advocates or promotes self-determination or independence by any means, he or she cannot possibly uphold the Basic Law or fulfil his or her duties as a legislator… the nomination of a candidate was invalid as she did not comply with section 40(1)(b)(i) of the Legislative Council Ordinance.
The decision has drawn criticism by the international community. The European Union said in a statement that the decision "risks diminishing Hong Kong's international reputation as a free and open society."
According to The Guardian, Patten and Ashdown in their letter urged May "to provide the people of Hong Kong with some assurance that our developing relationship with China, vital though it is, will not come at the cost of our obligations to them."
May is scheduled to visit Beijing, Shanghai, and Wuhan, and meet with China's top officials, including President Xi Jinping and Premier Li Keqiang.
In response to the joint letter, a spokesman for May's Downing Street office said: "We've always been clear and continue to be clear that it's vital that Hong Kong's rights and freedoms are respected…We are firm believers in 'one country, two systems,' and we welcome the Chinese commitment to it."
However, the Beijing central government is deeply irritated by the international "interference" in Hong Kong affairs.
At the press briefing on January 3o, Chinese foreign ministry spokesperson Hua Chunying said:
The Chinese government exercises overall jurisdiction over Hong Kong as mandated by China's Constitution and the Hong Kong Basic Law. Hong Kong is a special administrative region of China. Hong Kong affairs belong to China's internal affairs. China firmly opposes the interference of any foreign government, institution and individual in the affairs of Hong Kong. This position cannot be clearer.
China's strong stance on the Hong Kong issue will undoubtedly add pressure on May as she ponders over the agenda for her visit.
May has made it clear that the top priority for her China visit is to boost trade, since "There are huge trade opportunities in China that we want to help British businesses take advantage of."
Although she promised to "have frank discussions on all issues," she also emphasized that "My visit will intensify the 'Golden Era' in U.K.-China relations."
It will take quite the balancing act for her both to have "frank discussions" with China and to achieve her trade goals and intensify relations at the same time.