ASEAN's Role in Japan's Indo-Pacific Strategy
A visit this week reinforced the importance of Southeast Asia in Japan's regional vision.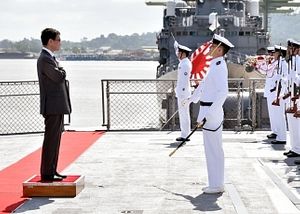 From February 10 to 12, Japan's Foreign Minister Taro Kono was on a brief Southeast Asian tour to both Brunei and Singapore. Beyond the bilateral and regional issues Kono touched on in both legs of his visit, it was also a demonstration of the emphasis Japan is placing on Southeast Asia as well as the Association of Southeast Asian Nations (ASEAN) within the broader context of its own Indo-Pacific Strategy.
Despite the current focus around U.S. President Donald Trump's articulation of an Indo-Pacific Strategy, the concept is not new or unique to the United States (See: "Trump's Indo-Pacific Strategy Challenge"). The concept of a Free and Open Indo-Pacific Strategy is also not new in the Japanese context, with Prime Minister Shinzo Abe being a staunch advocate of it dating back to his previous tenure as prime minister from 2006-2007. The most recent articulation of the vision during Abe's current tenure broadly centers around enhancing connectivity from Asia to Africa to promote greater stability and prosperity across these regions through a variety of means, including improving the security situation in these regions, promoting greater development, and supporting the advancement of rule of law and building capacity in related fields.
Apart from larger states like the United States and India, the smaller countries of Southeast Asia in general as well as the Association of Southeast Asian Nations (ASEAN) play an important role in the context of Japan's vision of a Free and Open Indo-Pacific Strategy. Geopolitically, Southeast Asia is where several aspects of the vision Japan is advancing will be tested — whether standards around infrastructure projects or the advancement of the rule of law in the maritime domain with the South China Sea disputes — all amid the involvement of other major powers, including China and the United States (See: "Japan Reveals First ASEAN Defense Initiative with Vientiane Vision").
Singapore and Brunei are also important countries within the context of this strategy in their own right, albeit in different senses. Singapore is a highly capable and active contributor to regional security and prosperity, both on its own as well as in concert with partners like the United States and Japan. A case in point is the Japan-Singapore Partnership Program for the 21st Century – a jointly run training program for developing countries. Brunei is much less active comparatively speaking but is nonetheless strategically significant as a country, whether in terms of its search for economic diversification in the context of ongoing reform, which also saw it become a member of the Trans-Pacific Partnership (TPP) with Singapore and Japan, or its role as a quiet claimant in the South China Sea (See: "Beware the Illusion of South China Sea Calm").
Both countries are also important within ASEAN, especially in the current context. Singapore holds the annually rotating ASEAN chairmanship for 2018, which puts it at the center of the advancement of several regional initiatives this year (See: "What's Behind the New ASEAN-China Maritime Exercise?"). Brunei, meanwhile, has served as the coordinator for the ASEAN-Japan dialogue relations, which are in their 45th year, with several activities and developments planned around that as well.
So it was no surprise that Kono chose to visit these two countries this month. Of course, part of the focus of the visit was around specific bilateral issues and regional areas of concern like North Korea as well as developments related to the 45th anniversary of ASEAN-Japan dialogue relations this year. But the theme of a Free and Open Indo-Pacific Strategy unsurprisingly featured as well. Ahead of the trip, Japan's Ministry of Foreign Affairs (MOFA) said Kono's visit was a demonstration of how it was important to cooperate with Brunei and Singapore "in the framework to materialize the Free and Indo-Pacific Strategy based on the rule of law, as both these countries attach importance to the maritime order."
True to that statement, both legs of Kono's visit saw a focus on elements of that Free and Open Indo-Pacific Strategy. In Brunei, the focus was partly around Japan's role in helping the country in its quest for economic diversification in the context of reform, which has significance beyond the domestic realm as it has also impacted Brunei's dealings with China as well. In his consultations with Brunei officials, Japan's foreign ministry said Kono did reinforce the importance of Brunei and Southeast Asia within the context of Japan's broader Indo-Pacific vision.
But the most significant development was Kono's delivery of remarks on board the Japan Maritime Self-Defense Force (JMSDF) escort vessel JS Yamagiri at Muara Commercial Port, which was one of three vessels that had docked there for a goodwill visit. During his address there, Kono said Japan was promoting its Free and Open Indo-Pacific Strategy "under the conviction that ensuring that this ocean, which we see before our eyes, is free and open is the cornerstone for peace and prosperity not only for Japan but for the world." Those significance of those remarks was not lost on regional observers considering that Brunei is a claimant, albeit a quiet one, in the context of the South China Sea disputes (See: "Beware the Illusion of South China Sea Calm").
Meanwhile, in Singapore, during his discussions with Singapore's Foreign Minister Vivian Balakrishnan, apart from areas for expansion in bilateral cooperation (like air connectivity, innovation, and digital technology), there was also discussion about broadening ASEAN-Japan ties under Singapore's chairmanship this year, as well as enhancing the Japan-Singapore Partnership Program for the 21st Century, which both sides had agreed to advance last year during its 20th anniversary.
In addition, mirroring the maritime focus we had seen in Brunei, Singapore's foreign ministry also said that Kono had visited the Maritime and Port Authority of Singapore, including the Port Operations Control Center. The ministry said Kono was briefed on ongoing bilateral maritime cooperation, though no further specifics were provided.
It is still early days in terms of Japan's rolling out of its Indo-Pacific Strategy, particularly in Southeast Asia, where there are mixed feelings in different countries about what the strategy is and how it will play out in terms of broader trends, be it links with ideas like the so-called Quad – grouping Japan, Australia, India, and the United States – as well as China's own growing role in the region. But Kono's visit demonstrated Japan's recognition of both that ambivalence as well as the significance of the smaller countries of Southeast Asia in this bigger strategy.