Explaining Canadian PM Justin Trudeau's Chilly Reception in India
Canada-India relations are entering a cool period.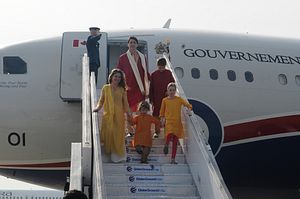 It's quite extraordinary. For a politician who is deemed to have rock-star-like status, Canadian Prime Minister Justin Trudeau is hardly making any ripples in India. And this is a country where celebrities get front page coverage in newspapers. If at all, the coverage so far of this visit has been negative, which underlines the challenges that Canada today faces in enhancing ties with India.
There is a lot of focus on the ostensible "snub" that the Modi government has bestowed on the Canadian prime minister's visit so far, which is ongoing as of this writing. Prime Minister Narendra Modi did not receive his Canadian counterpart at the airport, a courtesy he had extended to some world leaders. Instead Trudeau was received by the Union Minister of State for Agriculture Gajendra Shekhawat and was also only received by district officials when he visited the Taj Mahal in Agra. Though the Indian government insists that normal diplomatic protocol has been extended to Trudeau, it is clear that something is amiss the wider bilateral relationship.
If the Modi government has been signalling its displeasure with certain aspects of Trudeau's policies, it is within its rights, as Ottawa has also been sending confused signals. Initially the Canadian delegation had announced that while they would visit Punjab's Golden Temple, they would not meet the state's Chief Minister Captain Amarinder Singh, a vocal critic of Canadian policy toward Khalistani separatists. Singh had refused to meet Harjit Singh Sajjan, the Canadian defense minister, during his visit to Punjab last April over claims the minister was a Khalistan sympathizer. The Canadian defense minister recently termed Singh's allegations "offensive" and "ridiculous." After coming to India, and perhaps recognizing the negative feedback, Ottawa decided to reach out to Amarinder Singh. In an attempt to do some damage control, Trudeau himself reiterated that Canada is strongly committed to "one united India" and is serious about cracking down on extremism.
The recent turn of events on the Indo-Canadian front is quite unfortunate as Modi had reached to Canada in a big way three years back. Trudeau's predecessor, Stephen Harper, and Modi had tried to lay the foundations for a strategic partnership during the latter's visit to Canada in 2015, after decades of neglect, hoping to reap the benefits of geopolitical convergence.
In the past decade, even as New Delhi expanded its global footprint, there was little interest in Canada. Modi wanted to alter that with his trip in 2015, which marked the first to Canada by India's head of government in 42 years. And he secured a landmark nuclear energy deal with Canada for the supply of 3.2 million kilograms of uranium over a five-year period, formally ending a long-standing moratorium on Canadian exports of nuclear materials to India. In the 1970s, India used Canadian technology in its nuclear program. With India being the second-fastest growing market for nuclear fuel, this deal was crucial for Canadian producer Cameco Corporation as the supplier of uranium. And it came 45 years after Canada, under Prime Minister Pierre Trudeau, banned uranium exports to India.
Bilateral trade has been slow to develop too, with India accounting for only 2 percent of Canada's global trade. Free trade negotiations, which began in 2010, are not going anywhere. Yet India remains a critical market for Canadian products such as lentils, peas, lumber, and potash, especially as India remains the world's fastest growing major economy.
With over 1.2 million people of Indian origin, Canada remains an important destination for Indians. Being an open economy, it has continued to attract not only Indian capital but also Indian professionals and students. "India has the strength; what is needed is opportunity," Modi had said while addressing an estimated over 10,000-strong Indian diaspora at Ricoh Coliseum in Toronto during his 2015 visit, underlining the role that the Indian diaspora can play in creating these opportunities. New Delhi had been trying to cultivate the diaspora and give them a stake in the Indian economic regeneration.
On the security front, a stable balance of power in the wider Indo-Pacific will serve both Indian and Canadian interests. The Arctic, where Canada has significant stakes, is growing in salience. As the recently released Chinese White Paper on the Arctic makes clear, Beijing is intent on challenging the extant status quo pertaining to the region. Closer institutional collaboration and intelligence sharing on tackling terrorism and extremism is also the need of the hour.
And yet all that Trudeau's visit has focused on is Ottawa's soft pedaling on the issue of Sikh separatism. The Modi government has managed to convey a message of political unity on a matter of supreme national interest. It is likely that Trudeau will only talk in generalities on the issue, defining the domestic support for separatism in the garb of "freedom of expression." This will not be enough to assuage Indian concerns. It seems as if Ottawa is intent on wasting an opportunity of engaging India. It may have its reasons but then New Delhi won't be remiss if decides to ignore Canada in its foreign policy calculus.