Flagging Pakistani Taliban Loses Another Top Gun
Mehsud Taliban leader Khan Said Sajna is reported dead in a drone strike.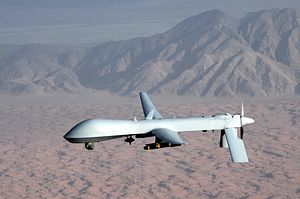 The banned Tehrik-e-Taliban Pakistan (TTP) received a serious blow on Friday when the group's second-in-command Khan Said, alias Sajna, was reportedly killed in a suspected drone strike in Afghanistan's southeastern Paktika province on February 9.
Khan Said Sajna was the deputy of the TTP chief Mullah Fazlullah, who is reportedly hiding in Afghanistan's eastern Kunar province since his miraculous escape from a massive military operation by the Pakistani security forces in the country's tourist resort of Swat in mid-2009.
The TTP of Mullah Fazlullah is responsible for some of the worst terrorist attacks to ever take place in Pakistan, including the slaughter of 150 people, a majority of them schoolchildren, in a December 2014 attack at a military-run school in Pakistan's north-western town of Peshawar.
Over the past several years, the Pakistani authorities have accused the Afghan government of harboring the anti-Pakistan Tehrik-e-Taliban on its soil, exactly the way the Afghan authorities have been accusing their Pakistani neighbor of providing safe havens to the Afghan Taliban and their affiliates, the Haqqani terrorist network.
The TTP, which converted Pakistan's South Waziristan tribal district into its headquarters during the time of its founding chief Baitullah Mehsud, came to be seen as an existential threat by the Pakistani government and its security agencies. Pakistan had to conduct numerous military operations starting from 2007 to weaken and dislodge the TTP from the Waziristan tribal region.
The highly resilient and undeterred TTP finally received a crushing blow when Baitullah Mehsud was targeted by a drone while he was resting on the roof of the house of his father-in-law in August 2009.
His death kicked off a vicious power struggle among the TTP leadership, which mostly come from the Mehsud tribe. But a young charismatic leader, Hakimullah Mehsud, finally prevailed and was recognized as the successor of Baitullah Mehsud.
The dreaded Hakimullah Mehsud soon proved his mettle by launching a series of reckless attacks in the cities and towns. However, he was also killed in a drone strike in November 2013. Months before, another top TTP gun, Wali Rahman Mehsud, was killed in a similar strike in May 2013.
The TTP came to a crossroads after the killing of Hakimullah Mehsud and the leadership crisis divided the once strong umbrella organization into small groups and factions. The division made way for a nontribal Taliban leader, Mullah Fazlullah, to become its head.
Hailing from the district of Swat, Fazlullah preferred to live across the border in Afghanistan instead of making Waziristan or any other area in the tribal belt his headquarters. That disappointed several senior and mid-ranking commanders from the new leadership. Commander Khan Said alias Sajna was also among those.
"Sajna" is a Punjabi language word which means a "close friend." It is also an oft-repeated word in Bollywood songs. Locals said Khan Said was dubbed Sajna by the TTP's founding chief Baitullah Mehsud because the two were close friends. Sajna also served as the TTP treasurer under Baitullah Mehsud.
Both Baitullah Mehsud and Khan Said Sajna belonged to the Shabi Khel branch of the Mehsud tribe and both started their jihad by fighting alongside the Taliban in Afghanistan.
The 46-year-old Sajna formed his own group under the banner of "Mehsud Taliban" following the elevation of a nontribal and non-Mehsud leader to the top position of the TTP. He had recently rejoined the TTP after the group's chief, Mullah Fazlullah, offered him the position of his deputy. A senior journalist who met Sajna about a year ago says that his fighters were using Bermal district of Afghanistan as their stronghold, from where they launched attacks both in Afghanistan and Pakistan.
Before rejoining the TTP, Sajna was seen as less hard-line than his current and two former chiefs (Fazlullah, Baitullah, and Hakimullah) besides having a moderate approach toward Pakistan. Mullah Fazlullah and his predecessors made Pakistan the key target of their attacks. Fazlullah, hiding across the border, is still sending attackers to hit civilians and military targets inside Pakistan.
Locals say Khan Said was getting support from the Zadran tribe in Bermal district of Afghanistan's Paktika province and he used to remain in close contact with the top commanders of the Afghan Taliban and the Haqqani Network.
Unlike the TTP commander Mullah Fazlullah, who is reportedly hiding in eastern Afghanistan, Sajna was living in Afghanistan's southeast along with his fighters. Locals say majority of the Mehsud Taliban shifted to Bermal district of Afghanistan and gathered there under the banner of Khan Said Sajna following the launch of the Operation Zarb-e-Azb by the Pakistani security forces in June 2014.
Afghanistan's Bermal district has strategic importance for the Waziristani Taliban, as it shares a border with both South Waziristan at the Angoor Adda area and North Waziristan at Shawal and Dattakhel. There are several crossing points that the Taliban usually cross on foot. It takes around 30 minutes by car to cross into Bermal from Waziristan via Angoor Adda, locals say.
The killing of Khan Said Sajna is a serious blow for the TTP, which has yet to recover from the two successive strikes that killed its top guns, Wali Rahman and Hakimullah Mehsud, in May and November 2013. Another weak point of the TTP is that its current chief Mullah Fazlullah is hiding in a hostile area where the Islamic State of Khorasan Province (ISKP) is gradually increasing its footprint.
According to local sources, the Mehsud Taliban, as they preferred to be called instead of TTP, have temporarily nominated Maulvi Khatir as Sajna's successor. However, their shura (committee), will be meeting soon to appoint his permanent successor, who will be endorsed by TTP chief Mullah Fazlullah.
Daud Khattak is Senior Editor for Radio Free Europe Radio Liberty's Pashto language Mashaal Radio. Before joining RFE/RL, Khattak worked for The News International and London's Sunday Times in Peshawar, Pakistan. He has also worked for Pajhwok Afghan News in Kabul. The views expressed here are the author's own and do not represent those of RFE/RL.