Indonesia's Indian Community
Despite a large Tamil community in North Sumatra, Indian-Indonesians still struggle for recognition and opportunities.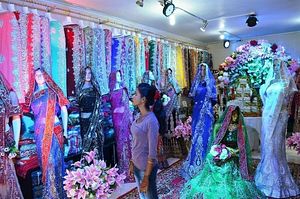 Anjeli Kaur, 21, was born in the North Sumatran city of Medan in Indonesia and identifies as Tamil-Indonesian. Her grandmother was the first member of Anjeli's family born in the country. As Anjeli explains, "I feel Indian even though I've never been there and I don't have any family or friends living in India."
There are thought to be between 40,000 and 75,000 Indian-Indonesians living in North Sumatra, although firm data is difficult to come by as census documents no longer list ethnicity in Indonesia. Most Indian-Indonesians are Tamil. According to Tamilnation, a website dedicated to providing information about the Tamil diaspora in Indonesia, "The Tamils were brought in by the Dutch in the early build-up of the plantation industry, probably in the 1830s."
When the Dutch colonial period came to an end in the 1940s, "5,000-10,000 Tamils stayed on in North Sumatra, mainly in Medan, but also in Binjai and Lubuk Pakam (…) The Tamils have remained in North Sumatra except for a few hundred families in Jakarta and the Tamils that went to Sigli in Aceh."
Due to relatively low numbers of Tamil residents in Indonesia compared to other groups, such as Chinese-Indonesians, who number around 2.8 million, this community often operates under the radar. Many Chinese-Indonesians have risen to national prominence in Indonesia such as the former governor of Jakarta, Basuki "Ahok" Tjahaja Purnama, and flamboyant businessman Hary Tanoesoedibjo. In contrast, Indian-Indonesians have struggled to gain similar recognition in politics and business.
Anjeli works in Shakira Kaur, a sari shop in the "Little India" district of Medan. Known as Kampung Madras, the district is a small pocket of land in the city center filled with Indian shops and restaurants, and bordered by two Hindu temples. Shakira Kaur is a typical Tamil-inspired establishment in Kampung Madras, and is filled with mannequins dressed in elaborate saris, some of which sell for up to 4,000,000 rupiahs (roughly $290) as they are encrusted with real Swarovski crystals.
Anjeli points out that the sari shop is a good example of how the Indian community has been accepted by other religious and ethnic groups in Medan. "Everyone comes here. We get Batak Christian and Muslim customers here buying saris too. They buy them if they have an Indian friend who is getting married."
Anben Prakash, 80, owns a grocery shop in Kampung Madras that sells products like bottled cow urine, which is used to clean the home, kill bacteria and drive out evil spirits. He also sells products imported from India such as split peas, lentils and beans, so that residents can cook Indian dishes at home.
He has a different take on identity than Anjeli does. "I feel more Indonesian than Indian, or at least not like Indians who live in India and come here for a holiday," he says. His grandfather moved to Medan in the 1800s.
Anben says that he feels safe in Kampung Madras and hasn't experienced any racial discrimination in Medan; a marked difference from members of the Chinese-Indonesian community, who often find themselves targets of racially motivated violence in Indonesia. One of the darkest periods in Medan's history was the 1998 riots, which started in the city and spread to Jakarta and then to Solo, and which deliberately targeted Chinese-Indonesians. Shops and homes were ransacked and "milik pribumi" or "property of indigenous Indonesians" scrawled on walls. The riots left over a thousand people dead and many Chinese-Indonesians fled abroad to countries like neighbouring Malaysia or Singapore.
But there have been a number of other high-profile clashes between Chinese-Indonesians and other groups in the country, including Ahok's case. The former governor of Jakarta (who is also a Christian) was jailed for two years on blasphemy charges after being found guilty of insulting Islam by quoting a verse from the Quran during a campaign speech. Many said Ahok's trial was racially and politically motivated. Conflict with the Chinese-Indonesian community in Indonesia also links back to 1965 and the anti-communist purges, which often targeted local Chinese residents, but which did not affect Indian-Indonesians in the same way.
Kampung Madras has never been attacked the way Chinese-Indonesian enclaves were in 1998. That said, this doesn't mean that the Indian-Indonesian community in Indonesia hasn't experienced any stigma at all. In fact, Kampung Madras' nickname hints at persistent racial profiling. In Medan most people refer to this part of town as "Kampung Keling." "Keling" is a derogatory term that takes its name from the Kalinga Kingdom of east India, but which is now used to refer to people with dark skin, often of Indian descent.
And there are some Kampung Madras residents who feel that while the racial tensions in this part of Medan may not be as overt as those faced by the Chinese-Indonesian community, Indian-Indonesians are not immune to stereotyping and discrimination.
Padmanaben, 28, who goes by only one name, is a Gojek (motorcycle taxi) driver and his father was born in Medan. Padmanaben studied IT at Gunadarma Indonesia University in Jakarta but says that, in his experience, it's difficult for Indian-Indonesians to get a job in Indonesia.
"Employers want Indonesians not Indian-Indonesians. There is very little chance for Indians in Indonesia which is why so many of them have their own businesses here," he says, waving his hand to show the many shops and restaurants in Kampung Madras.
He goes on to explain that some residents in Medan accuse the Indian-Indonesian community of being gangsters and drug addicts because they are sometimes outwardly less affluent than other communities and often do low-level jobs, such as garbage collecting, that other residents don't want to do. Even though he is a university graduate, Padmanaben can't find a job in Medan other than working as a Gojek driver. He says that he is looking at going to Singapore, where it would be easier for him to gain employment.
Another Kampung Madras resident who has struggled to find work in Medan is Balen, 29, who also only goes by one name. He worked for five years in Malaysia in the logistics department of shipping company TASCO before his contract finished. He is now waiting for a new contract and work visa, so he is back in Medan for a few months. While he waits, the only job he can get is selling fireworks on a freelance basis (Kampung Madras is also known for its myriad firework shops).
"This is my country so I came back here, but I will not live in Indonesia forever. When I get a new work contract I will have to go back to Malaysia," he explains. He would like a job in Medan to be close to his family, he says, but without one he is happy to go to neighboring Malaysia, which has some 2 million Indian-Malaysian residents, and where he does not have to struggle to the same extent to find a white-collar job in an area such as IT, communications, or logistics.
Noting the kinds of jobs that the Indian-Indonesians tend to choose in Kampung Madras is interesting; this part of Medan appears to be a self-sustaining enclave. Due to the perceived lack of jobs outside the community, residents either go abroad or look within. If they stay in Medan, they open their own businesses to get around the problem of struggling to find work elsewhere. And they work in jobs that benefit and serve their community in turn. They open Indian restaurants or set up shops next door selling ingredients for Indian dishes. They work as drivers to take people in and out of Kampung Madras. They sell traditional saris for the traditional Indian weddings that take place in the community, and so it goes on.
While Kampung Madras takes up a tiny section of the city of Medan, it also operates independently. But many other residents from all over the city come here to eat and shop, which hints at how the community at once stands apart, but has also integrated into Medanese society. This juxtaposition and yet harmony between Indian and Indonesian culture is one that also expressed by Padmanaben when he tries to explain his feelings about living as a Tamil in Indonesia.
"When our ancestors came over here they followed the Indian style, such as getting married in the traditional way. We still do this but we also live differently than people do in India."
"It's hard to explain," he shrugs. "I'm Indian but I'm also Indonesian."
Aisyah Llewellyn is a freelance writer based in North Sumatra.