Kazakhstan Makes Arrests After Deadly Bus Fire Killed 52 Uzbek Labor Migrants
Uzbekistan, especially, needs to confront the underlying economic issues behind labor migration.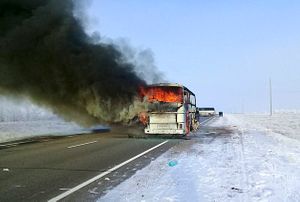 Kazakh authorities have reportedly detained the three drivers of a bus that was engulfed in flames on a lonely stretch of the snowy Kazakh steppe last month, killing 52 Uzbek citizens.
Only five people survived the fire, which Kazakh authorities say was caused by an open flame on a portable gas cooker. RIA Novosti reported that the bus' side door was blocked, preventing passengers from escaping the inferno. The gas cooker was being used for heat on a 29-year-old German-built Setra bus, which was operating without a passenger license. The bus' technical safety certificate expired in 2016.
The three drivers — all Kazakh citizens — are being charged with violating fire safety regulations for vehicles. It seems a bland punishment for an accident that killed 52 people.
Both Kazakhstan and Uzbekistan have launched probes to investigate the tragedy, but it's unclear what the results — in terms of policy changes — will be.
The fire, on January 18, was not the first such incident along the route from Uzbekistan to Russia, usually from Shymkent on the Uzbek border to Samara.
Sixteen people, including an infant, were killed when a bus carrying 55 Uzbek nationals, being driven by two Kazakhs, was hit by a train in Russia in October 2017. Reportedly the bus tried to cross the tracks despite a red light indicating an approaching train and got stuck. Those who got out to push survived; those still asleep on the bus died.
As Eurasianet wrote in an excellent article immediately after the January bus fire, "Countless thousands perform the same trip year in, year out, forced to find the cheapest way possible of reaching Russia, where they will do menial work for paltry salaries."
In 2009, Mansur Mirovalev chronicled the journey of the so-called ghost bus to Russia for the Associated Press, writing that the bus system emerged in the 1990s, "back when it was legal."
But in January 2006, a rattletrap bus broke down in the western Ustyurt plateau, and all 30 passengers froze to death. Russia-bound buses were prohibited.

These days, only corruption keeps the buses alive. Each year, hundreds of Uzbeks without permits are deported and barred from entering Russia for five years. They can't get through passport controls at airports or railway stations, so they get on the bus.
Some regional observers were heartened by the Uzbek president's response to the tragedy — if only because it differed so starkly from that of his predecessor. In 2013, then-President Islam Karimov sharply criticized Uzbek migrant workers as "lazy."
"There are very few lazy people in Uzbekistan now," Karimov said during a visit to the Jizzakh and Sirdaryo regions. "I describe as lazy those who go to Moscow and sweep its streets and squares. One feels disgusted with Uzbeks going there for a slice of bread."
Karimov died in late August 2016. His successor, Shavkat Mirziyoyev, took a different tone with regard to Uzbekistan's migrant workers. Mirziyoyev expressed condolences and authorized lump-sum payouts for the families of the dead. Speaking on January 20, Mirziyoyev reportedly said, "It's not for nothing… that these people are going through torment and suffering in foreign countries. These poor people too, after all, have their hopes before God, to feed their children and bring some money back to their fathers… They were so young… And all of them from Uzbekistan. We are so deeply saddened"
Even this tacit acknowledgement of the underlying economic factors that motivate Uzbeks to board the cheapest bus they can find to Russia was an improvement. Many of Mirziyoyev's reforms have been targeted at the Uzbek economy but it will take time for relaxed currency regulations and international investment interest to yield dividends. Job creation remains a serious challenge and one of the only ways to lessen the flow of Uzbeks to Russia, legally or illegally.
While Tajikistan and Kyrgyzstan lead the region in terms of the share of their population that goes abroad — usually to Russia — for work opportunities, Uzbekistan with its massive population leads in sheer numbers. In January 2016, for example, Russian authorities said there were 1.9 million Uzbeks working in the country (and that represented a 15 percent drop from the previous year).
The ghost bus system circumvents, in many cases, legal immigration. Over the years, especially since the advent of the Eurasian Economic Union, it has become more difficult, relative to citizens of member states like Kyrgyzstan, for Uzbeks to migrate to Russia. Nevertheless, the economic factors that pushed Uzbeks to do so remain. 
Hopefully, this tragedy can be the last of its kind, but given the several similarly horrific accidents that came before it, and the lack of progress in addressing any of the attendant issues — from job creation to corruption to people smuggling — it probably won't be.