Macron and May: A Tale of 2 China Visits
How France and the U.K. envision relations with China, based on their leaders' recent trips.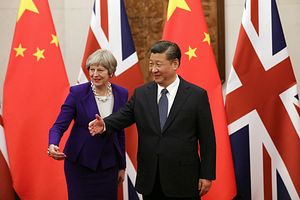 Following the visit of the French president, Emmanuel Macron, at the beginning of January, Chinese leaders welcomed another major state visit from a European official: the British prime minister, Theresa May. While Macron is seeking to strengthen his position as a leader of the European Union and the voice of Europe, May is more concerned with the commercial and business opportunities China can provide the U.K.'s economy after Brexit.
While divorce from the European Union means possible free trade agreements with countries around the world, the U.K. lost a major advantage that interested China: being part of the EU. France, on the other hand, is proving to be a diplomatic partner for China in Europe; Macron's visit was intended to reinforce this position.
However, Macron is not naive in his approach to increasing cooperation with China, but is being practical in proposing fairer trade. France has a large trade deficit with China, amounting to some 30 billion euros ($37.2 billion), which explains why Macron is calling for a more balanced trade relationship. Europe cannot afford to witness the expansion of Chinese business in the EU without making sure that trade is fair and fruitful for both parties.
That is one of the most important messages that Macron delivered while in China last month. He expressed a desire to establish a balanced win-win relationship with rules defined together. In fact, during his visit to China, he mentioned that trade benefits between the EU and China should be "shared," which was in reference to some of China's domestic markets not being as open to foreign companies and investors as they would desire.
The U.K. is also emphasizing the importance of fairness in cooperating with China, pointing to the need for more transparency and regulation. May said the U.K. is a "natural partner" for China, but projects have to be carried out in the proper way and China should follow fair trade practices. Moreover, the U.K. has yet to formally endorse the Belt and Road Initiative (BRI), which is meant to expand trade and improve infrastructure along the new Silk Roads connecting China with Europe. During her recent visit to China, May expressed interest in cooperating with China on the development of the BRI, but she reportedly refused to sign a proposed memorandum of understanding, which made some Chinese officials doubt the so-called "golden era" in relations with the United Kingdom.
The Belt and Road Initiative is President Xi Jinping's signature project, which aims to expand trade and develop infrastructure. Still, many European countries are wary of the lack of transparency and reciprocity, especially with the broad nature of the initiative. Macron has expressed concerns regarding the BRI, pointing out that it should not be a "one way street." Though neither the U.K. nor France has yet signed a formal endorsement of the project, the French president has adopted a firmer position by wanting France to take a more active part in the initiative. Macron is fully aware that China's pursuit of a globalized market will continue regardless, so the most beneficial approach for the EU and France is to bring their own contribution and benefit themselves.
Although not as vocal as Macron, May showed an interest in expanding business with China, arguing that there are huge trade opportunities in China that British companies could benefit from. In her recent visit, the British prime minister was accompanied by more than 50 business representatives from multiple sectors such as financial services, technology, automotive, energy, infrastructure, education, and many others. The desire to deepen economic ties with China is explained by May's need to provide solutions for economic problems arising after Brexit and the need for jobs. Exports to China currently account for only 3 percent of British exports, while only 7 percent of imports are from China.
During her visit, May stated that her mission in China is to deliver promises of jobs and business opportunities for the British people. This sends a positive message to Chinese officials, who see May in a weak position that they can benefit from. After all, Brexit can be considered an opportunity for Beijing to obtain more concessions from a U.K. in need of reliable partners.
The French delegation also included different companies' executives interested in business deals, such as BNP Paribas SA, Societe Generale SA, Natixis SA, and Airbus SE. While in the case of the French delegation, only a few contracts were confirmed, May ended her trip to China with deals worth more than 9.3 billion pounds ($13 billion) and ensuring around 2,500 jobs.
Education and people-to-people relations were also emphasized by May as essential to the development of the "golden era" between the two countries. The first stop of her visit was in Wuhan, a major educational center, where she announced educational deals worth more than 550 million pounds ($771 million). She also encouraged opening more English training centers in China, in order to improve English proficiency in China.
In terms of results, Macron succeeded in delivering a strong message about the cooperation between Europe and China, with an emphasis on mutual benefits, reciprocity, and fairness. While Britain has similar views, May was less focused on this aspect and more focused on her economic agenda. As France's president and as a leader of Europe, Macron has more to offer and a better position for negotiation, while the Chinese know that May and the U.K. currently have a less advantageous position for bargaining. There was a lot of pressure on May to strengthen economic cooperation, while ensuring fairness between the two countries, and to address the issue of human rights in Hong Kong, which is a very delicate subject for China. She told the press that she talked with President Xi Jinping about it during their 80-minute visit, but no further details were given.
France will most certainly play an important role in defining China's future relationship with the EU, which is a positive thing for the Union, because Macron supports a more practical and less naive approach. The evolution of Chinese bilateral ties with the U.K. are harder to predict, with Brexit on one side as a detriment, and a possible free trade agreement as an opportunity.
Georgiana Boboc is a Fellow at The Romanian Institute for the Study of the Asia-Pacific (RISAP).