Still No US Ambassador in South Korea
With Victor Cha's nomination scrapped, Washington is no closer to filling a crucial position in its ally's capital.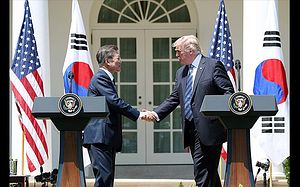 While the world watched the two Koreas walk together at the Opening Ceremony of the Winter Olympic Games in PyeongChang, there was one person not in attendance: the U.S. ambassador to Seoul. The reason was simple: despite being in office for over a year, the Trump administration has yet to appoint one. As has been widely reported, the previously presumed appointment of Victor Cha as the next ambassador was withdrawn last week, allegedly the result of a fundamental disagreement over North Korea policy between Cha on the one hand and President Donald Trump and his advisers on the other.
The Washington Post's Anna Fifield and David Nakamura have done an outstanding job reporting on the events behind the Trump administration's withdrawal of Cha's pending appointment, highlighting both the inconsistency and unprecedented nature of its claim to have scuttled Cha's appoint over background vetting issues rather than policy differences. As shown, the Trump administration's claim does not stand up even to cursory examination.
Put simply, in his conversations with various administration officials while a candidate for the position (and later in an opinion piece for the Washington Post), Cha expressed his opposition to a so-called "bloody nose" strike against Pyongyang's nuclear or missile sites as well as speaking out against U.S. pressure on Seoul to revise if not scrap the United States-Korea Free Trade Agreement (KORUS FTA). Trump wants appointees to stay in line; Cha would not. Now Cha is out.
Moving forward, what are the implications for U.S. Korea policy and for Seoul? Does Cha's withdrawal signal, as some believe, an increased likelihood of future escalation?
In mid-December, when it appeared Cha's appointment was moving forward following the Trump administration's formal request for Seoul's approval of his nomination (or "agrement"), I highlighted several problematic issues. First, nearly a year into Trump's term (at that time), the absence of a U.S. ambassador in Seoul, or any sense of urgency in appointing one, demonstrated an astonishing lack of awareness of even the most basic foreign policy needs. Second, it compounded the already erratic and dissonant signals that the White House was sending to Pyongyang as well as its longtime ally in Seoul. The White House's withdrawal of Cha's appointment underscores and exacerbates these issues.
The Trump administration's recent behavior can be read one of two ways. Either the inconsistency and backpedalling is deliberate and done by design or it reflects real, ongoing divisions within the administration as well as an overall incompetence in crafting a steady foreign policy toward Korea (North and South). While the Cha episode is somewhat consonant with the Trump administration's apparent determination to gut the U.S. State Department and undermine the traditional foreign policymaking bureaucracy, it simply makes no sense deliberately to act this way in a policy area as fraught as Korea. As the reporting above shows (and common sense would indicate), there is no logical design to such behavior.
Rather, the administration's behavior is an outgrowth of ongoing debates about North Korea. On one side, Secretary of Defense Jim Mattis and Secretary of State Rex Tillerson, while never tiring of stressing the military option, hedge against any precipitous military strike (read: bloody nose) and toward diplomacy. On the other side, reports indicate Trump, his National Security Advisor H.R. McMaster, and other White House aides are eagerly requesting that the Pentagon provide them actionable options for just such a strike. Drawing up such options has never been a question of capability, for the United States undoubtedly has the capacity to strike North Korea in any number of ways. Instead, it is a questionable of viability and basic strategic sense. The reason the White House is frustrated over the lack of options is that, simply put, none exist.
As Cha himself noted in his opinion piece, and most military and civilian analysts have long recognized, a preventative strike possesses no long- or short-term benefit. It does not stop North Korea's nuclear or missile program and, indeed, bolsters Pyongyang's case for redoubling their already intense effort to develop such capabilities. Moreover, in the immediate term it risks a dangerous, potentially catastrophic escalation that could lead to untold destruction on the Korean Peninsula and beyond.
It is telling that Cha, who continues to favor a "forceful military option" and a "coercive strategy" (what, in his scholarly work, he refers to as "hawk engagement"), was nevertheless dismissed as the next ambassador. I noted before that, as a scholar-practitioner, Cha possessed a unique combination of solid historical, scholarly knowledge of the area alongside rare hands-on experience negotiating with North Korean (and South Korean) officials while serving in the George W. Bush administration. He has a keen understanding of what is and is not possible on and around the Korean Peninsula.
So, who will take his place? The short answer is that we do not yet know. If the individual tapped is a Korea expert, they will also hold relatively similar views. Few Korea experts are outright supporters of preventative strikes (if they support them at all) and few favor scrapping the KORUS FTA. Therefore, we may see a non-Korea expert fill the void, someone unqualified for the position but ready to follow Trump's bidding.
This leads to a final point, namely, the role and importance of the ambassadorship itself.
The ambassador serves as the official representative of the U.S. president. The president is the principal; the ambassador their agent. In general, the ambassador helps to explain, mediate, and negotiate foreign policy decisions made in Washington D.C. at the local, embassy level. Certain ambassadors have surely been more active and outspoken than others, and in some notable cases have even determined policy by strongly directing its local implementation. Cha would likely have been a nuanced mover in Seoul. Nevertheless, neither Cha nor his eventual replacement as candidate for the position will have much leeway when it comes to Trump, who publicly undercuts his own agents on a regular basis. Moreover, however an ambassador feels about military options, they are not the one pulling the trigger.
Yet these president-ambassador dynamics aside, there is a larger symbolic or psychological importance from Seoul's perspective. South Korea has long struggled with the reality that it and the United States do not view the alliance through the same lens, and has often chaffed at the fact that Washington does not prioritize the U.S.-ROK relationship the same way it does its relationships with Japan or China. There has been a U.S. ambassador in Beijing since May, and one in Tokyo since July. Meanwhile, Marc Knapper, charge d'affaires ad interim in the U.S. Embassy in Seoul, has dutifully served as acting ambassador since Trump dismissed the previous one, Mark Lippert, before his inauguration in January 2017. In short, the White House's withdrawal of Cha's appointment over the latter's opposition to a preventative strikes is cause for grave concern in Seoul, but is also an affront on a more intangible, psychological level. Trump has the capacity to deeply offend without even being cognizant of it, pointing to a lack of awareness and an incompetence that is simply staggering.
While the glow of the Olympics in PyeongChang may hold for the next few months, it will inevitably pass. North Korea will be the same regime it has always been, with weapons it refuses to relinquish. The Trump administration will likely maintain its "maximum pressure" campaign and demand for Pyongyang's complete, verifiable, and irreversible denuclearization. Vice President Mike Pence is currently reiterating as much at his several stops in the region, including Seoul. Meanwhile, fissures between Seoul and Washington, while already apparent, continue to grow.
And all the while, the U.S. ambassador to Seoul is not in attendance.