The Maldives Crisis Presents a Window of Opportunity for India
India has options in the Maldives outside of military intervention and sanctions.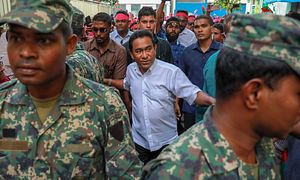 India has once again found itself in middle of a crisis in its neighborhood. This time its the Maldives. At the start of February 2018, the Supreme Court of the Maldives directed incumbent President Abdulla Yameen to release nine political prisoners, including former President Mohamed Nasheed. The basis for this judgement was that the cases against these people were politically motivated. The Court also instructed that 12 members of Parliament, who were earlier stripped by President Yameen of their positions due to defection, should be reinstated. A few days later, instead of complying to the order, Yameen declared 15-day emergency and had two judges and another former president, his half-brother, Maumoon Abdul Gayoom, arrested.
Following these measures, the domestic turmoil in the Maldives has turned into an international crisis. The exiled former President Nasheed tweeted that India should send its envoy and urged the presence of Indian troops in Maldives to restore order. Chinese state-owned paper, Global Times, quoted that "If India one-sidedly sends troops to the Maldives, China will take action to stop New Delhi." It further added that "India should not underestimate China's opposition to unilateral military intervention." A few days later, China said it doesn't want the Maldives to become another flashpoint with India. India said that it is keeping tabs on the state of domestic affairs in the Maldives and engaging diplomatically.
Hours after India expressed optimism that the Maldives will end the emergency, Yameen extended it by 30-days.
What is India's National Interest in the Maldives?
Since the crisis unfolded, global and regional commentary on the issue has focused on what India's options are for intervening in the Maldives. This commentary is based on the assumption that India's national interest are linked to Maldivian leadership. A majority of this analysis has focused on how different measures, from military presence to embargo, can help India undertake an immediate action against Yameen. India's national interest is defined through the lens of a favorable leadership change. It is assumed that only Nasheed can realign the Maldives to India's national interest. This assumption is not necessarily wrong, but only paints half the picture.
If nation-states are the basic units of international relations, national interest is the vantage point for available transactions between the nation-states. If a country modifies/shuns/adopts its national interest, it also automatically creates an entire new set of strategic options for itself. In case of the Maldives, instead of a leadership change, India should look at more systemic and institutional change as in its key national interest. India has an opportunity in the upcoming Maldives elections, scheduled for later this year. The Maldives has grown into a bigger headache for Indian foreign policy. A mere leadership change would not necessarily change this. Establishing rule of law, free and fair elections, freedom of opposition leaders and judiciary, and protection of interests of people of Maldives should be India's long-term national interest in the Maldives. If India aligns to this interest, it will respond differently to following variables in Maldives.
Chinese Conundrums and Opportunity in Crisis
India's relationship with the Maldives took a southward turn in 2012 after Yameen took power with force from the country's first democratically elected president, Nasheed. This event marked a sharp turn in India-Maldives relations. Yameen has been systematically chipping away at India's influence in the country and supplanting it with China. For instance, the Maldives cancelled the contract of a major Indian company, GMR, for development of the Male airport and gave it to China in 2015. The Maldives undertook measures at a surreptitious pace and through constitutional amendments to accommodate Chinese interests: 1) by signing a Free Trade Agreement with China across a range of sectors; 2) joining the bandwagon of China's Belt and Road Initiative; and 3) changing the law to allow Chinese ownership of Maldivian islands. Male has also been taking a large amount of debt from Beijing for infrastructure projects of bridges, housing, among others. Not surprisingly, former President Nasheed has been warning his country of the upcoming "debt trap" being laid by China and how the Maldives should take a lesson from countries in the region which have already fallen prey to this trap.
This accelerated pace of crisis in the Maldives is an opportunity for India, in a way. In absence of a major crisis, India could not gather the diplomatic muscle to set right a dictator in its background. This prolonged crisis gives India the support of the opposition in the Maldives, the international community, as well as greater domestic capital in India to push for a long-term solution. If India wants to check and reverse rising Chinese influence in the region, it would have to take institutional measures – ensuring a free and fair election later this year, rather than mobilizing force to replace Yameen.
Saudi Arabia and the ISIS Factor
The Maldives is a Muslim majority country. The Constitution of the country states that only a Sunni Muslim can be president. Even though Maldivian society does not have a long history of distinguishing between Shia and Sunni Muslim, this changed with the deepening of ties with Saudi Arabia in recent years. Saudi Arabia has been funding various projects in the Maldives, including universities and mosques. This has led to the penetration of a more radical and fundamentalist Wahhabi ideology. Not surprisingly, Maldives society is becoming increasingly radicalized. Organizations such as the  Islamic State (ISIS) and Lashkar-e-Taiba have established ties to the country. Hundreds of men and women have left the Maldives to join ISIS. Their return and growing radicalism in the Maldives is a threat to India. If not now, it will be in the future. A democratically elected new government rather than a sudden change of leadership is best suited to combat such problems. Non-state actors such as ISIS and LeT thrive in governance vacuums. A sudden leadership change will yield space to such groups.
India's Options in a Changed Maldives
Some of the immediate measures at India's disposal include stopping the export of essential supplies and prohibiting entry of Maldivian fishers into Indian economic zones. However, India has been against using such approaches given that such measures hurt the general citizens more than it hurts the ruling elite. Plus, experience with Nepal shows how popular sentiment can quickly turn against India and cause long-term damage.
After the former president's tweet urging military intervention and now with the extension of the emergency, some analysts mentioned consideration of an operation on the lines of 1988 "Operation Cactus." In 1988, India sent 1,6000 troops to help the then-president regain control. Thirty years later, the situation is considerably different. In 1988, the incumbent president himself asked for help from India to fight against the threat of a Sri Lankan militant group. The operation restored order in the Maldives. India received solid praise for its swift action from U.S. President Ronald Reagan and UK Prime Minister Margaret Thatcher. Such an operation now, against a sitting president who is confident of support from China, would be inconceivable. It would alienate local population and punch holes through India's daunting legacy in Maldives.
Implications on Trade
Indian presence in the Indian Ocean has guaranteed freedom of navigation which has benefitted global trade. In a 2015 Conference on Indian Ocean, India's external affairs minister said that "Indian Ocean carries one half of world's container shipments, one-third of the bulk cargo traffic and two-thirds of the oil shipments, though three-fourths of this traffic goes to other regions of the world. 90 percent of our trade by volume and 90 percent of our oil imports take place through sea." She succinctly explained the economic imperative of a peaceful and conflict free Indian Ocean. Given India's history of maintaining freedom of navigation in the region, the world trusts India's role. India has been part of Indian Ocean Rim Association, Indian Ocean Naval Symposium, and other groupings. Such legacy support should be leveraged by India in gathering support from global and regional players for its Maldives maneuver.
How Can India Respond?
If India shifts its national interest from focusing on immediate leadership change in the Maldives to restoring the pre-2012 democratic order, the different variables at play in Maldives will offer a new set of opportunities. For now, India should leverage the emergency extension to mobilize global support for its actions in the Maldives in the coming months. India should pressure Yameen to obey the Supreme Court's judgement and convey that unconstitutional actions cannot continue. Recently, Yameen expressed his continued adherence to the Maldives' "India First" policy. India should work with Yameen to form a custodian government until fresh and fair elections are held.
This will help India respond to another variable at play. In South Asia, countries continue to blame India for bullying, for acting as the region's big brother. Nepal was a casualty of such an attitude. If India revives democracy in the Maldives without putting soldiers on the ground, it will be a major moral victory for India in the region. India will succeed if South Asia succeeds. And South Asia's success will depend on how the region's nations perceive India; which will influence their strategy to work with or against India. If this seems too romantic to achieve, we should remember how the revival of democracy in Sri Lanka and Rajapakse's departure brought Sri Lanka back into India's orbit of influence. We should not confuse military intervention and punishing sanctions as the only of sign of India's willingness to respond.
Devashish Dhar (@dhardevashish) is a public policy specialist at NITI Aayog. All views expressed in this article are the author's own.