The Maldives Crisis: Will India Intervene?
Recent history suggests Indian intervention would carry steep consequences.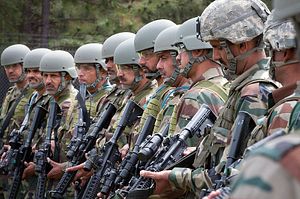 The political crisis in the Maldives seems unlikely to end anytime soon. Defying international pressure and criticism, President Abdulla Yameen has extended the state of emergency for another 30 days. Former President Mohamed Nasheed pointed out that Yameen has fallen short of corralling support from a sufficient number of lawmakers as mandated by the constitution. Yet Yameen's government has moved to prolong the emergency, first imposed on February 5, regardless. Given how the constitutional crisis has unfolded, it is hard to believe Yameen would abide by any laws that he finds constraining. There is little reason to believe he won't wield his power again to further lengthen the emergency, making it difficult for concerned countries, especially India, to decide how best to respond to Yameen's recalcitrance.
For India, the stakes are higher than for any other country. Over the years, New Delhi has watched the Maldives drift slowly away from its sphere of influence and into China's orbit. This trend began after Nasheed's resignation in 2012, which Nasheed termed a coup orchestrated by the security forces. Nasheed's immediate successor, Mohammed Waheed Hassan, assured India that no major change was in the offing, but it did not take long to renege on his promise. In late 2012, Waheed's cabinet canceled a $511 million project awarded to an India-led consortium. Billed as the largest foreign investment in the Maldives, the project was meant to modernize its international airport. India, clearly rankled by the move, responded by providing refuge to Nasheed in its embassy.
Meanwhile, the political landscapes in the Maldives saw sea changes. Nasheed was pushed aside and Abdulla Yameen assumed the presidency in 2013. Perhaps aware of the growing schism between Male and New Delhi, Beijing increased its overtures to the Maldives by ramping up its investments. As a result, Yameen found a trusted ally in Beijing, as evidenced his decision to award the airport project to a Chinese firm during President Xi Jinping's 2014 visit to the Maldives.
The relationship between Male and Beijing is, in one sense, at its peak now. In the past few years, China has sent more tourists to the Maldives than any other country, helping keep the country's chief revenue earning sector afloat. In 2015, Yameen's cabinet passed a law granting land ownership to foreign entities that can invest $1 billion. This move is seen, and for good reasons, as a ploy to favor Chinese businesses. Last year, the cabinet approved a free trade agreement with China, a first for the Maldives, which was passed in the parliament after a promulgation that lasted only half an hour. On top of that, there are rumors that China is eyeing a naval base on Marao Island. If that turns out to be true, it will push regional powers as well as the United States to recalibrate their Indian Ocean security strategy.
Given these developments, how can India deal with the constitutional crisis that grapples the Maldives? Indian's possible actions were the subject of much speculation after Nasheed called on India to intervene militarily, although he later adopted a rather ambiguous position as to what he meant by a military intervention. On Twitter, Nasheed invoked Operation Cactus, an Indian military operation in 1988 to save Maumoon Abdul Gayoom's presidency. Many commentators both in India and abroad are also portraying this precedent as a template for Delhi's action today. But how viable is an Indian direct intervention in the Maldives today? If history and the current situation are any guides, there are three reasons why India would refrain from a Cactus-like intervention in the Maldives.
First, context matters. The pretext under which Rajiv Gandhi's India promptly sent paratroopers to Male is far from what is present in the Maldives today. In 1988, a sitting president, although a dictator, cried out for Indian aid in face of an attempted coup by foreign mercenaries of the People's Liberation Organization of Tamil Eelam (PLOTE). Previously a part of the Tamil separatist movement, PLOTE members accepted a deal with Sri Lanka and India in 1987. They even forayed into local politics and were able to win a seat in a local council election. Therefore, PLOTE's adventurous attempt to topple Gayoom's government came as a shock to New Delhi, justifying its prompt intervention.
In contrast, Nasheed's appeal, coming from an exiled politican, does not offer India a solid reason to intervene. Even if India decides to intervene, it cannot pull out of the country easily, since it has to facilitate a peaceful transition of power through elections. Furthermore, there is no guarantee that a successor to Yameen would sustain his power. Just revisit how Nasheed was forced out of power in 2012.
Even more important for India is to consider how China would react. Reports suggest that China has dispatched warships to the East Indian Ocean, perhaps in an attempt to reassure Yameen that China would stand by him in case India takes military action. In response, India says its navy is closely monitoring the vicinity of India's coast. The Maldives is important to India, but not important enough to drag India into an unnecessary face-off with China in the Indian Ocean.
Second, India's latest intervention in its neighborhood did not pan out well. In response to Nepal's new constitution, which disfavored the ethnic Madhesis, who share close ties with India across the border, the Narendra Modi government imposed an unofficial trade blockade on Nepal. India's "sanctions" crippled Nepal's efforts to reconstruct the country after the massive earthquake of April 2015 and triggered a fuel crisis, making the winter season even worse. The ill-timed Indian embargo made Nepal reach out to the United Nations, alerted neighboring countries that are heavily reliant on Indian trade. Most crucially, it paved the way for China to outshine India in Nepal, as evidenced by Nepal's signing of a fuel supply deal with Beijing.
Therefore, if Indian's intervention in the Maldives goes awry, the chance is that it will drive Male toward China's sphere of influence at a faster pace — if not immediately, then later. India clearly does not want that to happen. Nasheed has hinted at targeted sanctions or freezing the assets of the cabinet members. On the surface, it might sound like a possibility. But India needs to make sure that its sanctions are more punitive than symbolic. In addition, India might want to get other countries onboard to introduce a rigorous sanction regime. However, considering what stakes other countries have in the Maldives, it is unlikely India would find like-minded partners in this collective action.
Third and finally, Indians are going to the polls next year. Although Narendra Modi's position seems still solid, there are indications that he could face strong competition from the opposition. In addition to the incumbency factor, Modi's BJP lost in the latest by-elections. Furthermore, multiple Indian states are slated for their assembly elections by the end of this year. How the BJP performs in these elections would foreshadow its performance in the national polls. Given the importance of this year in domestic politics, the Modi government is expected to stay risk-averse in the foreign policy front. After all, the last thing Modi would want to have is a controversy vis-à-vis his actions in the Maldives.
But if India does not intervene militarily, what it can do? So far, Indian responses have been smart. India should maintain its political pressure on Male while keeping the options for dialogue open. As an example of such pressure, India did not play host to a special envoy whom Yameen sent to "friendly nations" to provide a briefing on the situation. In dealing with the Maldives, India should carry both stick and carrot.
Arafat Kabir is a Bangladesh-based analyst of regional and global affairs. His articles have appeared in outlets including The Wall Street  Journal, The National Interest and International Policy Digest. Follow him on Twitter @ArafatKabirUpol.